Ironically, one of the constants in our lives here is change. With four hundred crew from nearly forty countries coming and going, our group of friends is always shifting and re-forming itself. We've been here nearly five years now, so we've been through more revolutions than many, but it's one of the things that never really gets easier for me. Back in the States, I'm still friends with the people I grew up across the street from. Here, there's barely anyone who remembers the field service in Liberia where I first met the Husband of Joy.
Tomorrow, we have to say goodbye to one of those people, and it's not going to be easy.
Murray
was my first Mercy Ships friend. He found me on Facebook before either of us had even walked up the gangway for the first time, and so when I arrived in February of 2008, there was a friendly face waiting for me behind the reception desk. (There were actually quite a few friendly faces that night; I think there were something like forty-two of us all on the same flight, so the crew that embarked us was necessarily large.)
Through the years, Murray has been one of our landmarks here; I don't know that I've ever had a more loyal friend. So many of our memories have Murray in them, (who can forget the muffler bearing incident?) but one of our favourite moments came when the HoJ and I were dating. We'd been hanging out every night on Deck Seven, standing at the railing and watching the activity down on the dock, and more often than not, Murray would be there with us. One night, we decided to change our location (third wheels are all well and good, but there comes a point when you just need to be alone!) and we snuck up to Deck Eight instead.
Not twenty minutes later, we heard the telltale tread coming across the deck. Murray promptly wedged himself between us, looked triumphantly from one to the other, and declared,
It took me forever to find you guys tonight!
And then he stayed. And we let him. Because that's just how you roll on the AFM. We took the chance to recreate the moment the other night while watching the sunset, and it's a photo I'll treasure because it reminds me of why falling on love on a ship was so fun.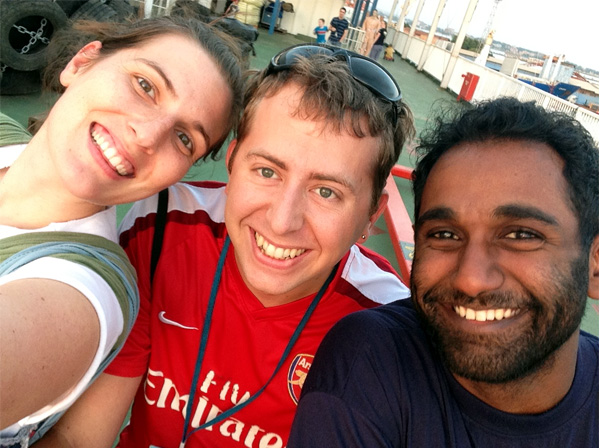 Since he was such an integral part of our own dating experience, we were, of course, thrilled when he met and started going out with Candace, a nurse from the States. We made sure to give him a hard time about it, but it didn't phase him, somehow; she came into his life and he was all of a sudden a new man, full of the confidence that comes when you get a beautiful woman to fall in love with you.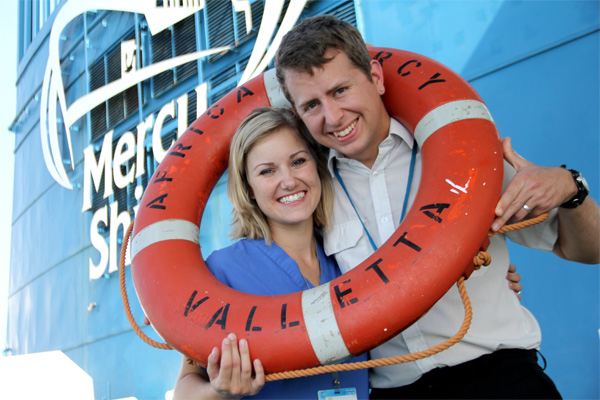 It was on one of our adventures with Murray and Candace last year that Phil and I sat next to a waterfall in Sierra Leone and picked out Zoe's name, speaking life over her before she ever existed. They'll always be part of that memory when someone asks about her name. We've even hung out with Murray in the 'real world' when we stayed with his family in South Africa, effectively marking this friendship as a real, lasting one.
I guess I'm just feeling a little pensive today. When Murray and Candace leave tomorrow, it really marks the end of an era for Phil and I. Murray is the last of our good friends who has been here from the beginning, the last of the 'old guard.' They're heading to Murray's home in Cape Town while they work on immigration paperwork so they can eventually be in the States, and they've got a whole new life stretching out in front of them.
Off you go, friends. We'll be waiting for our next adventure together, wherever and whenever that might be.