People, I have news for you: you're paying too much for pita chips. (Unless you already make your own. In which case, I'm not talking to you.)
When you live on a ship off the cost of West Africa (or, as will be the case next year, Central Africa!) there are certain things you have to give up. If any of you saw the 60 Minutes segment, you'll know that my family, fresh milk, and strawberries (to put them in their correct order) top that list for me. Other than the big three, I've become pretty resigned to going without over the past five years, but that doesn't mean I'll pass up the chance to enjoy some of the comforts of home if the opportunity presents itself. And given the fact that my weekends now include guacamole, what better vehicle for getting that into my mouth than fresh, homemade pita chips?
Enter my
culinary genius
friend, Josh. Credit where it's due: this recipe (if that's what you want to call something so ridiculously simple) is his.
Start by threading your way through the busy streets, dodging motorcycles, vendors with heads piled high, and randomly reversing cars until you find the supermarket next to the shawarma restaurant. Buy a big bag of flatbread for something like two dollars. (It might have been less; I wasn't paying attention.) Or, if your life is slightly more normal, head to Stop & Shop and pick up some pita from the international foods aisle. Whatever works.
Once you've made your way home, showered, and scrubbed the dirt off your feet and legs, pull out your trusty kitchen shears and set to work on the pitas. Really explore the studio space here; they're your chips so you can make them as big or as small as you like. Don't worry if the two halves of the bread fall apart; that just means you get more chips, and that's never going to be a bad thing.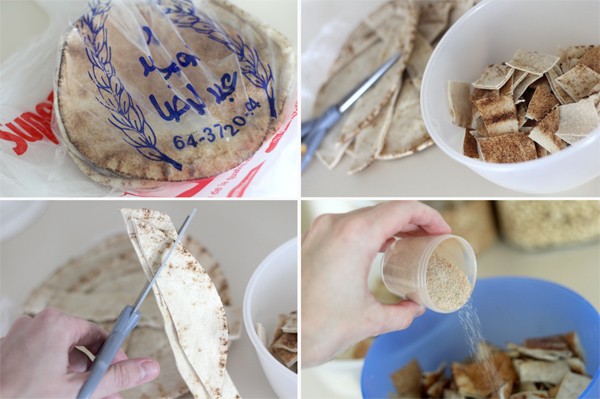 You'll need something to make the topping stick to the chip; I use melted butter for sweet chips and olive oil for savoury ones. Divide your pita pieces into separate bowls and toss them in your chosen fat before sprinkling with the topping and mixing well to make sure every chip has some flavour on it. My two favourites thus far are cinnamon sugar and the classic olive oil and sea salt, but a mix of garlic salt and a pinch of oregano (which just so happens to be the
crack
topping they use on the breadsticks at Olive Garden) is also pretty amazing.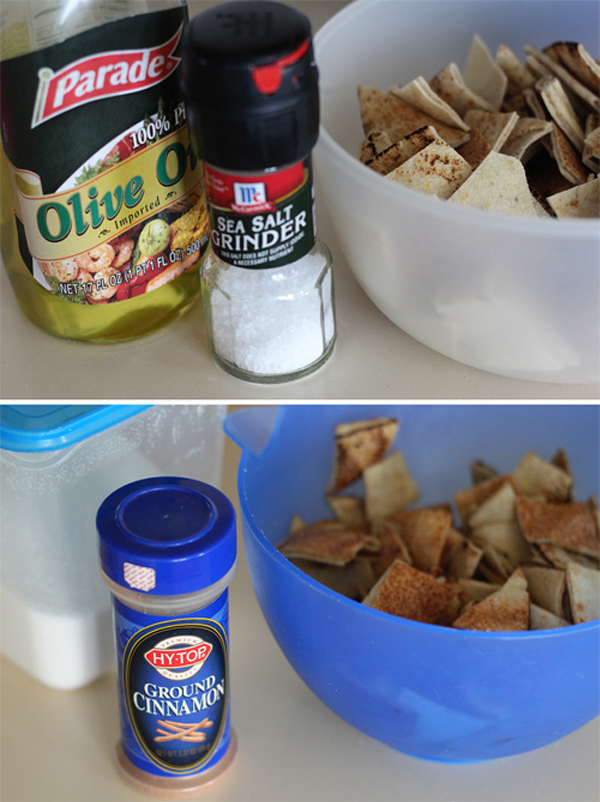 As an aside, Zoe has recently acquired the dreaded
object permanence
, so she's not really happy unless she's actually touching me; any further away and I might disappear forever. She's just not willing to run that risk, and so my pita-chip-making included this adorable clingon. I can't promise that your experience will be quite as cute.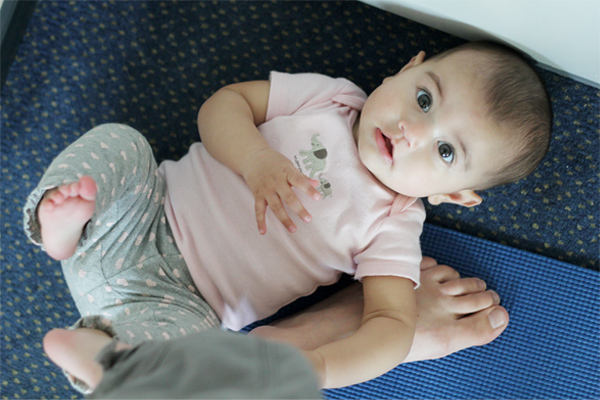 Once you've successfully gotten the clingon into bed for a nap, pop over across the hall to the crew galley and throw the buttery, salty pita pieces on some cookie trays. More chips = longer cooking time. For a single layer, it takes less than fifteen minutes, but piled up like this I think I was in there for closer to half an hour. Choose an arbitrary oven heat; in this case, I think it's somewhere around 320 degrees Fahrenheit. Pull them out every five or ten minutes to flip the chips and bake until they're nice and crispy.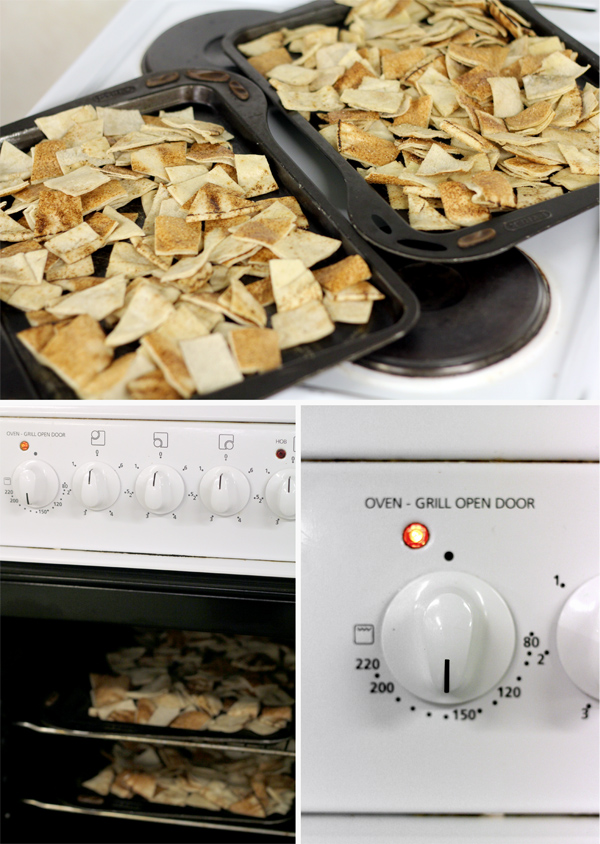 And that's it. Seriously, the whole process, start to finish, would take about half an hour if you can preheat your oven while you prepare the chips. (We're not allowed to leave hot ovens unattended and I like to do my prep in the cabin, so my overall time is slightly longer.) Say goodbye to the disappointment of opening a pricey bag of pita chips only to find that the thing is half full of air and go make your own!
Has anyone tried this before? Got any good flavour recommendations for me? Drop me a line in the comments (or e-mail me if they're not working) and let me know!