Zoe is six months old, and she never stops moving. She can just about crawl now, and spends much of her time up on hands and knees, inching her legs forward and then collapsing in a heap when she can't figure out how to move her arms. If she really wants to get somewhere, though, she can army crawl, arm over arm until she reaches her goal in a few seconds flat. (Our cabin isn't terribly big...) She's finally sitting up on her own; there are still the occasional topples, but I can now sit her in front of a box of toys while she amuses herself by pulling them all out, over and over. She definitely favours non-toy toys, though, preferring an empty gatorade bottle, my measuring cups or a crinkly package of wipes to any brightly-coloured plastic contraption out there.
These days, where she wants to be is near me. If I'm doing dishes or sitting on the computer while she plays, I invariably feel her little hands on my feet and look down to see her big, gummy smile beaming up at me. She's just at the edge of what's technically called
object permanence
, which just means that separation anxiety is right around the corner once she properly grasps the fact that things still exist when she can't see them. For now, we're having fun hiding toys and watching her look for them, her little eyebrows drawn together in concentration.
We've tried a few solid foods with her (avocado, banana, peas, and mango) and were met with unilateral disapproval. She's apparently not ready to give up her monopoly on mama's milk quite yet, and so we still have one or two times every night when she wakes up hungry. While I love the stillness and peace that come with those night feeds (really the only time in the day she's not trying to climb all over me like a tiny Edmund Hillary), I'll say farewell to them with joy the minute she decides she's ready to sleep more than four or five hours at a time.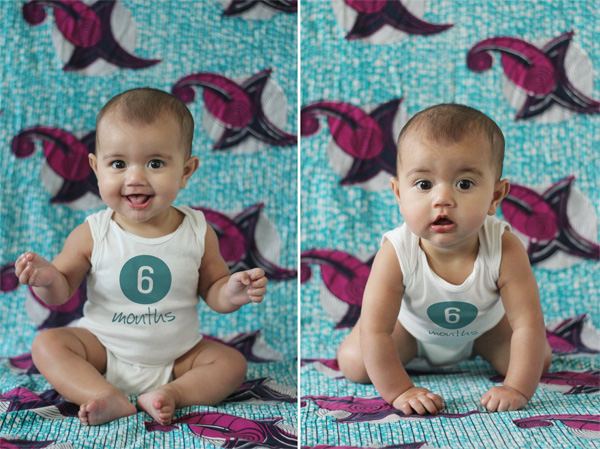 I always thought that the newborn stage was my favourite. There's no way anything could be better than a tiny little body melting into the curve of your neck as your baby falls asleep. Or at least that's what I thought. I'm now convinced that six months is perfection. It's like God knows that you're probably pretty exhausted at this point, halfway through the impossible baby year, and all of a sudden that baby decides to show you how much she loves you. Her face lights up when she hears the door open because she knows it's Daddy coming home from work. She throws herself at me, planting sloppy, open-mouthed kisses on my face, her tiny arms wrapped tight around my neck, fingers tangled in my hair. We have long conversations, the two of us, full of giggles and coos and a little nose all scrunched up when she smiles.
She just learned how to reach for us, and when she puts out her arms to me there's nothing I wouldn't do to have her in mine. It's like every day she's determined to make me realize how lucky I am to be her mama. And every day I hold her tight and thank God that she's mine. These have been the best-spent six months of my life.