When you first find out you're pregnant, there are certain things you expect you'll be learning as a new mother. How to change diapers in the pitch dark. How to pack a diaper bag with one hand while feeding a starving child with the other. How to wrangle an angry honey badger into cute outfits. That sort of stuff.
One thing I didn't really think about was the fact that I was going to be setting sail with my baby.
I mean, I knew we lived on a ship, but since that ship only sails twice a year, it was easy to ignore the fact that we'd eventually be throwing off the mooring lines and heading out to sea. All the impending vomiting aside, there are a few things that you need to take into consideration when taking your baby onto the open waters.
Is everything in the cabin secured, or is it going to come crashing down on her when we hit a big swell?
(I'd also prefer things didn't crash down on me, but I guess she's kind of the priority now.)
Is she going to be able to sleep, or will she spend all night every night rolling around in her crib like a little pinball?
(Trick question; she does that whether we're sailing or not.)
What's it going to look like when she tries to crawl on a surface with an ever-changing incline?
(This one's easy: hilarious.)
There's also a serious side to all this. I have the utmost confidence in our captain and the deck department who will be plotting our course to the Canary Islands, but as the at-sea muster lists go up and we get ready for the first lifeboat drills, I also have to prepare for the possibility of abandoning ship somewhere off the coast of West Africa.
When we head to our lifeboats for a drill, we are expected to bring our at-sea bag with us, a small bag containing anything we'd need to have with us should we forced to actually make use of those boats. Phil's on a lifeboat team, which means he musters with the emergency crew, so I'm responsible for myself, Zoe, and the bag containing all the stuff for our family. Since the lifeboats aren't exactly luxury cruise liners (you get just about enough room for your rear end; nothing more), it's essentials only.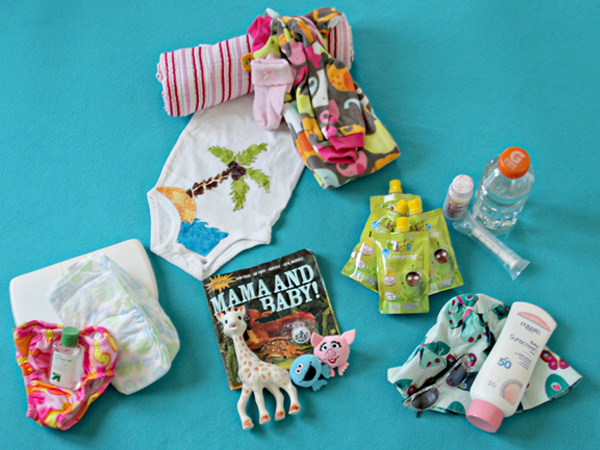 Here's what Zoe gets to bring. Despite the fact that we're sailing in tropical waters, it gets very cold at night at sea, so she's got some fleece jammies, a blanket, some socks, and an extra onesie. The onesie maybe isn't totally necessary, but the mental image of us being shipwrecked on a deserted island and having my kid wearing a onesie appliqued with just that was too good to resist. Going clockwise, I packed a few pouches of baby food (pears and apples, her absolute favourites), along with a bottle of water and a bottle of infant Tylenol. With my luck, she'd end up cutting her first tooth just as we dropped over the side, and I'm not risking that sort of screaming. She's shrill.
Sun protection is key, so I've got a hat, some sunscreen (we could all share that) and sunglasses for her. The sunglasses would be good for at least four seconds of enjoyment as she threw them overboard. A bored Zoe is a screaming Zoe, so she gets to bring a few small toys; Sophie and her Indestructibles book were easy picks, and it's convenient that she thinks pacifiers are toys, too. You can never have too many of those in an abandon-ship situation. A few wipes, a couple disposable diapers, and her waterproof swim diaper round out Zoe's stash. Not that she'd be doing any swimming. A washable diaper just takes up far less room than the number of disposables she'd need if we're out there for any length of time.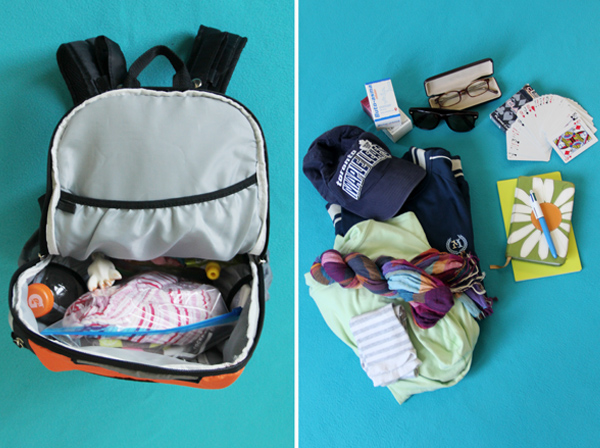 Here's the bag all packed with Zoe's stuff. Once I got hers in there, I realized there was plenty of room for the grown-up things, too. Which is nice, because I don't really want to be wrangling the aforementioned honey badger into her lifejacket while worrying about keeping track of a whole set of luggage.
Phil and I each get a hoodie, plus a pair of knee socks for me. (My feet get cold easily, and I'm a pansy about that. I'm not ashamed.) He has a baseball hat, and I have a scarf that works as a sun covering or a nursing cover. Phil has asthma, so his extra inhalers are essential. Sunglasses are an obvious pick, and my real glasses are there so that I can see the stars at night. Seriously. I'm not going to miss out on that. Also they will help me be the first to spot help on the horizon so I can be the hero.
They encourage you to bring something to pass the time, so we've got a pack of cards in our bag. Watch out people; our lifeboat is
totally
going to be the fun one. I've also got my Bible, which is like a Kindle in that it has many, many books in it, and it's not like a Kindle in that it doesn't have batteries that need to be recharged. Rounding out our stuff is a small notebook and a pen, because if we actually get shipwrecked, you'd better believe I'll be taking notes so that I can blog about it for you guys later.
You're welcome.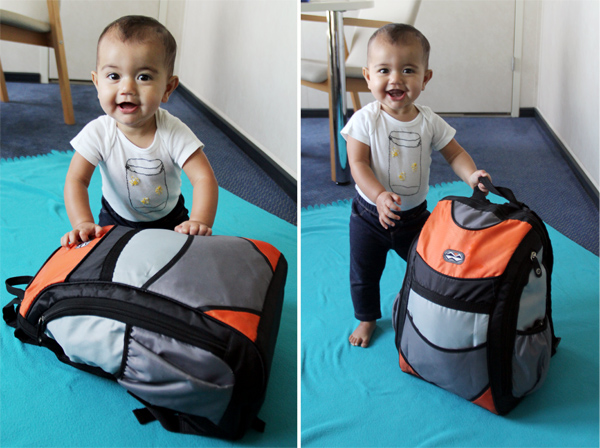 Here's Zoe with the fully-packed bag, just to give you a sense of the size of it. (She's exactly twenty-eight inches tall, if that's helpful.) She's clearly on board with safety, and fully approves of all these preparations.
This is a drill.
This is a drill.
This is a drill.
Bring it on, Captain Tim. We're ready.