Today, as we sail out of the golden haze of the Harmattan, we remember Sierra Leone, a country that will always have a special place in my heart. When I first signed up for Mercy Ships, back at the end of 2007, the ship was scheduled to be in Freetown for the following field service. I did research and sought out expats who could teach me Krio phrases and looked forward to a year spent in sweet
Salone
.
Except this is Mercy Ships, and so things don't always go as planned; instead we ended up in Liberia, which is a story for another day entirely. (Tomorrow, actually, so don't worry; you don't have to wait long.)
It wasn't until 2011, after the HoJ and I had taken a year off to scratch a traveling itch that somehow wasn't satisfied by living on board a ship that docks in a different country every year, that I landed at Lungi Airport, took the ferry across the harbour under a cotton candy sky, and ran up the gangway with my heart singing that I was home.
It was in Sierra Leone that the HoJ and I sat on the rocks next to a rushing waterfall and chose Zoe's name, just a few weeks before she was anything more than our deepest hope, and it was in Sierra Leone, on the eve of a sail, that we found out she would be ours in nine more months.
Down on the wards, I was working as a charge nurse and learning the ropes for my role as Team Leader the following year, so I got to take care of lots of incredible people. Every field service, there's at least one patient who becomes synonymous with what we do, the one you always remember when you look back on that country. Sia was that patient for me in Sierra Leone.
Just eight years old, with a tumor the size of a baseball where her eye should have been, Sia was suffering from Burkitt's Lymphoma when she came to us at the end of that field service. She was one of the patients who has us sitting in long meetings, facing the decisions that no one wants to make.
Should we try to give her chemo? We're not set up for that. It's too late to register her with palliative care. Her cancer has already spread to her belly; will chemo even work? Which path forward is the right one?
Ultimately, and after much prayer, we decided to give her her first dose of chemo on the wards, remove the damaged eye to prevent infection, and arrange for her treatment to be continued at a mission hospital in neighbouring Guinea once we sailed away. We settled them (Sia, her mama, and her baby sister Kumbah) into the corner of D Ward and got to work.
Over the following days, we saw an incredible transformation in Sia. Burkitt's is one of the fastest-growing cancers, but it's also hailed as one of the most treatable ones, and Sia's case was no exception. God, in his perfect planning, had arranged for a pediatric oncology nurse to be on board to administer the chemo, and in front of our eyes, we watched Sia's belly shrink back to its normal size as the medication took effect. We also got to bear witness to the return of her spirit, and we reveled in her fiery personality and the hilarious faces she made as soon as a camera appeared. We collected the money they'd need for transportation and ongoing treatment and sent them on their way to Guinea as we prepared to sail away.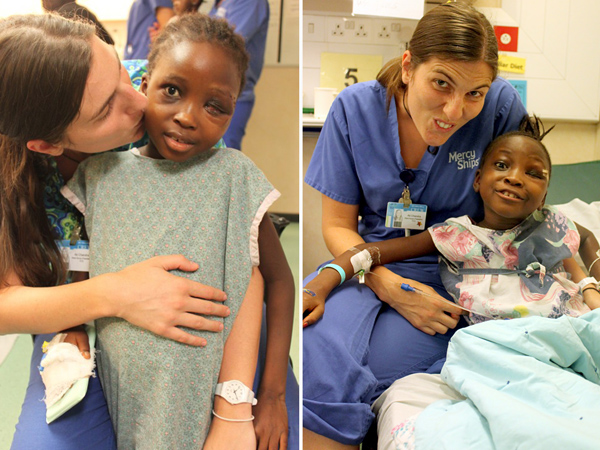 It's hard, often, to work on the ship. Most of the time we sail away and never get to hear what happened with our patients after we cast off the mooring lines. Since we have a relationship with the missionaries who run the clinic in Guinea, though, we were able to keep up with Sia's progress. She continued to respond to the chemo, gained back all the weight she had lost (and then some!) and was discharged in full remission. Before they left for the long trip back to Sierra Leone, her mama asked if she could have a Bible so that she could continue learning what she'd been taught.
As we sail past Sierra Leone today, I can't help but smile as I marvel all over again at the extravagant lengths God will go to to save just one of His children. So many pieces of Sia's puzzle had to fit together exactly right so that she could walk out of that hospital in Guinea instead of becoming yet another statistic, another nameless, faceless child claimed by a disease that's often so easily curable if only you have the money to pay and the access to a healthcare system that can provide the treatment.
Today, as I rejoice all over again in her healing, I speak her name and I remember her face, my little Sia from Sierra Leone.
---
Remember to follow along with us on our journey by checking out the
#SailWithUs
hashtag on Facebook, Twitter and Instagram. I'm actually on the ship and I'm still loving seeing what everyone's posting!
(Photos courtesy of Deb Louden.)