For the first time in a few weeks, I'm linking up again for
Five Minute Friday
. Head over to Lisa-Jo Baker's blog to read hundreds more five-minute entries on a single word prompt, and consider joining in on our little exercise, too. Free writing is good for the soul.
Today's prompt:
Mercy
.
Go
.
There's the dictionary definition of the word, stuff about compassion and forgiveness and helping to alleviate suffering, and then there's the heart of the thing, and that's what I hold in my trembling hands, all these years into it.
Mercy is a big white ship full of people gathered from every corner of the world who live with a single purpose: walk in the centuries-old footsteps of the Jewish Carpenter who changed everything.
It's children born with cleft lips who can raise their hands in the classroom without fear of ridicule. It's the mama who can finally stretch out her burn-scarred arms to pick up her baby when he cries, the man who no longer shuffles through each day in pain from an untreated hernia. It's the boy who can kick a soccer ball instead of limping on the sides of his feet and the woman who walks away from years of silent suffering with her head held high and her dress clean and dry.
Mercy speaks to the ones we turn away, too, the ones who plead with us and leave with shattered hearts. It's there in the smiles we wear like armor to cover our own brokenness, in the shoulders we offer for the weary to lean on and in the heartfelt prayers for the healing we can't provide. And even though it never feels like enough, we know that we're not the first ones who have walked this road. It says that thousands came to see the Carpenter, thousands who had gathered up all their courage and made the journey in hopes that there was finally going to be some way out of the darkness.
I can still see the line when I close my eyes, how it stretched on forever, how every time I looked up there was a new face in front of me, eager, expectant, filled with that same hope in spite of lifetimes of pain. I can still see the hundreds we sent through, the thousands we sent away.
When we finally left, well after dark, the sand in that school yard was covered in footprints. Big and small, straight and twisted, some deeper than others where willing arms had reached out to carry weak frames, all of them filled with hope or joy or heartbreak, all of them accompanied by the strong, unwavering marks left by the Carpenter who walked alongside each of us that day.
In my heart, I slip off my shoes, dig my toes deep into that dirt and know in some quiet, sure way that I stood on holy ground that day.
And as I look back on those footprints, I sink to my knees as I trace the lines of mercy in each one.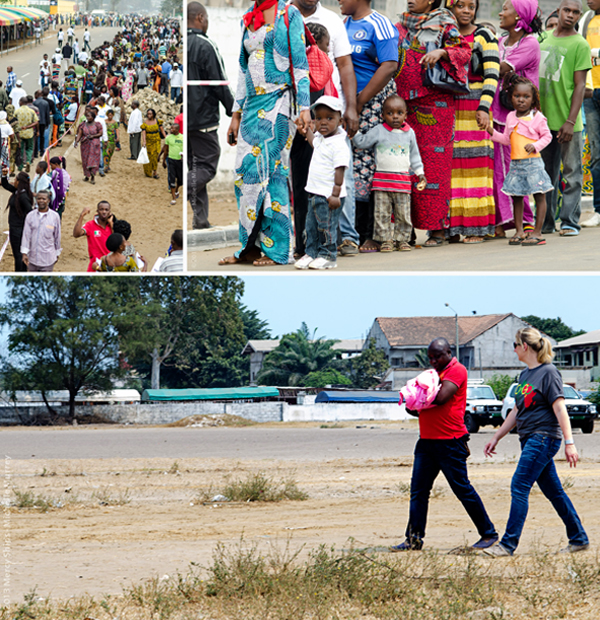 (Photos: Michelle Murrey. In the interest of full disclosure, this one took me a bit more than five minutes to write; I just couldn't quite stop when the clock said the time was up.)