Today's prompt:
Mighty.
Go.
I have to wonder whether these words have been chosen in advance by a hand far more careful than Lisa-Jo even realizes.
Joy
last week, when it seemed the most impossible thing to find, and then this week the reminder and promise that this son of mine is far stronger than I could possibly imagine. And it's not just Ethan who is living up to his name, proving with every small piece of good news that he is deserving of being named
strength.
He is not the only mighty one in all this.
The past week has been a whirlwind in every sense of the word, a hurricane of change and uncertainty tearing at my heart, picking up everything I took for granted about my life and depositing me squarely in a country that's as unfamiliar to me as Oz could ever have been.
I had no idea how weak I really am, or how strong, no way of knowing how those two parts of me could coil and mix and fight for the upper hand every minute of the day as I strain to hold on to what I know with trembling fingers.
I'm coming to realize, in the quiet pockets of air, the many small eyes this storm seems to have where I can stop and sit and breathe for a moment without feeling like my chest is on fire, that this strength I think I own is not mine at all.
Because I am at the end of myself. I've written those words before, never imagining that there was so much further to go before that would be true, never dreaming that it would look like this. This time, though, I think it's true. I am being asked to open my hands, to release my grasp on every single thing I took for granted about my life. And I don't have the option of saying no.
My fists are balling over my keyboard between words as I type, unwilling even to symbolically let go, and it's in this place of wrestling and yearning for a past that's not mine anymore that I am confronted with the truth that will pry my fingers wide.
He is mighty.
Not me. Not Ethan. Not Phil or Zoe or any of the hundreds and thousands of people around the world lifting us up in prayer and loving us in concrete ways. Compared to Him, we are nothing, dust in the wind that whips around me as I write.
It's God who will carry me through this, God who already holds me in His nail-scarred hands. God who knows my pain better than I know it myself, and God who gave everything so that, one day, it will all go away.
He is mighty, and it's a very good thing, because I am not.
-----
So much for Five Minute Friday. I couldn't possibly
not
write on that word. But I have more than that to share today, a more practical update after all the feelings I've been pouring out. First, though, I want to show you this: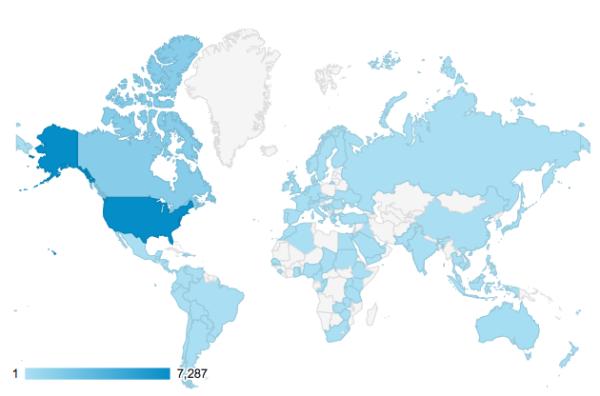 That's a map I just pulled off of Google Analytics, one that shows all the countries where this blog is being read and where, I'm hoping, people are praying for Ethan. I keep looking at it and wanting to cry because how can it be possible that the whole world knows about our baby boy? It's not just me, right? This is awesome?
So, given the fact that you're out there, all over the globe, I want to let you know (as best I can) what's going on and how specifically we'd like you to pray for us.
I know the majority of you reading this aren't medical, so I'm going to try and keep this understandable. Forgive me if I lapse into medical speak; I've been throwing these words around for much longer than just this past week, and I'm grateful that my nursing training has provided me with such a strong base of knowledge going into all this. It's certainly helped make things at least a little bit easier during a very hard time. So bear with me, because this might be a bit long.
Right now, Ethan has a preliminary diagnosis of a syndrome called
heterotaxy
. We think he has the right isomerism version; it's explained a bit in that link. Heterotaxy is rare. Like, four in a million rare. In the most basic sense, it's caused when the baby's internal organs get rotated wrong while they're forming. This has led to some major defects in his heart. I don't want to go into details about his heart yet, since there are still a lot of unknowns; he was stubbornly in a bad position during his last scan so there are still things they haven't seen, and we won't know for sure what we're dealing with until after at least one more echo (heart ultrasound).
Heterotaxy is not necessarily associated with chromosomal issues, but in order to rule those out, I had an
amniocentesis
done last week. The first half of the results are back, showing that Ethan does
not
have any trisomies (think Down syndrome) or deletions; all 46 of his chromosomes are in 23 perfect pairs. We're still waiting on the final piece of the results, the one that checks whether any of those individual chromosomes are missing tiny pieces or have tiny pieces added to them. Those results should be back within a week.
As if this all weren't difficult enough, heterotaxy doesn't just affect the heart. Ethan's stomach is on the right side of his body (instead of the left where it's supposed to be), and we weren't able to see a spleen on the first ultrasound (another thing common with heterotaxy). Thankfully the sonographer at the amnio was able to see one, but we don't know yet whether it's one of many or whether or not it will work when he's born. The spleen is a vital part of the body's infection-fighting mechanism, so having a functional spleen would be a huge answer to prayer given the fact that Ethan is facing multiple open heart surgeries. There are still questions about his intestines, his liver and his lungs (other organs often affected by heterotaxy), but we might not get those answers until after he's born, either.
This whole thing is complicated even further by the fact that Phil and I met on a ship in Liberia and have been serving as full-time volunteers for more than six years. We don't own anything; no car, no house, nothing beyond what fits into four cupboards on the ship and the two suitcases I brought home with me two weeks ago. I'm a dual citizen of the States and Canada, but Phil is just Canadian, and we've never gotten him a green card. Zoe qualifies for Canadian citizenship but we haven't gotten around to getting it for her since we thought we'd be on the ship forever.
All this makes deciding where to live and seek care for a medically complex pregnancy and an even more complex child incredibly confusing.
Ethan has far too many issues for us to deliver and be followed at our local hospital; he'll need to receive care at a larger cardiac centre. Right now, our first choice is the Children's Hospital of Philadelphia (CHOP). My own big brother had open heart surgery there as a baby, and God has been raising up connections with people in the heart centre there left and right in the past week. We're not sure how this will work out financially, however, due to insurance and visa issues.
I come to you with all of this because we need your prayers. At this moment we feel that God is directing us to pursue care at CHOP, but we want to be very open to His leading and recognize closed doors for what they are if we're faced with them. So please, pray with us.
- First and foremost, pray for a miracle. I so desperately want Ethan to be the baby that they'll want to write about in all the medical journals, the one whose heart inexplicably healed itself between one echo and the next. I know that God is mighty; He can do that if He chooses. But I also know that we live in a world marked by sin and sickness, and so I know that this path will most likely be one of looking for earthly healing.
- To that end, pray that our next echo of Ethan's heart would answer some of the lingering questions about how exactly it's formed.
- Pray that the final chromosomal results would be normal.
- Pray that Ethan's spleen would be a functional one, and that his intestines will not be twisted. (Both of these are longer-term prayers; we won't know the answers until after he's born.)
- Pray that we would be able to work out a plan financially for both me and Ethan to receive care at CHOP, if that's where God wants us to be. I applied for Medicaid today, which would be a huge step in that direction. Pray that my application is processed and accepted quickly so that we can move on with further appointments.
- We have scheduled a tentative appointment at CHOP for April 23rd (provided everything goes through with insurance before then). It would be a comprehensive evaluation, including another full anatomy ultrasound to look at all of Ethan's organs, a fetal echo of his heart, and meetings with all the different members of the teams (obstetricians, cardiologists, nursing coordinators, social workers, geneticists, and a partridge in a pear tree) so that we could work out a plan as to how to proceed from there. Please pray that it would be clear whether this is the right step to take or if we should be pursuing care elsewhere.
We are so grateful for each one of you. Know that I read and reread your comments and e-mails and take strength from your words; it's just impossible to respond individually to everyone with everything else that's going on right now. (I'm should get business cards made up -
Ali Chandra: Full-Time Ethan Coordinator
) Thank you for walking alongside us on this journey. We'll keep you updated as we know more.