I know it's not spring. The biting cold and four inches of fresh snow outside have made that abundantly clear to me. All the more reason for me to stay inside and take care of business.
It's been about three years since I left for the ship, and when I got on that first plane, my mother stayed behind and cleaned up the mess. I mean that literally; she packed away all my things (strewn, if I recall correctly, all over everywhere) into a series of large plastic tubs and stored it all in the attic for me. One of my missions during this time at home is to go through it all and get rid of anything I don't really need.
Now, one might argue that, having lived these past three years without access to these things, I need none of them. You'd be very nearly right, except for the fact that one day in the future, we might live back on North American soil permanently. That being the case, I'm going to hold onto my eclectic mix of hand-crafted pottery and the pile of long-sleeved shirts. I might actually need those one day.
The purge was going well until I opened the biggest box. Heavy enough that I nearly toppled down the attic stairs bringing it to my room, I found it full of spiral-bound notebooks, dated and numbered sequentially, filled with the last ten years of my life.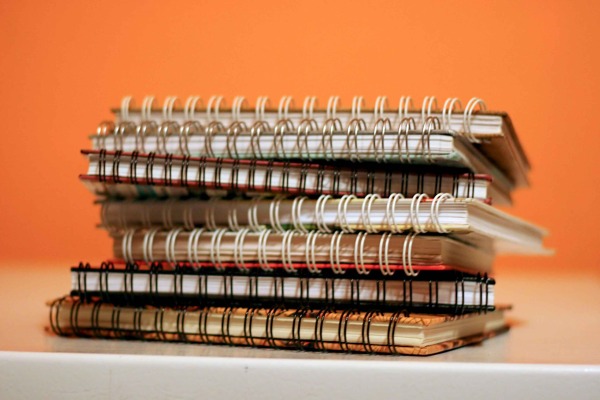 (That stack is maybe half of the total volume; it's all I could pile before they started sliding to the floor.)
I curled up on my bed and opened the first one, ready to relive my high school days. Memories of cracking open each new book, blank pages spread out like a promise in front of me, drifted back as I started to read.
It wasn't what I expected. Not because I was surprised by the things I'd chronicled in blue pen. Not because I'd forgotten about the things written there; with very few exceptions I recalled every single experience and event and name written on those pages. I was blindsided by a feeling I hadn't expected.
I was ashamed.
Being the word nerd that I am, I looked that one up before I put it in bold. One of the definitions I found made sense of it for me.
Ashamed: focuses on the sense of one's own responsibility for an act, whether it is foolish, improper, or immoral: He was ashamed of his dishonesty. She was ashamed of her mistake.
Ashamed of my mistakes, yes. And my dishonesty? Absolutely. I don't think it'll be terribly shocking when I reveal that I spent pretty much my entire teenage career as a bit of a mess. Nothing really unique or ground-breaking; I wasn't inventive enough for that. I couldn't stand my parents and the way they were controlling my life, I felt fat and ugly, I wanted boys to like me and I hated myself when they didn't. I didn't see anything in myself worth loving and in all this I was every girl that's come of age in America.
I was running, that's all, thirsty for healing. For some reason, I couldn't see the promise of life being offered to me by the One who wanted to heal me, and I'm ultimately responsible for those dry years. God never stopped His pursuit, never stopped loving me when I was doing everything I could to tear myself from his inexorable grasp.
I am ashamed of the way I acted.
Which is why I'm throwing out that stack of journals. I combed through them and scanned in the pages that held anything worth saving. (There were very few of those.) And then I got a big, black garbage bag and threw them all out.
This cleaning up of my things is so much more than just organization and downsizing; in some ways, it's a soul cleansing. I have realized that my life is not ruled by what once controlled me. I am no longer subject to the overwhelming fear that I am not good enough or pretty enough or smart enough. All those lies are finally where they belong: in the garbage.
I wear His worth like a crown of stars on my head, His beauty like a royal robe.
I am enough because He is.