Coming into this time in Peru, I thought I knew a few things. I was pretty sure I knew what it meant to live in community; after all, my life on the ship is lived out in front of the ever-changing 400 that sleep in the cabins around me. I was also confident that I knew how it feels to live in a hot climate, West African weather being about as uncomfortable as it gets. I could go on, but there's no point; Peru makes a mockery of all my preconceived ideas.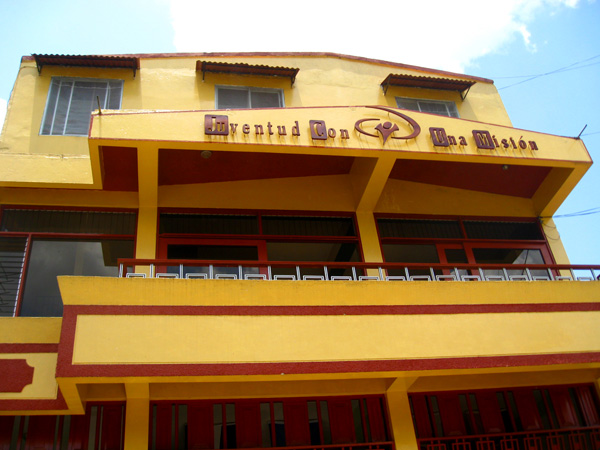 It's hot here. Hot enough that I wake up sweating even though there's a fan blowing directly on me. Our room doesn't have much in the way of airflow (more on that in a moment), and the heat just hangs heavy over us. We sweat sitting in class, we sweat when we eat, and don't even get me started on what happens when it comes time for dramatic arts. The fact that work duties come directly after that hour of dancing and jumping around doesn't do anything to decrease the level of perspiration. In fact, it's only here in Peru that I have managed to attain the distinction, formerly reserved for my HoJ, of actually dripping sweat off my face. And there has been no relief, not even at night.
Until yesterday. Dear, blessed Wednesday night. Around dinner time, the clouds rolled in and we heard the welcome roll of thunder. The lights flickered and died while we sat in the darkened classroom / dining room / dance studio (things do more than double duty around here), savoring the cooler air flowing in. It feels like the whole world cools down with the rains here in the jungle, and we've come to live for them, knowing that the refreshment is only going to be short-lived; the sun will burn away the clouds again and the sweat will continue to drip.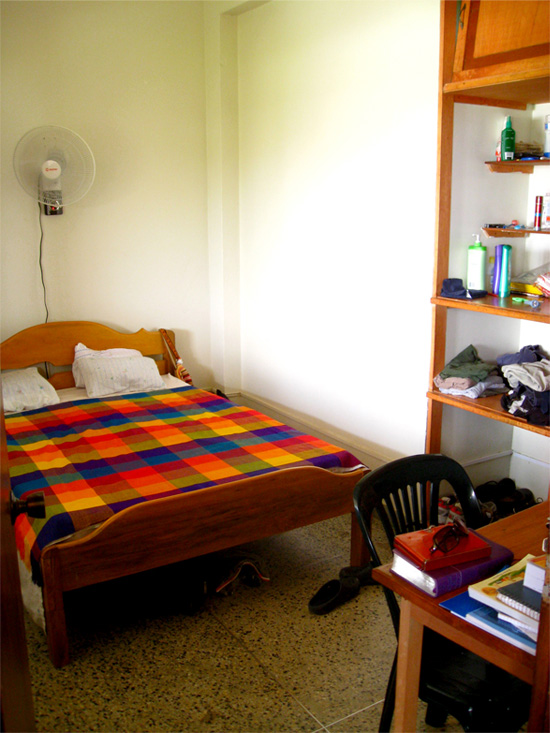 Unfortunately, our room is not really suited to helping us cope with the heat. It's a lovely little room, and we are more than grateful to have our own space. (Especially since all the singles live in dorms, with less room to spread out than I ever had on the ship in a six-berth cabin.) But it's placed in such a way that our only window opens out into the hallway, and our door has no screen. As a result, that door is always shut against the mosquitoes, and we also have to close our window whenever we want any sort of privacy, which leads to the temperature skyrocketing. The fan pushes around the hot air, and whichever part of us is against the bed kind of feels like it's on fire. This is not fun, and I am gaining an ever-greater love and appreciation for the air conditioning on the ship. Even on blackout days there, it doesn't get as hot as our little sauna box here in Peru.
My other favourite thing about the hallway window is the fact that it opens up onto the part of the hall that's also the entryway to the directors' apartment. Like I said, we keep the window open as much as possible for fear of suffocation, and this results in the uncomfortable sensation of living in a zoo. Honestly, just try going past an open window and not looking into the room; no one here can resist it either. It's become a little drive-through nursing window where I dispense advice on the common maladies that strike people unaccustomed to the food in the third world. (I don't need to go into more detail, do I?)
And don't even get me started on the actual nursing task I had to perform the other day. Let me just say that holding pressure on a bleeding finger as the result of a vicious iguana bite was
not
what I thought I'd be doing during my DTS. I'm happy to report that my skills have not dulled too much over the last nine months (has it really been that long?) and I even remembered to offer to wash the shirt that the bystander gave me to use as a makeshift bandage. Now that's service.
I guess what I'm trying to say is that this place and this time has already blown my expectations so far out of the water that I've given up trying to make sense of it. I'm just going to settle in and enjoy this sweat time.
(Just kidding - of course I meant
sweet
.)
I'm enjoying cinnamon and clove tea, a new discovery that makes every morning just that much better.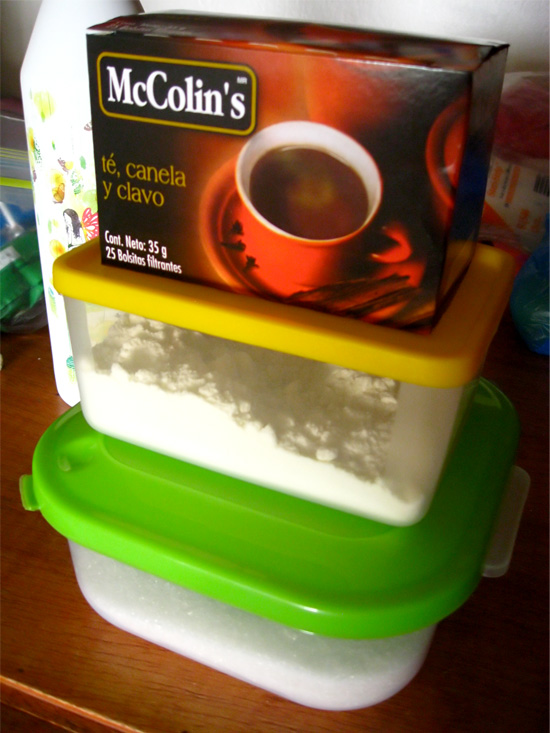 I'm enjoying the fact that I can buy limes in a shoe store, seven for one
sol
(around thirty cents), so that my water tastes better. (There are only five in this photo because I already used two.)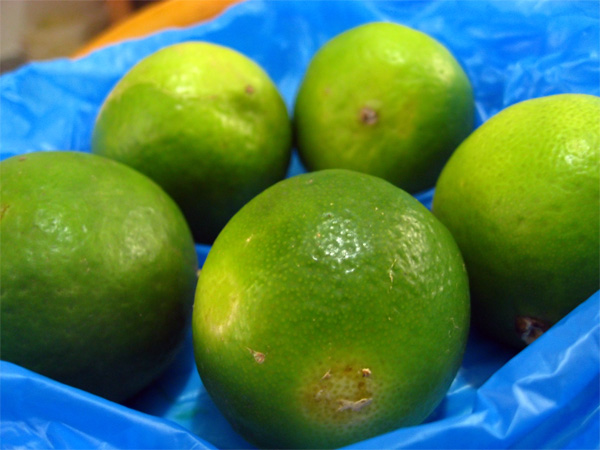 I'm enjoying our multi-cultural class, sitting under flags from around the world and digging into the Bible to learn more about God and His call on our lives. More than anything, I'm enjoying that.