Remember how we won that chicken as a prize during survival camp? Well, Sunday was the day of Chimby's demise. It all happened in true jungle fashion, and I took lots of photos, because something told me at the beginning of the day that it was going to be one to remember.
Oh, how right I was.
Korky, our 16-year old jungle boy, informed us on Saturday that his mother would be killing and cooking Chimby the Chicken on Sunday, and that we were all invited to his house for church and a feast. When we asked how far away he lived, he initially said fifteen minutes, and then changed his mind to let us know that, actually, there was a fifteen-minute boat ride as part of the trip, so it was probably more like forty. Totally doable.
A group of twelve of us set out from the base at nine in the morning on Sunday, ready to brave the jungle and take our first ride on the river.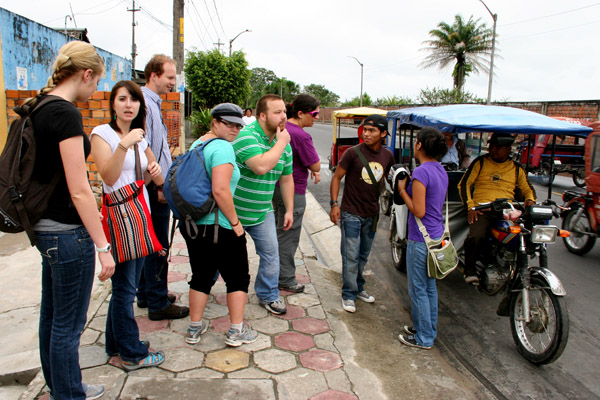 Our
motocarrista
(real word, that) decided to take us the scenic route, and we were more than relieved when we finally met up with the rest of the group and didn't have to pay for the extra kilometers he tried to put on his trusty machine.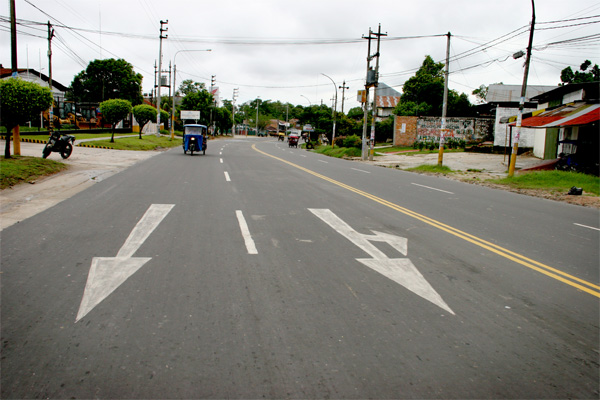 We set off through a much more rural area than we had ever been in, heading towards the river and the boat the Korky promised us would be waiting to take us to his home. (Can anyone guess what's about to happen here?) As usual, lots of inquisitive kids came out to stare at all the
gringoes.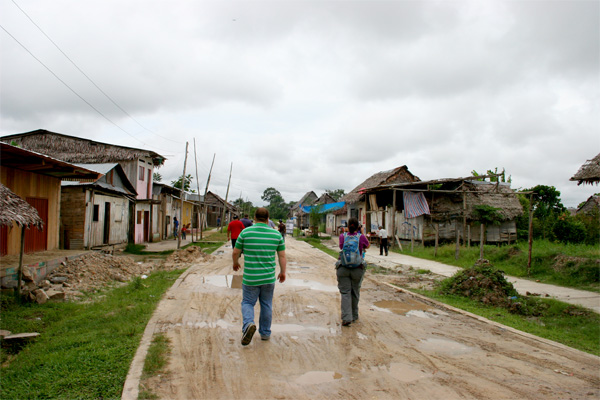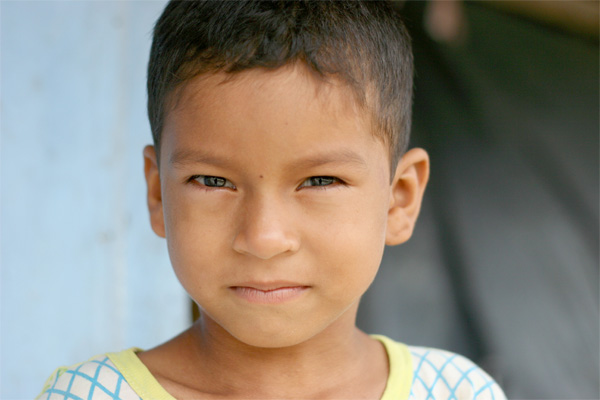 When we finally got to the water, there was a boat there, a very pretty orange one.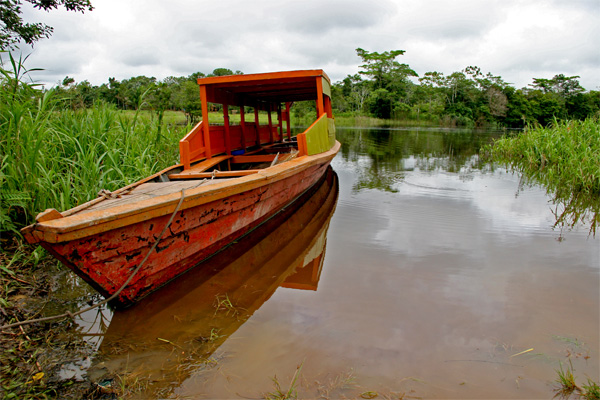 Unfortunately, it was not the boat that would take us to Korky's. That boat never arrived, and after a couple unsuccessful attempts to flag down passing canoes, we decided to shuttle the lot of us across in a little boat, after which we'd hike through the jungle to our destination.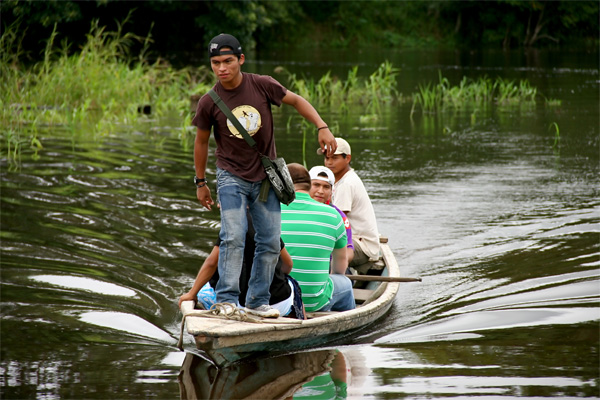 We were optimistic as we headed into the jungle, enjoying the lush vegetation, crazy looking fruits, and beautiful flowers.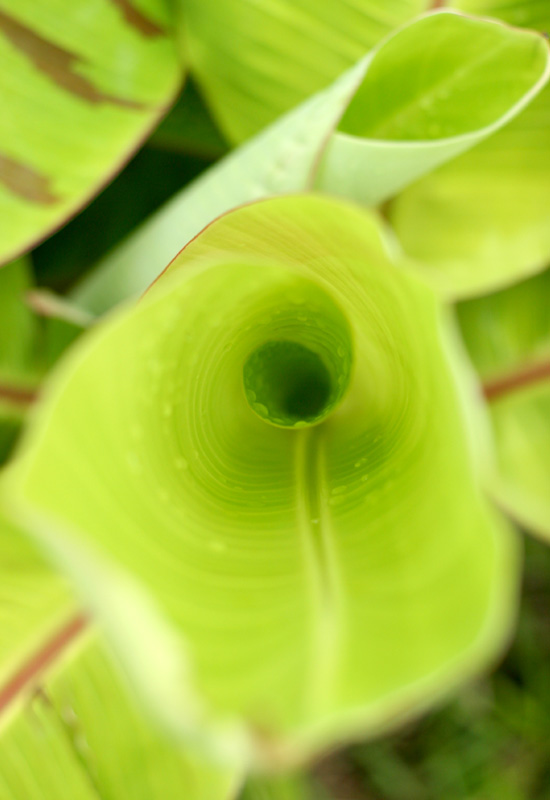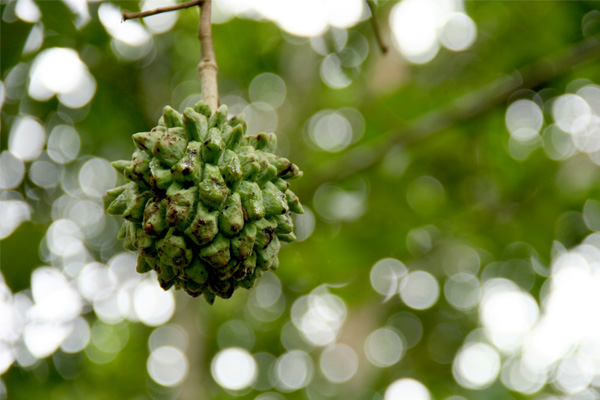 However, it wasn't long until we realized that the cooler weather over the past week has led to a rather unfortunate result: mosquitoes thicker than I had ever experienced before. Honestly, just swinging your arm through the air made it feel like it was raining; that's how many of the little devils you would hit.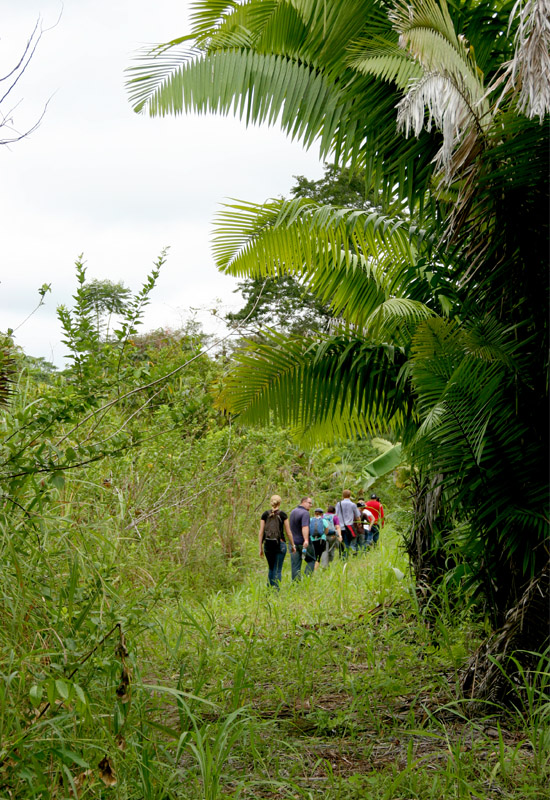 Our nice walk through the jungle turned into a march of desperation, arms flailing vainly against the encroaching horde, hands clutching leaves that we used to swipe feverishly against the blood sucking menaces. I'm actually not exaggerating right now; I sucked a couple into my mouth on at least every other breath. When we finally got close to Korky's place, the open land was a welcome relief, and after a quick stop to chew on some fresh sugar cane (modeled here by George) we followed the stragglers to church. It was 11:30, two and a half hours after we left the base. Forty minutes my rear end!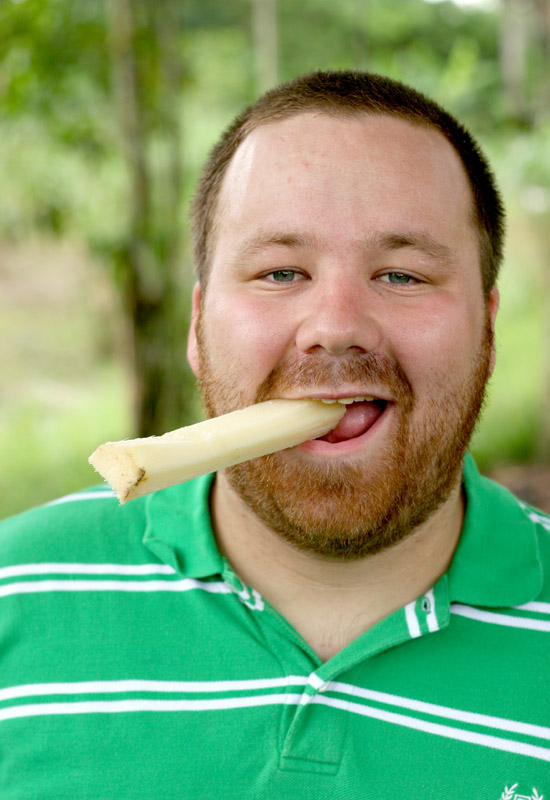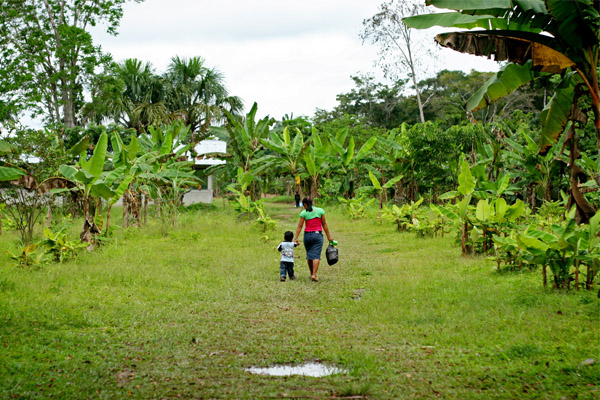 Naturally, the congregation had waited for us to begin, so we all piled in to the 'pews,' nothing more than long boards held up on stumps and paint cans and plastic buckets. I'd be lying to you if I told you those buckets lasted through the whole service without breaking.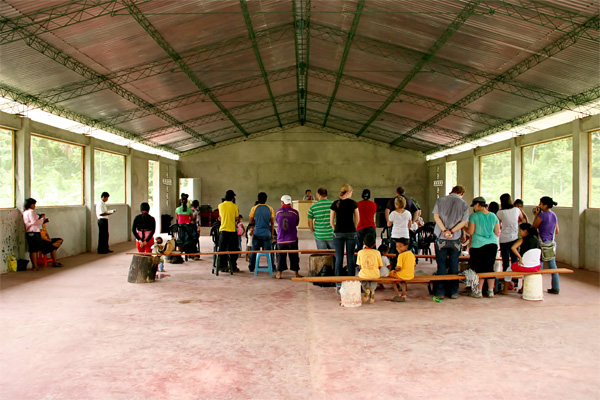 Also, I'd be lying if I said I didn't find a baby to hold and take pictures of.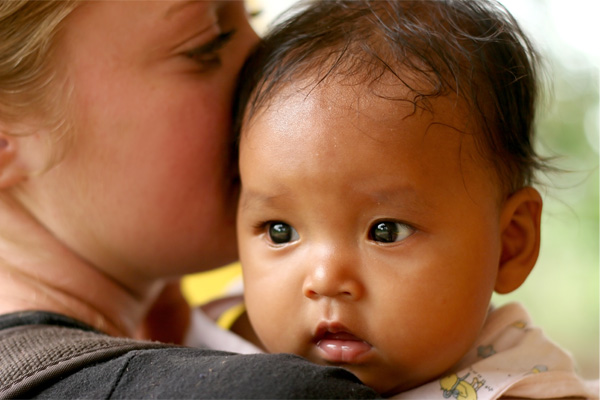 Church was incredible, despite not being able to understand much of what went on. I just had this feeling of the connection that exists within the body of Christ. If a group of the faithful tucked away in a corner of the Peruvian Amazon feel connected enough to me as a sister in Christ to hold church for a couple hours while I slog through the jungle to get there, what kind of bonds might I have with similar little pockets of believers all over the world?
After church, it was time to eat Chimby. Ruth, one of the more sensitive souls on our team, wasn't a big fan of this idea, but the big brother of the baby was more than ready to make up for her reluctance with a grin as wide as the morning.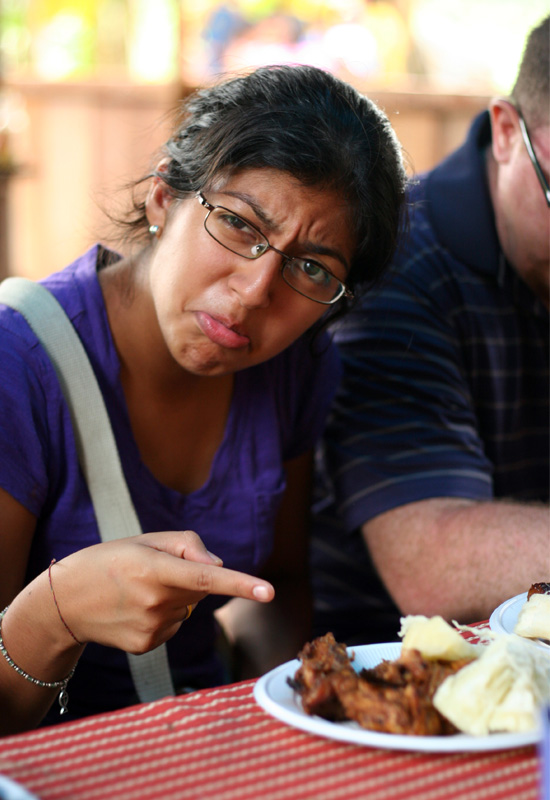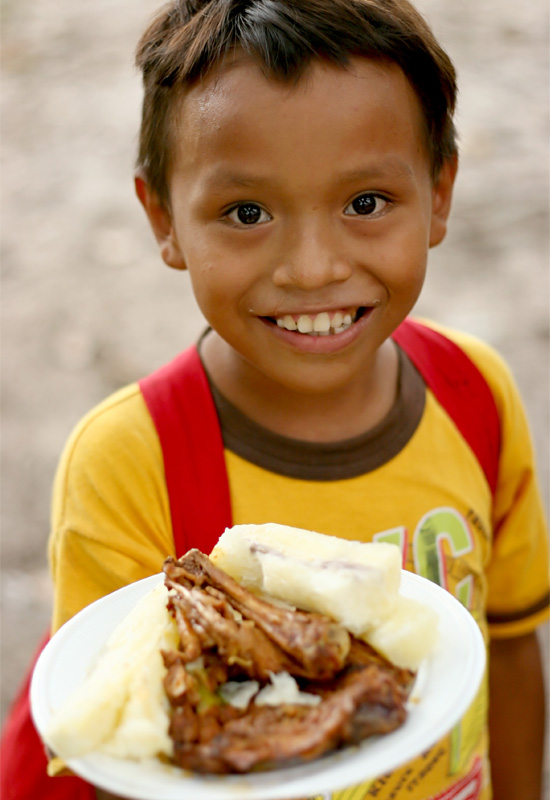 Once our bellies were full of the best chicken any of us had ever tasted, along with yucca and spicy sauce, we headed home. This time we got to go in the promised boat, sliding through the river in the gathering rain, the only thing that provided even a semblance of relief from the mosquitoes.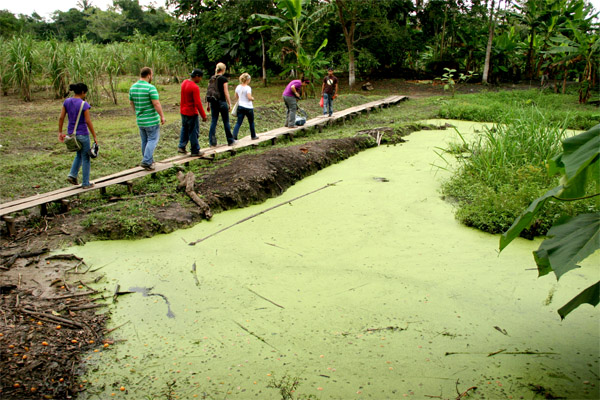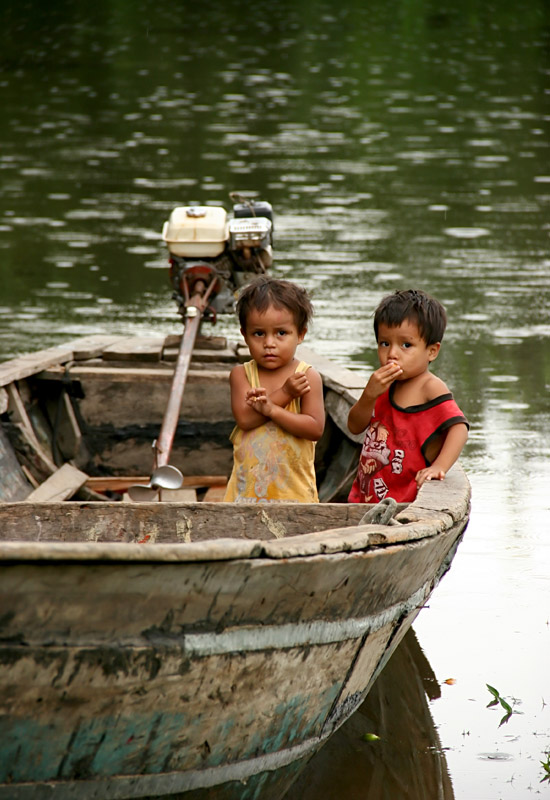 As far as adventures go, this was one for the books. Unfortunately, along with the mosquitoes, there was a particularly nasty tribe of fire ants somewhere in that jungle that chewed up my feet to the point that they're calling me
Pillow Feet
around the base these past couple of days. Not fun, but it was definitely an experience worth a little pain.