Sorry for the long silence. After spending almost two weeks in bed, I was only too happy to put my newfound energy to the test, which left very little time for lounging around on the internet. Add to that the fact that last weekend was our second mini outreach (this time to a local church here in Iquitos) and the lack of blogging becomes fairly understandable.
The weekend outreach was a little taste of what our long outreach is likely to be like, once we come back from the river. (Incidentally, we leave for that trip in just two weeks, somehow!) We slept in the church, and led services for the youth, Bible studies, and Sunday meetings. We did dramas and danced and played in a football tournament (at least the boys did) and my ultimate favourite part was Sunday morning when we got to do a program for the kids. In classic South American fashion, we ended up having to fill an extra half hour of time, so yours truly got to take over the mike and re-dance all the dances. The kids seemed to understand what was going on, so my Spanish couldn't have been totally unintelligible, and the only big mistake I made was allowing a dear autistic boy pray for the snack. He grinningly thanked God for the poo poo, and I was forced to do a quick swoop for the mike and re-pray before the kiddies realized what had happened. It's all a learning experience though, right? I'm sure I've unwittingly said worse than that in my attempts to communicate.
The girls relaxing during some down time: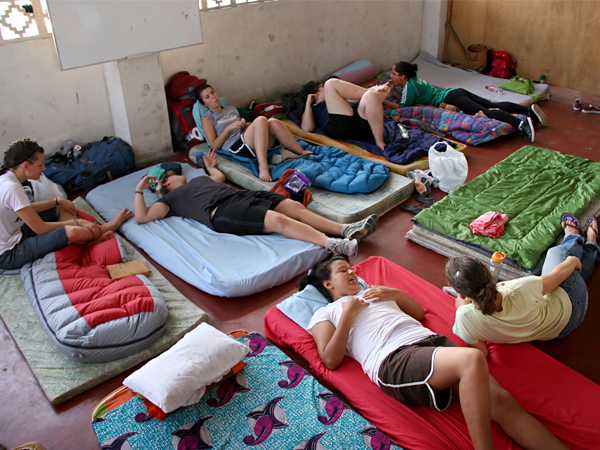 Phil getting in touch with his inner devil during a drama at the church:
...and with his inner hip-hop star during a choreography presentation at the football tournament: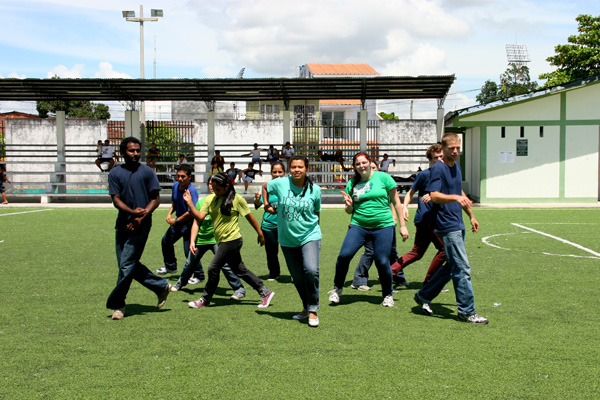 Megan, Miri and Keren performing a hilarious clown skit for the kids: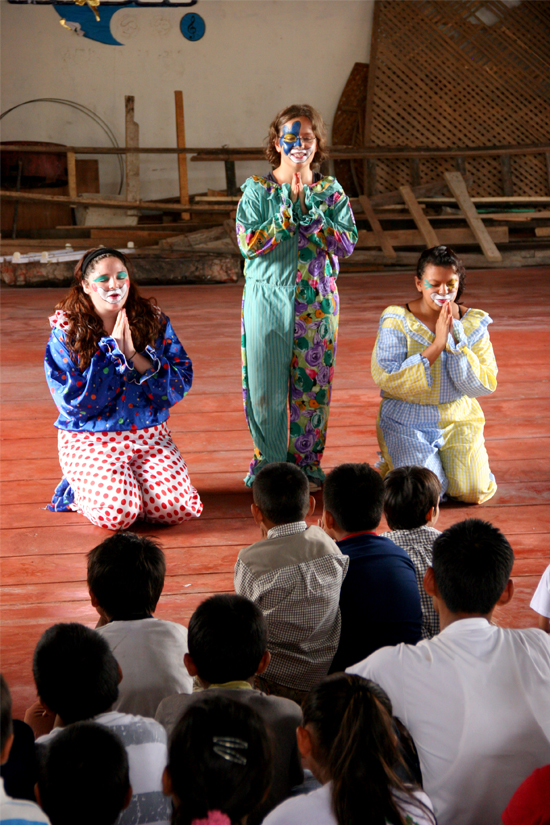 Of course I found a baby. What did you expect? This is little Liel.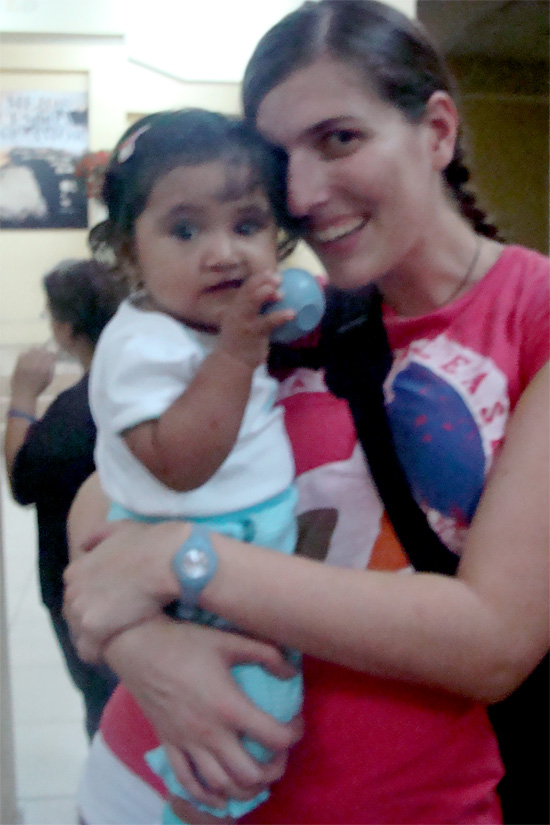 (Thanks to Janine for the photo!)
The weekend was wonderful, but in the interest of full disclosure, I have to tell you what's been happening since then. By the time the mini outreach had finished, I was feeling a familiar ache in my hands. Over the course of this past week, my feet and knees have been feeling progressively worse, and as I write this, it's to the point that I can barely walk up and downstairs. In short, I'm feeling just about as bad as I was before I was healed.
I've been struggling with how to share this, because I've been struggling to even understand it myself. I've been more than a little discouraged, feeling like God gave me a taste of His power and then snatched it away from me as soon as I started to get comfortable with it. I keep asking myself if it even counts as a miracle, since the pain came back after only a week, and I can't help doubting the whole experience.
And this is exactly what the enemy would have me do. So I won't.
I know what I felt, and I know that I spent an entire week completely free from pain and tiredness. I know that I woke up each morning refreshed and ready for the day, and I know full well how much I danced with the kids. For those of you who've been to Campamento El Faro in Ecuador, you'll know what it means when I say that Para Los Niños was just the beginning!
It doesn't matter that I have pain right now, because I didn't have any last week. If clouds cover the sun, it doesn't mean the sun has been thrown from the sky. It just means I have to wait to feel its warmth again.
And sometimes, it's warm no matter how thickly the clouds gather. Today marks the second anniversary of the day I married my best friend. We've spent the past year living wild adventures all around the world, and there's no indication that the adventuring will stop any time soon. We've officially made the decision to head back to the ship in the fall for at least another two years, and I can see my life with this man stretching out in front of me like a promise.
So shucks to a little pain; it's not so important when he's there to tell me it's going to be okay.