I have a funny story to tell you, and I think it just underscores for me yet again why I'm not ready to come back to the first world for good quite yet.
I had gone into town to use the internet (and maybe get some ice cream, but you don't need to tell the HoJ that, please) and on my way home, the
mototaxi
I was riding in suddenly pulled over to the side of the road and stopped. This, mind you, was after two previous stops, one for gas and one for I can't remember what, so I just thanked my lucky stars that I wasn't in a hurry and hopped out to see what was up. The dear, taciturn driver took a look at the back wheel where a rice sack had somehow gotten wrapped around it underneath the chain and, without a word, proceeded to tip the taxi up on its side so he could start working on taking care of the problem. The problem, as far as I was concerned, lay more in the fact that he didn't warn me that he was going to tip a taxi on its side directly in the place where I was standing, and so I jumped back to avoid being squished. The secondary problem quickly became evident, as I promptly fell about three feet backwards down an inexplicable drop in the sidewalk, scraping a good part of the skin off the side of one of my feet in the process and badly jarring my already sore bones.
The process of bag removal took a good twenty minutes, aided by a knife borrowed from a nearby home, while I watched and muttered encouraging comments, praying that the threatening clouds wouldn't open up and that I wouldn't bleed on the sidewalk. I could have walked home, but I felt a strange sense of solidarity with the poor driver, despite his having nearly caused my ruin. Once the bag was cut away and the taxi was tipped back squarely on its three wheels, I climbed back in, and we set off towards home. Only then did the driver open his mouth again, to inform me gravely that, in fact, a bag had wrapped itself around the wheel, and that was why we had to stop.
Thank you, sir. I hadn't noticed.
And that's why I love the third world, and why I'm growing more and more to love this particular corner of it. I love the pace of it, where twenty minutes to hack apart a rice bag isn't too long to wait.
I love the random butterflies that land on the wall outside my room, their wings fluttering in the cool breeze that always blows across this particular passageway.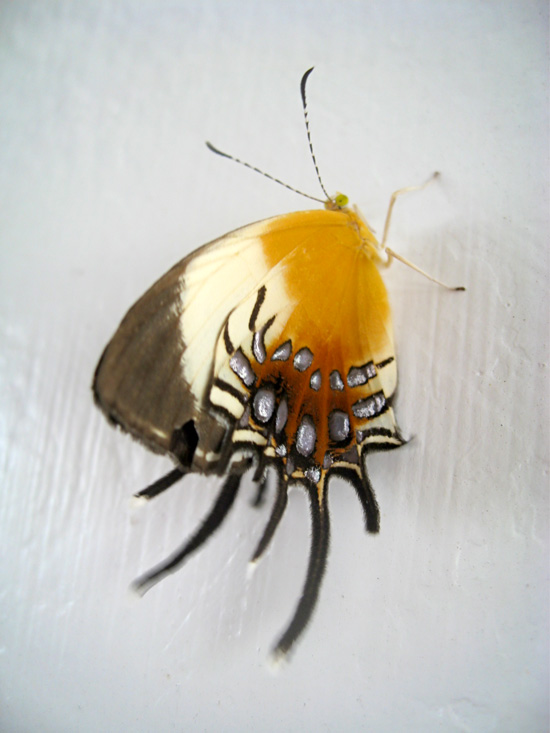 I love the restaurant at the end of our street, where it connects with the main road, where, for less than $4.50 for the both of us we can treat ourselves to this feast.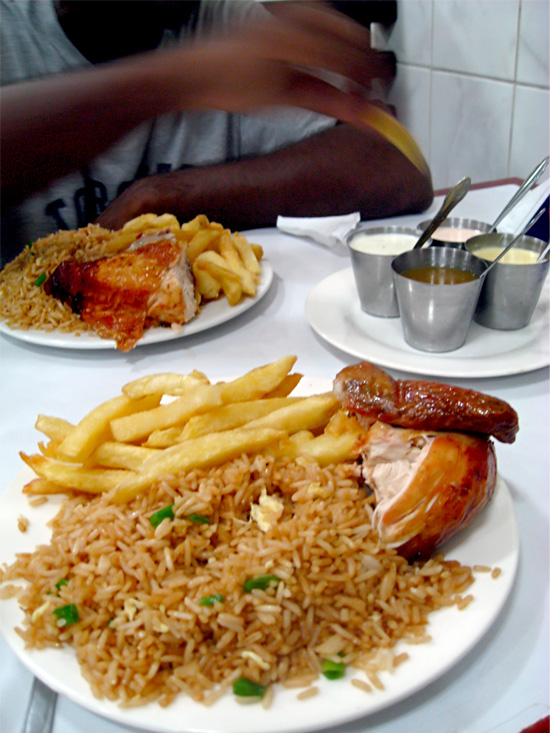 I love that Phil and I went out for
cebiche
the other day and, halfway through a pile of raw fish, decided it was delicious enough that we could call it our anniversary lunch. (I also love that my mother is probably shaking her head at the screen right now, remembering the endless battles required to get my childhood self to eat fish that was properly cooked; if she had a grave, she'd be positively spinning in it to hear that I'm willingly gulping down heaping plates of the raw stuff!)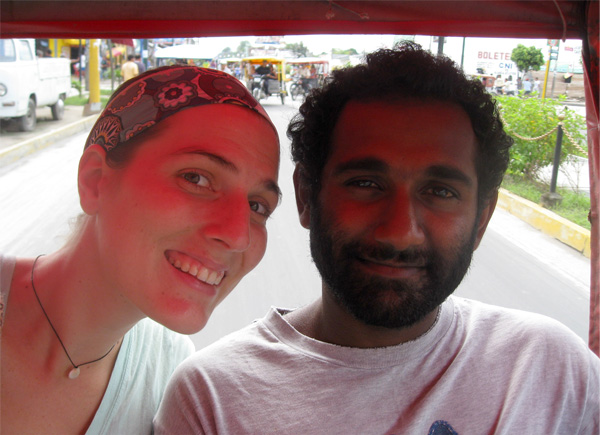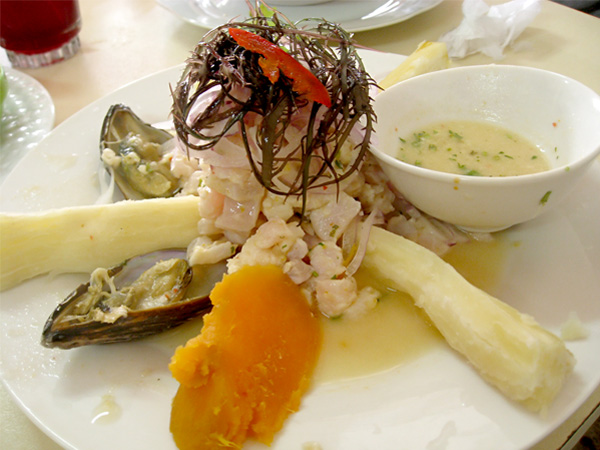 I love that when the dinner bell rings, sometimes this is what I walk past on the way downstairs. The clouds here are endlessly changing, with a different sunset every night to be enjoyed from that same passageway that the butterflies frequent, the one with the perfect, cool breezes.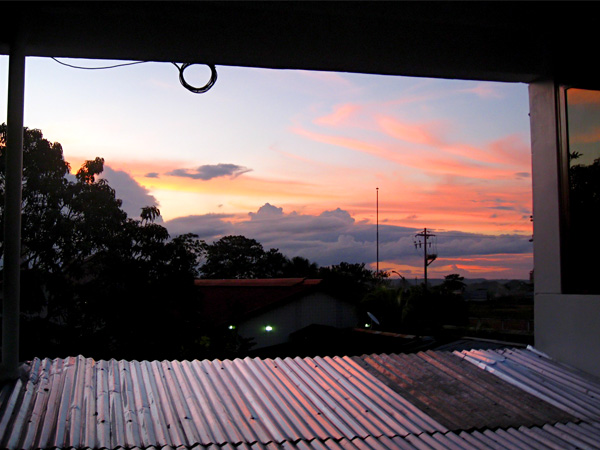 The one thing I don't love? Dengue. This announcement is painted on a wall near our street, encouraging us all to remove dengue from our houses, and for the first half of the school, I would pass blithely by in my
mototaxi
, feeling vaguely sorry for the people who were unfortunate enough to come down with it. It's a long sign, and goes on to encourage us that, if we're united, we'll be victorious. I should have gotten on the team sooner.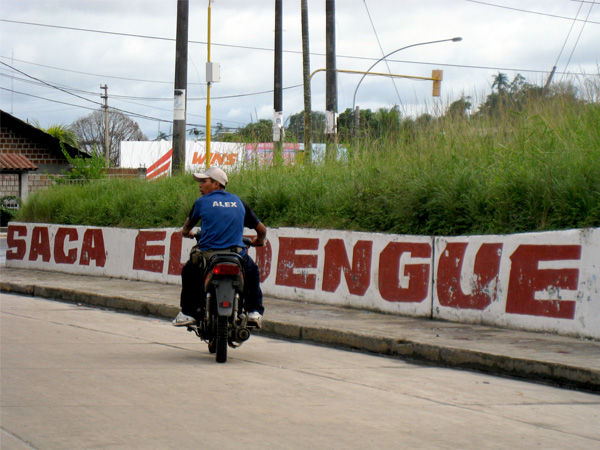 Now, however, it smacks me in the face every sings time, not simply because I'm still dealing with the after effects, but because its taken down one of our leaders, too. He got sick with it during our mini-outreach, and due in part to that and in part to family illness, he and his wife left early this morning to go home to Columbia. They won't be coming on the big outreach with us, and we're going to feel the loss of them cruelly. Please pray for Wylson and Dea as they travel and spend much-needed time at home with their loved ones.
But hey, let's look on the bright side: even thought it hurts, at least my entire body doesn't look like this anymore, right?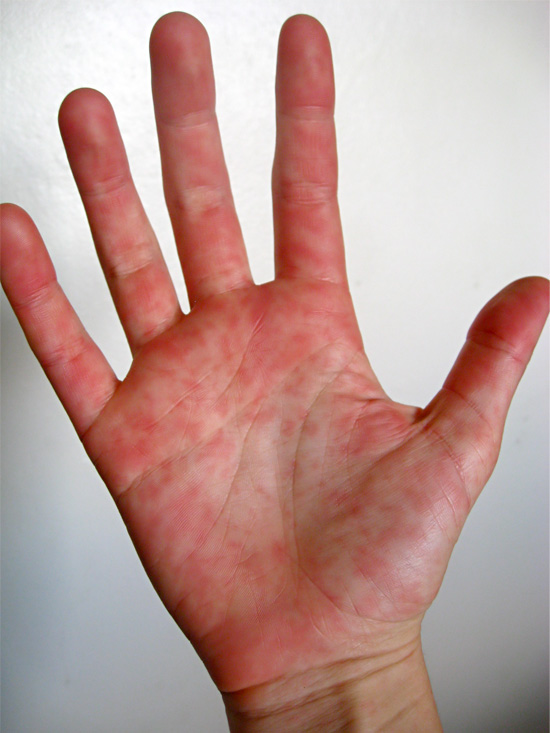 And as much as we're happy here, discovering all the things we'll miss about it, our thoughts are turned forward to the fall. Plans are quickly coming together for our return to the ship and our introduction to the fine country of Sierra Leone, and there's a big part of both of us that doesn't want to wait.
Let the adventures continue!