Just a quick note to let you know the plan for the next two weeks, lest the long silence causes anyone to wonder which new tropical disease I've fallen victim to...
We leave early Monday morning on a two-hour bus ride to the only other city accessible by road from here in Iquitos: a river community called Nauta. We'll spend four days there, and on Friday (the HoJ's birthday!) we'll all load into the
Logos
, the largest of the boats belonging to the river ministry on the base. From Nauta it's about six hours by boat to the Rio Tigre, where our destination will be the community of Nueva York. (Yes, that
does
mean 'New York.' No, I'm not sure why I came to an entirely different hemisphere just to go to a city I could have reached in an hour on a local train from home.) We'll spend a little over a week there, doing whatever the local church has planned for us and drilling a well for the people of the community.
Health-wise, I'm not sure how much of the trip is going to include me. I've been feeling pretty rough the last few days especially, and a second trip to the hospital provided me with a set of labs slightly worse than when I actually had Dengue and a doctor who was firmly convinced that there was no way it could be the culprit. I came home and did the test on myself, since the first-aid kit now lives permanently in my room, and while it wasn't as obvious as the first time, there were some telltale little red dots in the crook of my arm.
All that to say, I'm not sure what's going on, and I'm not sure what to think. I'm going to head to Nauta with the team on Monday, and if my poor, ragged body can't hack it, I'll come home on Friday when the rest of them hit the river proper. Please do pray for us to have wisdom as to what I should do. Such a big piece of me wants to completely ignore the way I feel and jump into that boat without looking back. This river outreach was a huge part of the reason that we came to Peru for our DTS, and the thought of missing it is like a fist in the gut.
However, I have been blessed with a husband (of joy) who is a far more conscientious guardian of my health than I'll ever be, so I think I'll just let him tell me what to do. Time will tell how much I'll be able to participate, and at the end of the day, there are eight more weeks of outreach after the river, each in a different city, so I'll need all the health I can get my sore little hands on.
See you all in two weeks, hopefully. If you hear from me sooner please be prepared with words of love and encouragement, because I'm going to be feeling pretty disappointed.
Here's a collage of all the people on Equipo Rojo, pretty much the best team ever. Although all thirty of us will be on the river together, once we're back in Iquitos we'll split off into three teams. Please be praying for us!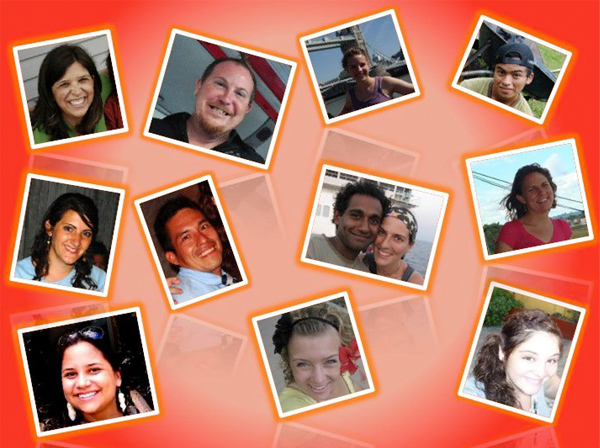 Top (L-R):
Ingie (Canada), Matt (USA), Annie (USA), Korky (Peru)
Middle:
Pam (USA, one of our leaders), Roger (Peru), Me & HoJ (not quite sure where we live), Sandi (USA, our other leader)
Bottom:
Debora (Brasil), Amber (USA), Megan (USA)