For those of you who are handy with calendars, it's probably obvious that this post is coming far earlier than the two week mark. I'm sitting in the internet cafe in Iquitos, looking out at the whirl of
mototaxis
passing by and wishing like anything that I could trade it in for the quiet rush of the Rio Tigre.
To be honest, I thought I was going to make it. When we arrived in Nauta on Monday I felt better than I had in weeks, and while sitting in a hammock reading my Bible I stumbled across these verses from Isaiah 35:
Strengthen the feeble hands, steady the knees that give way; say to those with fearful hearts, "Be strong, do not fear; your God will come ... He will come to save you."
I felt so sure that I could claim that promise for my poor, feeble hands and for the rest of my body. But waking up the next morning was nothing short of terrible, and each day got progressively worse. By Thursday night it was pretty obvious that getting in a boat for seven plus hours wasn't going to be a good idea, to say nothing of the eight days to follow far from any kind of medical facility. If it had been the last week of outreach, we might have pushed it, but this is only the beginning, and we want more than anything to see it through to the end.
So here I am, more than a little disappointed, but filled with peace about the decision. I saw a doctor at a private clinic yesterday, and feel confident in the battery of tests he's prescribed. He's asking enough questions that if no answer shows up, there probably isn't one to be found. I'll keep you posted as I know results, but it'll be at least a few days.
In the meantime, I have some pictures for you to enjoy. Once we head out on the rest of the outreach, I'm fairly sure that there will be neither time nor internet connections for me to give you more than very sporadic glimpses into what we're doing, so I figured I'd take advantage of the time here in the city. Much of what we'll be doing for the rest of the outreach will echo these past few days, too; lots of dirt fields and dancing kids and parks crowded with people wanting to see what the crazy gringos are up to.
The kids were, of course, beautiful. I could post a hundred photos of them, but here are just a couple. The little guy in the red shirt is Renzo, and he lived just down the street from the camp where we stayed. He spent most of every day hanging out with us, building elaborate play houses from stones and sticks and drawing in the dirt with machetes that he would pinch from who knows where.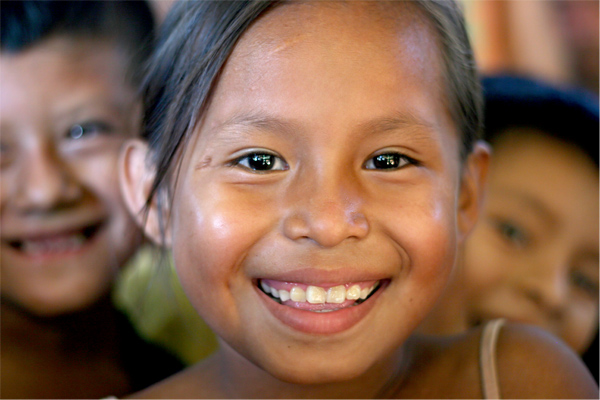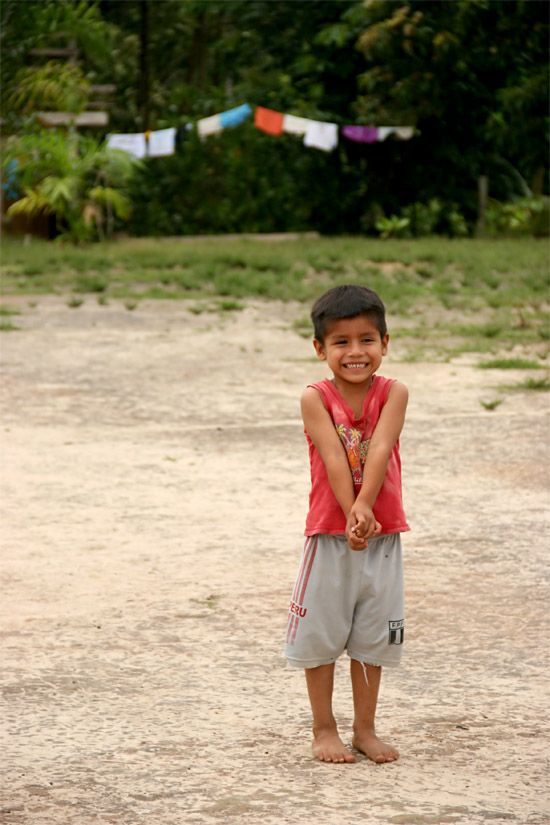 Sometimes we did programs in the little church at the camp, nearly empty when we would start and crammed full with no room to breathe by the time we finished.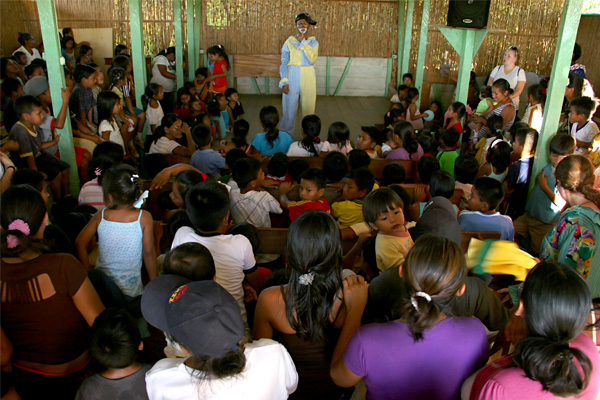 And, more often, we would head out to a little community in the surrounding area and make our way to the ubiquitous football field. Every village has one, and we made good use of them. While I wasn't able to do much in the way of drama or dancing, I had the privilege at one of the programs to present the Gospel. You can see in the photo that I'm standing in front of a big group of kids, but what you can't see is that all around the field, safe in the shade of their houses (which was wise on a day where the sun was the hottest I have ever felt it), were just as many adults, listening and watching everything that we were doing.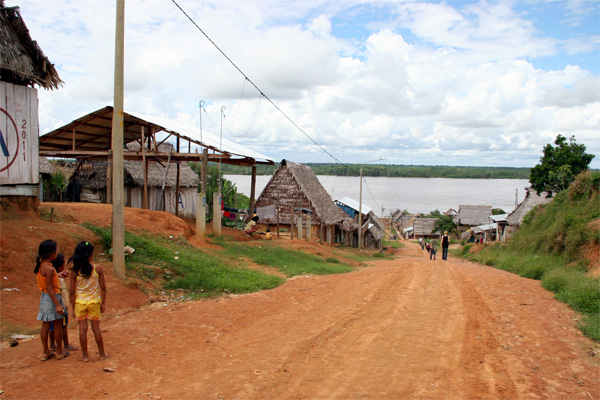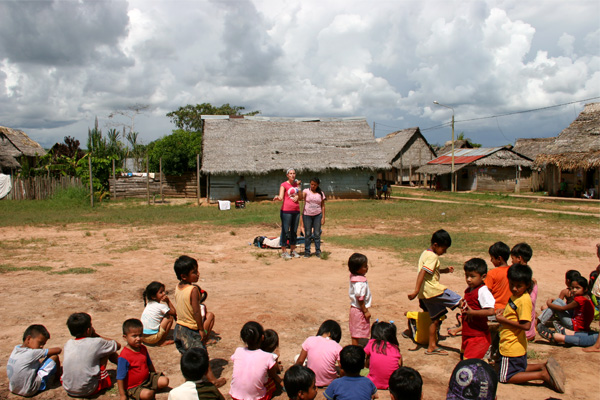 One of the old ladies who braved the sun the day to inch a little closer to the field for a good view: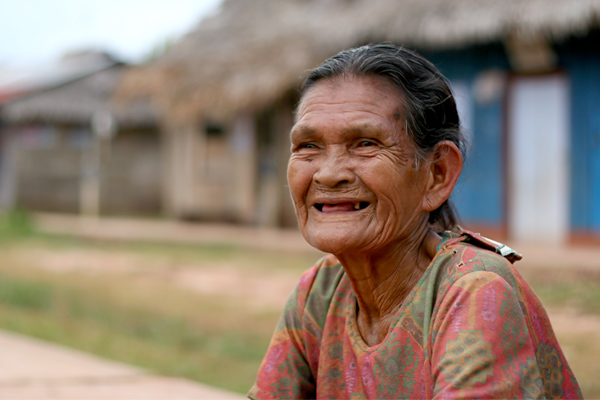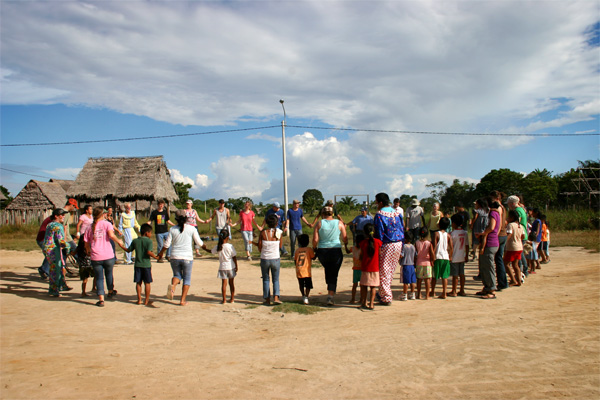 Can you spot the HoJ? (Hint: he's the one in the front, pretending to be Superman.)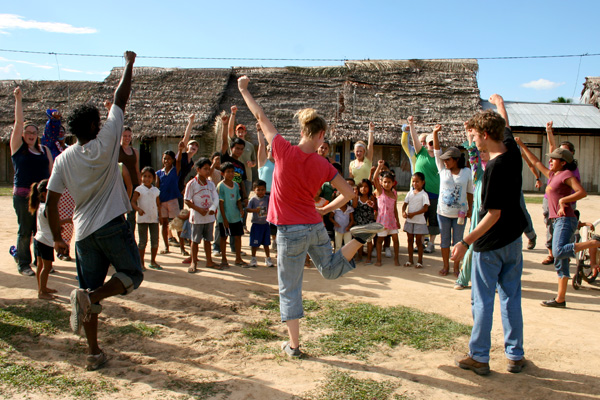 The unanimous favourite when it comes to games?
Que hora es, Señor Lovo?
It involves mainly running and shrieking, and they love it. Here they are doing both of those things in style.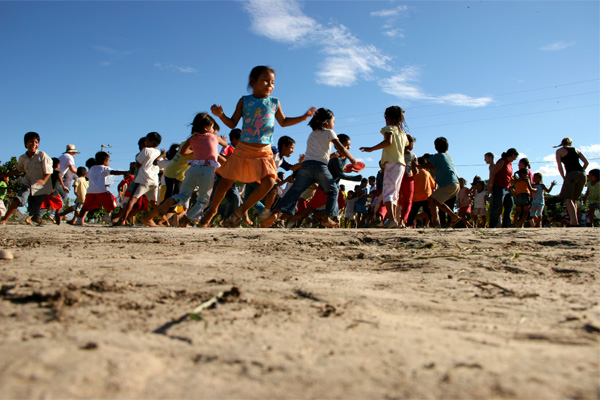 And, of course, someone has to guard the wheelbarrow! (This photo is being posted specifically for Riley's mum, because I know she reads here and loves to see what her son is up to. Don't worry mama; he does a lot more than just sleep in wheelbarrows, as you can see in one of the previous photos!)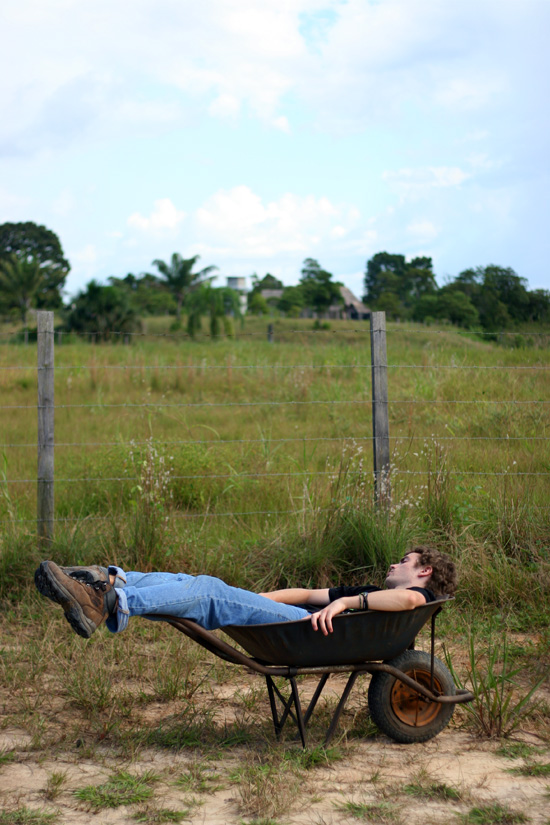 On Friday morning we caught
motos
down to the river with the rest of the team and waved them off as a rainbow spilled its glory into the river, a promise for the week the come, whether spent in tents in the jungle or doctor's offices in the city.