It turns out that when you're home for an entire summer with nothing to do but rest and get over a nasty case of dengue-induced viral arthritis, you get a little crafty. At least I do. Did. Whatever.
My cousin Rae (who's really more like a sister than a cousin, if we're being honest here) is having her second kiddo in just a couple weeks here. If she (the baby, that is; my cousin doesn't have a lot of say in the matter) cooperates, I'm going to get to be there when the big event happens, and to celebrate the imminent event, I decided to throw a party for Rae.
This is the point at which I made a near-fatal error: I went on the internet looking for ideas.
Don't get me wrong; I love the internet. I more specifically love
Pinterest
, and so I hopped on there and typed
baby girl shower
into the search bar.
That, my friends, was the beginning of the end.
Over the following days (it could have been weeks; time is blurred together at this point) I scrolled through countless photos of pink, frilly decorations and scrumptious-looking treats and silly games until I had put together all the best bits. I've been slightly obsessed with this party for the last couple of weeks, always coming up with new ideas and more details and different foods to prepare. The last few days have seen me in the kitchen, apron firmly tied, preparing treats from morning 'til night. (This, in and of itself, is a testament to how much better I am health-wise; my ankles hurt by the end of it, but my hands are feeling great!)
And today we partied. We ate until we were stuffed and crafted until we were tired. It was a sweet time with some amazing women, and we made the most of it together. Would you like to see some photos? Of course you would!
Let's start with the treats, shall we? Clockwise from the top left: A shot of the cake (more on that later); rainbow fruit skewers; sparkling white sangria with raspberries, kiwi fruit and peaches; the drink cart (including pink lemonade, of course) and the treat table with lots of other delicious things; grilled brie with thyme-infused honey and fresh figs. That last one? To. die. for. If you ask nicely I'll send you the full-size photo. As long as you're willing to drool. You have been forewarned.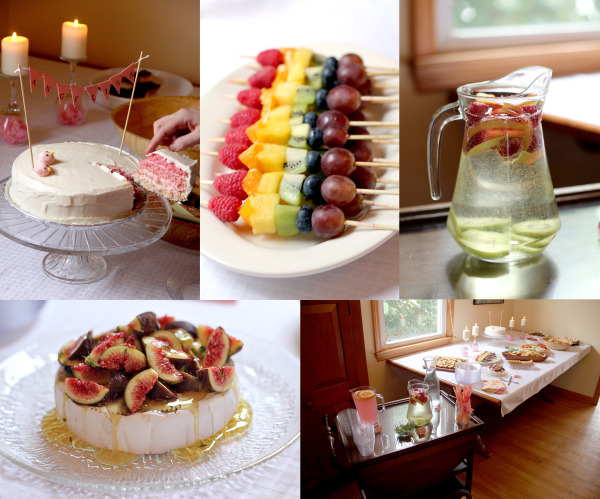 Moving on to the cake! I saw this cake on someone's blog and knew it was the one. I made cupcakes, too, so I just made skinny little layers, four of them, each in a different shade of pink. The little birdies are made of fondant, and their friends were sitting on the cupcakes. I love rainbow cakes, and this monochromatic one was just beautiful. Mine didn't turn out nearly as beautiful as the one I saw on the blog (an unfortunate effect of some sticky pans), but I think it was quite good for a first attempt. (Also, you're allowed to hate Rae; she's due in less than three weeks and she really does look that incredible.)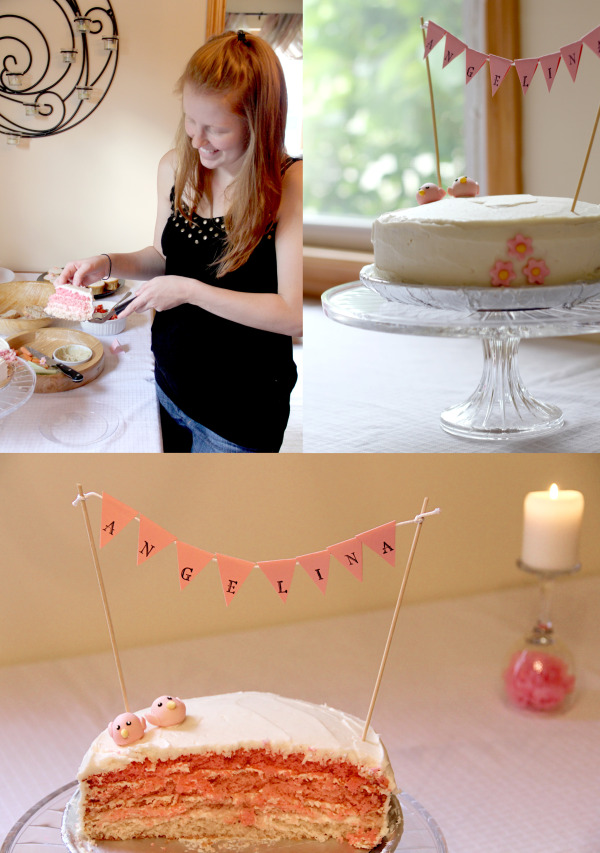 Here's one of my favourite bits about the shower. Although we weren't giving gifts (other than the onesies we each decorated, but we're getting to that), we decided to bless Rae with some diapers. And rather than just handing her the boring old packs, we broke out the markers and decorated them with pictures and jokes and little words of wisdom for the coming months. Some of my favourites:
Let the potty-training begin! Since I probably won't remember to tell you this when I can talk, thanks for keeping me clean and dry,
and of course the ever-popular,
This one's for daddy!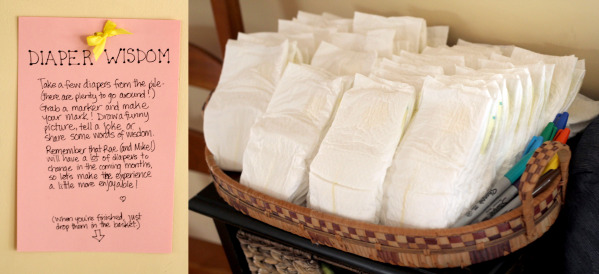 I also made some 'wish cards' for the baby. Each guest got one and filled it out with wishes for Angelina to read when she gets older. I get a little choked up just thinking about how special this will be for her someday, to know that we all gathered together to love her and pray for her before she was even born. There are even a few extras that are going to go out to family members who weren't able to be here today.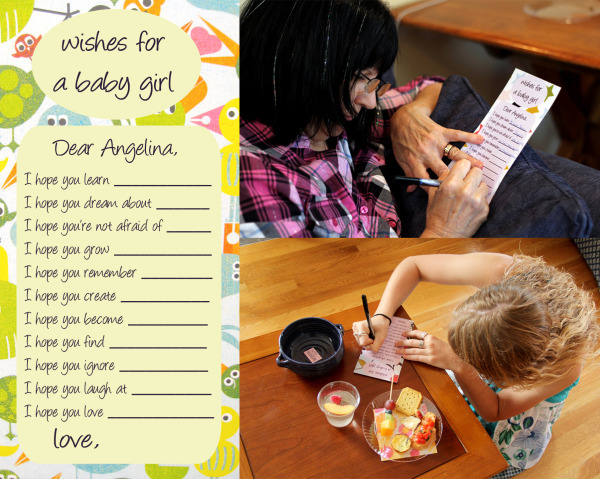 In spite of all the treat-eating and diaper-drawing and wish-writing, we spent a good amount of the time decorating onesies. And let me tell you something, folks - this was one creative bunch!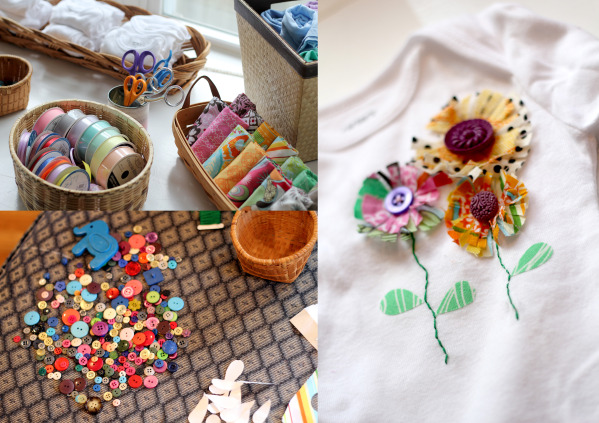 (That one with the flowers was made by my friend Heather, and I'm considering giving her one of my own t-shirts to work on.)
And now, I present, for your viewing pleasure, the finished products.
Now all we need is for little Angelina to show her face; her wardrobe is all ready! Stay tuned, because if the timing is right with a trip to Texas I'm about to take, I'm hoping to have some beautiful photos from her birth to share with you in a couple of weeks.
Moral of the story: Go on Pinterest if you want to throw a super-fun party. Just stay away if you have any other commitments for the two weeks prior to that party. Because you're going to find a
lot
of ideas, and you're going to want to do them all!