In the middle of our shift today, one of the nurses I was working with turned to me and said something that I consider a real compliment, considering the way things were going.
You see, right at that moment, I had just returned from the hall, where I had been swaggering up and down with Comfort and Abiba, both of whom had blankets tied like capes around their necks. We were practicing our model walks; Comfort's posing far outshone Abiba's tentative attempts, but both were giggling. My hair was up in wild, uneven pigtails, tied with purple string, courtesy of the two girls, and I had stickers on my forehead and cheeks.
I was breathless and laughing and one of the nurses turned to me and said,
Jenny
(one of the nurses who knew me from before)
described you exactly right.
If people describe me that way, the way I was halfway through my shift this evening, then I am exactly who I want to be and I am exactly where I want to be.
Comfort is eleven. She's from Nigeria, and when she was four, a tumor started growing out of her cheek until it was the size of a grapefruit. It swelled out from the left side of her face, disfiguring her and condemning her to a life of shame. Two or three years before that, in the bush here in Sierra Leone, Abiba fought a battle with
noma
that ate away most of her top lip. Both have been here for a while as our surgeons cut away disease and worked to reconstruct their faces. Both have known ridicule and hate, and today we wanted them to know love.
And so we laughed. Rosie and Robyn (two women who work in other areas of the ship) came down to give foot and hand massages, we painted nails in pretty colours and then we headed out to the hall to practice our swagger. Abiba's normally withdrawn demeanor gave way, just for a moment, to a little diva in a red cape. It's the first time I've seen her come out of her shell, and Comfort is now far enough out of hers that there's really no going back. I never feel more like myself than I do in moments like this, in the times when I get to watch little girls laugh and play the way they should after years of not being able to look other people in the eye.
When I walked into the dining room to get some water after my shift, one of my friends did a full-on double take.
What happened to your hair?!
Nothing happened. This is just who I am, apparently. Lopsided hair and all.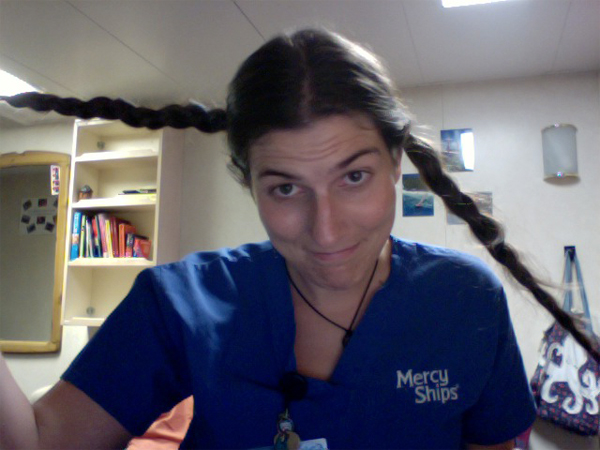 This is exactly who I want to be.