I've waited a little to blog again, because I wanted to tell you about Sia but I wanted to have photos to share with you. Today our ward photographer came down to take some 'snaps' while we were working, and I think it will be fairly evident that my little Sia is feeling much better these days.
She had her second chemo treatment on Monday, and has bounced back
much
more quickly this time around. It's obvious why; when we gave her the first treatment, her tumors were huge and she was a very sick girlie. Today, though, she's a completely different person, and boy is her personality amazing.
She's still scared to death of having her blood drawn, though, something that unfortunately happens fairly often when you're being treated for cancer, and this morning I was the lucky one who got to hold her down for the proceedings. We use a cream that numbs the area so she's not feeling as much pain as you'd expect, but just the sight of us coming with the tourniquet is enough to start her crying. By the time we finished this morning (despite a fabulous nurse getting the blood easily on the first try), she was limp in my lap, a puddle of tears staining my scrub pants.
I wanted to be more than just the one who holds her down while we hurt her, so I did what comes naturally to me: I made a face at her. And then I made another one, and another until she was finally making them back. We kept going until she was laughing and reaching up to kiss my cheeks.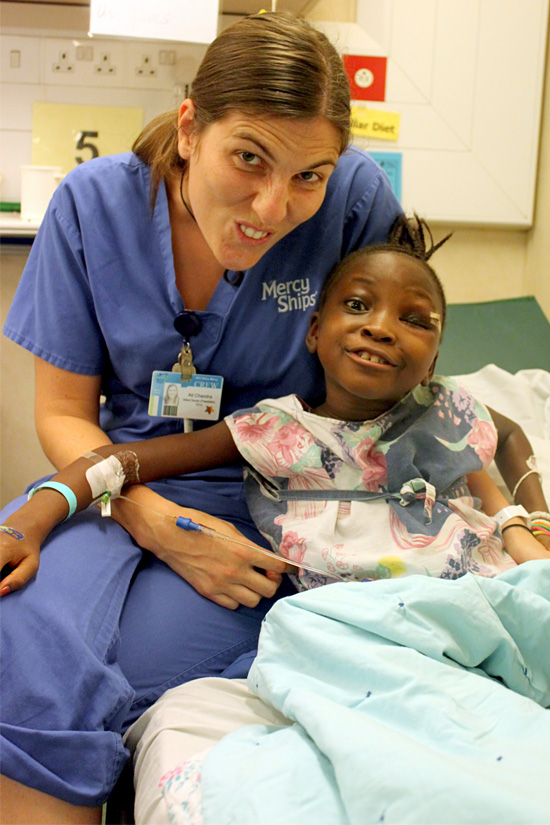 And now, it seems, I have broken dear Sia. She doesn't appear to be able to make a normal face in photos any more. I love it.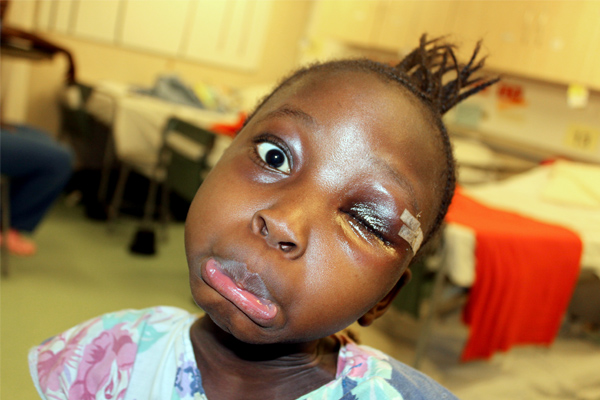 This kid is spunky like you wouldn't believe, and it's what's going to get her through the next few months. Everything is in place for her to go to the Hope Clinic in Guinea, and we're just waiting for her uncle to arrive so we can send her on her way with all the supplies she needs for the rest of her chemo treatments.
There's one every outreach. (Jenn wrote about hers
here
, and I love how she explains it, how there can be so many who mean so much but just one who really gets into your soul.) Sia is definitely my one, and as short as this time here in Sierra Leone has been, she's got just as much of a hold on my heart as any of the others have.
(Have I mentioned how much I love this place?)