Today was the last day of surgery; it happens every year, but it still comes as a shock every time. It's different this time because I've only been here for the last six weeks, but there's still the sense of having come to the end of something monumental.
To mark the occasion, we had a full-out party on the empty side of A Ward this afternoon. We crammed almost the entire hospital in there along with caregivers, nurses, day volunteers and anyone else who wanted to come. It was like the Sunday morning church services on steroids, and I am not kidding you when I tell you that they heard us sing two decks up clear on the other side of the ship.
Clementine, one of the Patient Life workers, started us off with a reminder that this place is not about preaching religion; it's about a relationship, about the love of God that pulled us from our homes to come to West Africa and serve here. It's about the love He has for us and the love He wants us to have for one another. And when it was translated into Krio, I couldn't help but smile.
He no wan church. He wan dis padi padi business.
Looking around the room as we clapped and sang and danced to the rhythm of the drums, I saw so many people I've built relationships with over the past weeks. There was more
padi padi business
crammed into that low-ceilinged room than I could possibly have imagined in such a short time.
Isatu sat behind me and then danced her way around to the front of me, pulling me up to shake my
tumba
along with her. I call her my Grandma Groundnut because of her age and affinity for a peanut-flavoured high-protein supplement she takes to help her wound heal. G. G. had surgery to remove a cancerous tumour from her jaw; no one knows whether or not the operation will cure her, but it's given her these extra months to live and love. And, apparently, to become a zebra-printed hair dresser. (Thanks again to Deb Louden for the photos in this entry.)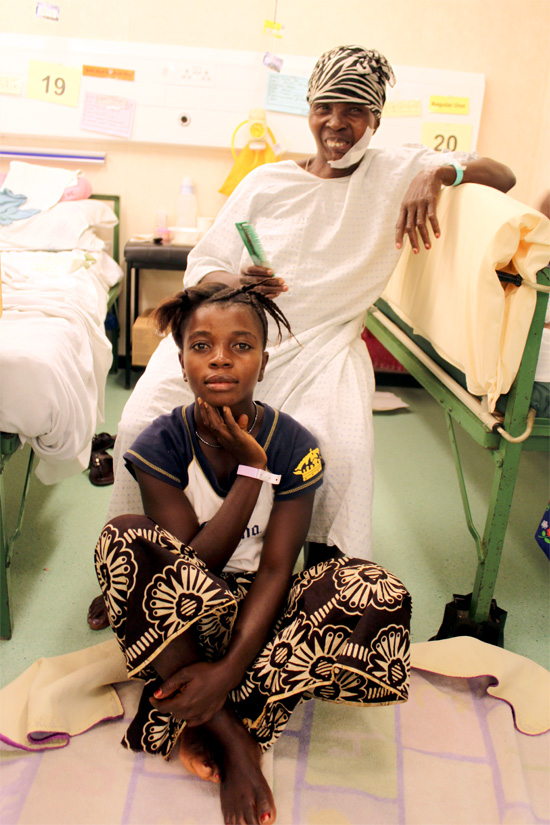 When the praise slowed to worship (two entirely different tempos and decibel levels here in Salone), Grandma Groundnut slipped her arms around my waist and laid her head on my chest, just like one of my little
pikins.
We swayed together as we sang, and I realized that I love this little old woman.
When I sat down to hear testimonies, Abu crawled into my lap. He had surgery a couple weeks ago to take out most of a tumour on his neck. We couldn't get all of it, which means he'll need more operations in the future, and we've been worried by the length of time it's taken for him to recover from this one. We've had his name on a list of people who will need follow-up care when we sail away, but just this morning when his nurse took of his bandage, we realized that it was clean and dry underneath.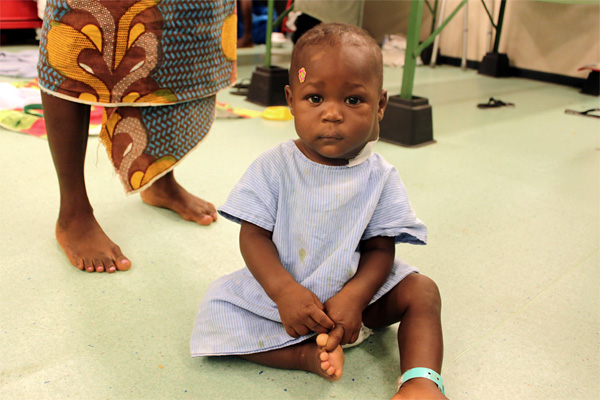 Abu has been healed, and as much as I'm ecstatic for him to go home soon, I'll miss our daily chats. I sit in B Ward every morning writing in charts, and we sing back and forth to each other. This is another one that I love.
There are so many more, and today we all sat together and heard testimonies of what God has done in our lives. My hair was (and still is) plaited in six ragged rows courtesy of Sia's deft fingers, my scrub top damp with sweat, my heart full enough to burst.
This
padi padi business
means that a part of me stays here in Salone when we go, just like the pieces I left in Liberia and Benin and Togo and so many other countries around the world. And I wouldn't have it any other way.