Mondays are generally busy around here, at least for me. Since I don't work on the weekends, it always feels like I'm playing catch-up. Rounds are spent rifling through the charts to answer the questions I don't know the answers to offhand, and it takes most of the morning at least until I feel like I've got a good handle on the place again.
Today wasn't just any old Monday. Today was
The Last Monday
, the first in a long series of lasts until this place will be packed up and tied down to bolts screwed into the floor and we'll sail away from Freetown some muggy day in December. The wards close for good on Friday morning, and so this week is going to be spent sending the remaining patients home.
It's always a bittersweet time. There are a few patients on B and D Ward right now who I don't know very well, simply because they just had surgery last week, but the vast majority of them are long-term residents of Deck Three. They're the ones with wounds that won't heal, the ones who have been back for second, third, and fourth surgeries. And because they've been here the longest, they're the ones I love the best.
I know; I'm not supposed to have favourites, and I'm certainly not supposed to admit it out loud to the whole internet. But if you could see that place right now you'd understand why my heart aches to think that their beds will be empty soon.
However, regardless of how much I've come to love my pikins and my Grandma Groundnut, go they must. The going is complicated, more so than almost anything else; this is not an easy place to live with a health problem.
If there are any nurses who read this blog, I'm sure you can sympathize. It's hard enough, sometimes, to get a patient discharged home with everything in place so that they can continue to be cared for. Add in hundreds of miles of dirt roads, mud huts, malaria-carrying mosquitoes, heat and humidity, and a complete lack of resources and it's a recipe for disaster.
This is the time of the year when we start to pray for miracles. We know that some of the wounds that still remain aren't going to heal by any other means, and so Doctor Gary isn't really kidding on morning rounds when he orders
prayer, every two hours and more as necessary.
This is the time of year when we see those miracles. We've already taken Abu's name off the list of patients who will need follow-up care when his neck healed overnight, but there are many more, and the situations are complicated.
Pinky needs to get back to Liberia. I haven't written about her yet, but she sleeps next to Sia and the two of them are good friends by now. The surgery to remove a tumor from her jaw and replace the bone with a rib went well, but the money for their return journey was stolen from her mama on the way here. Please pray that the money we raised to send them back will be safely guarded and that they will find their way to their uncle in Duala Market. (I smile as I type that, because I can picture that dusty road in Monrovia so clearly in my mind.)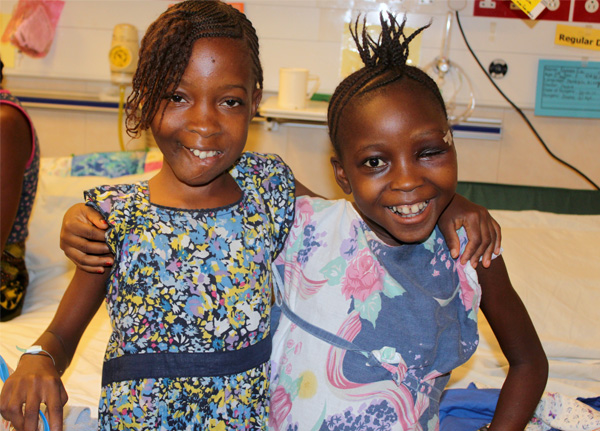 Sia is going to leave early tomorrow morning to make the long trip to Guinea with her mama and baby sister. They'll have all the money and all the medications needed for the rest of her treatment for Burkitt's with them. Her blood tests were good this morning, everything is in place for her at the hospital in Guinea, and all that remains is for her to get there safely. Please pray for protection to go with them as they travel.
Litte Kadiatu, whose face we've started to rebuild, finally had her feeding tube removed today. She flies at me the minute I step through the door, hands up until I lift her into my arms. She chatters away, just like a little bird, and I chatter back, wondering what on earth I might be saying. The skin graft inside her mouth didn't heal fully, so she's on the list for more surgery when the ship comes to Guinea next year. The place on her leg where we took that skin is taking far too long to heal, though, and we're working on teaching her dad how to care for it before they head back up north early on Thursday morning. She's another one who needs a miracle.
It's more than just these three girlies. Pray for Baindu, too, whose mouth is healing slowly. She'll need more surgery in the future, too. Pray for Isatu (Grandma Groundnut), whose future is uncertain and whose wound is also slow to heal. For Aminata, whose tumor is already starting to grow back and who will need to go home on medications that her mama might not be able to afford for a whole year until she comes to see us again. Pray for Bockarie. We built a nose to replace the one he lost when his house burned down around him when he was six days old, but the place on his leg where we took the skin to cover the place on his forehead where we took the nose (I know, it's confusing) is also stubbornly refusing to heal, and he'll be heading home on Thursday morning, too.
There are more, but I don't know their names, patients who have been here for months since plastic and general surgery rotations finished, each battling stubborn wounds as the clock moves inexorably forward.
We are almost out of time. Please pray with us.