A disclaimer before I begin: this post has nothing to do with either the hospital or the baby. But I can't help being excited and sharing this!
I grew up going to a small church in New Jersey. We all sat in exactly the same seats every single Sunday morning, everyone knew everyone else, and there were connections all over the place. My high school Sunday School teachers were my dad and my dentist. The guy who taught the middle school class was the principal of my middle school. His son, Stephen Collucci, is who I'm writing about.
Food and Wine magazine just announced that they're searching for
The People's Best New Pastry Chef.
The honour will be given to one of fifty nominees from all over the country, and Stephen is up for the award!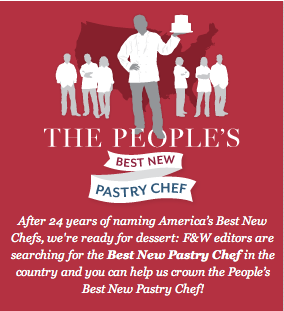 He's the pastry chef at
Colicchio & Sons
in New York City, and I just went onto their website and realized that their Tap Room is high on my list of places to visit once I'm home for maternity leave. (Sister - fancy a trip into the city?)
I know that most of you don't know Stephen (except for all of you back at TRBC!), but please take a minute to
go onto the Food and Wine website
and vote for him. You don't have to register or anything; it's just a simple click of a button.
Here's hoping I see a familiar face in a famous magazine soon!