Each Friday I print out the list of possible admissions for the upcoming week and write a quick e-mail to the photographers about which of them are going to be Smile Train admissions so that they can make sure their pre-operative photos are taken.
Smile Train
is a charity that funds cleft surgeries around the world, and we partner with them here in West Africa. We provide the doctors and nurses and the hospital in which the operation takes place, and Smile Train provides the finances. It's a win all around.
Smile Train patients are one of the highlights of my work here on Mercy Ships. I absolutely love the transformation that takes place in a patient before and after cleft surgery, and it definitely helps that the majority of them are babies and small children. (Except for one gorgeous, tiny old lady who had her lip fixed on Friday after living with a face split wide for more than fifty years. She wasn't a child, but she was still pretty cute.)
Unfortunately, many of the patients who were screened before the ship arrived are from up north and many of them have been failing to show up on their admission dates. Some arrive late, others have phones that no longer work, and the most heartbreaking ones are the few we've called who tell us that they can't come because they simply can't find the money for transport.
It just makes us cherish the ones that do make it to us, and among those Baby Bernice has a special place in all our hearts.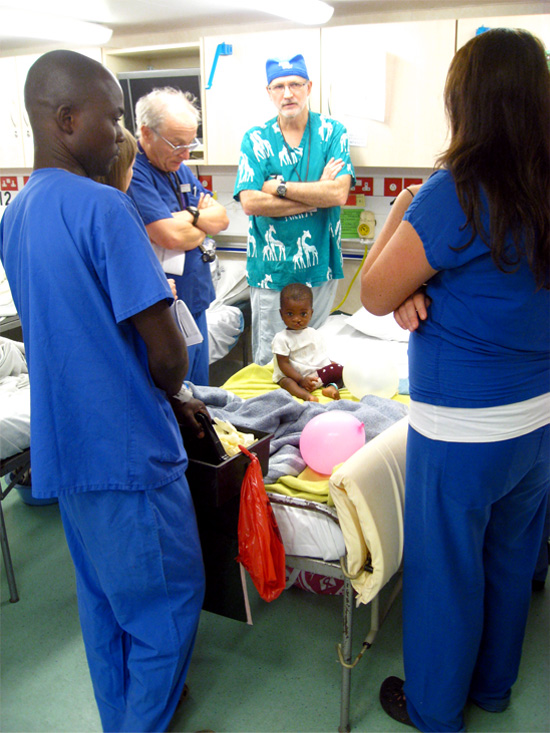 She's two and she has no mama or papa. She lives in an orphanage and the woman who brought her to us is one of the workers there. On Thursday, Bernice was scheduled to go to the operating room when Melissa, her nurse, found that her leg was hot and swollen. Little Bernice sat in her big bed, staring up at us with big, wide eyes, surrounded by a whole team of us as we talked through what might be wrong. We decided to hold off on surgery until we could figure it out and I felt my heart sink at the prospect of having to cross yet another hopeful patient off my list.
An x-ray of the sore leg made the path forward much easier for us. Bernice's little femur had been fractured, probably a couple of weeks ago judging by the film, but there was no reason she couldn't have surgery to fix her cleft lip and palate. In fact, as we discussed our options, we realized that yet again, God had placed the right people on the ship at just the right time.
The general surgeon who has been operating on hernia patients in A Ward just so happens to be a pediatric orthopedic surgeon, too. Except that we're not doing orthopedic surgery this outreach; six months just isn't long enough to ensure good physical therapy follow-up afterwards. There was no reason for an orthopedic surgeon to even be on board, but God made sure we had not only the correct specialty, but also one who is trained in pediatrics.
So Bernice had a full afternoon on Thursday. Dr. Gary closed her palate and carefully stitched together her lip while Dr. Alex busied himself with her leg, correctly aligning the bones and placing a long cast from hip to toes. Instead of a lifetime crippled from an unhealed injury, she now has the chance to run and play again. She's been recovering in D Ward since then and is much happier now than she was at first. She's still a solemn little thing, but she reaches up to be held and carried, and the nurses are more than happy to oblige.
There's a phrase in Dutch that one of our nurses taught us. It translates literally to
soft-cooked egg,
and it's how you feel when you pick up a gorgeous baby and your insides melt and go all runny and warm. We're all pretty soft-cooked around Bernice these days.
I left her sitting on the charge nurse's lap this afternoon. She had been there the whole time I was giving report to the oncoming shift, her little hands busy with everything on the desk she wasn't supposed to touch until Melissa opened a drawer and handed her a ball of yarn.
She sat there, enthralled, casted leg sticking out at a crazy angle, steri strips on her top lip looking like little kitten whiskers, playing with her ball of yarn while her caregiver looked on from their corner, a smile on her lips. And all I could think is that Bernice might not have a mama or a papa, but God is absolutely looking out for her. And that's enough.