Since returning to the ship as a family, I'm learning about a whole different side of life on board, one I was only dimly aware of before Zoe made us three. There are all kinds of activities and traditions that go along with having kids here; Treat Tuesday is probably my favourite so far. Probably because it involves treats. Anything with treats is a good idea in my book.
In that same vein, it turns out that all the families get together once every two months for a potluck lunch. Having grown up in the Brethren church, I am more than a fan of a good potluck, so when I realized that this Sunday was the day, I started scouring my Pinterest boards for recipes.
Over the past four years on this ship I've become a professional food hoarder, gathering a little here and there at the end of a mealtime once everyone has had their fill and squirreling the ingredients away to be recreated into delicacies later on. Mexican night means I'll be making pizza in a few days, and beef stew for dinner usually ends in meat pies on the weekends.
Unfortunately, my treasure trove of recipes doesn't lend itself to this type of ingredient 'shopping.' Gathered over the last five months in the States where we have at least ten food stores in as many miles, they all seem to call for things that aren't readily available on the food line in the dining room.
Thankfully I have a new friend,
Tracey
. She's got a six month old daughter and a sense of direction, so tomorrow morning we're heading out with the girls to go to a local grocery store to shop for real ingredients, not just the leavings from a hungry crew. I stopped by the bank just now to pick up some local currency and asked for the equivalent of a hundred US dollars, figuring that would last us a good long while.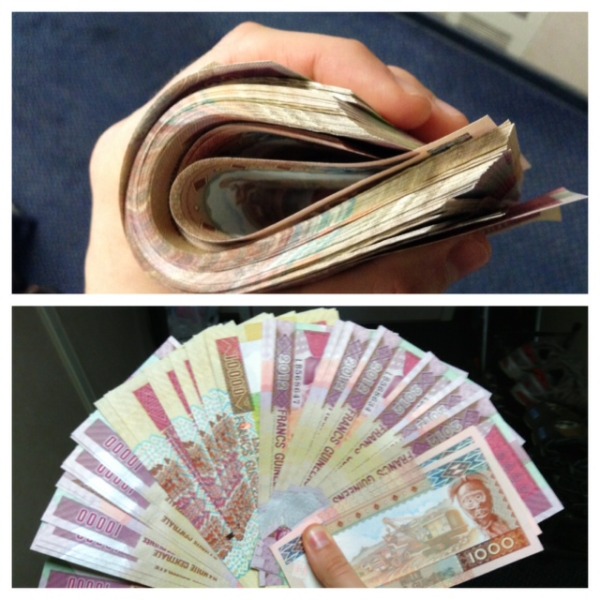 That, my friends, is what a hundred bucks looks like when the exchange rate is 7,000
francs Guinéens
(Guinean francs) to a dollar. Other than the time I held a million Zambian
kwacha
, I don't think I've ever had that much of one currency in my hands at any given time.
I'm a seven-hundred-thousandaire, people, and I'm taking my cash all the way to the
bank
grocery store! It's the small joys, really, that make up the fabric of life over here.