Today's trip to the grocery store was a resounding success. After dealing with the morning poosplosion (she's really working on her aim; this one was only an inch or two away from actually blasting straight out the neck of her jammies), I stopped by Tracey's cabin. We popped the girls in their respective wraps, Cora in her Moby and Zoe in the K'Tan, and headed for the gangway. (As an aside, if you ever want to hear me gush, ask me how much I love our wrap. Those people over at Baby K'Tan got it right, let me tell you.) After a quick stop outside the communications office where Michelle, one of the ship photographers, snapped this photo, we scanned out and headed for dry land.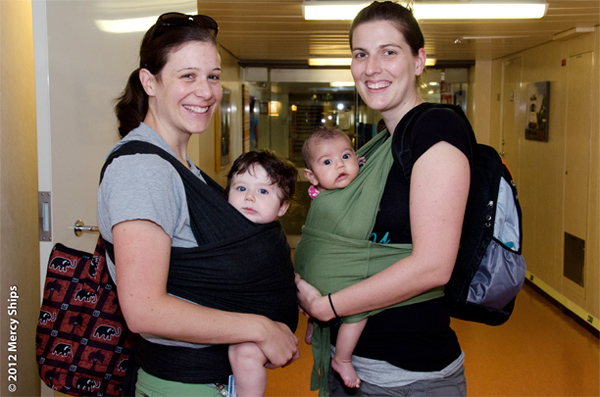 It's the first time since landing in Conakry that I've been out in the streets on foot. I've never been in this city, but it was so familiar in so many ways. The roundabouts with their whirling traffic, mamas with babies on their backs, vendors with wooden benches and trays balanced on their heads, and the unmistakeable smell rising from the gutters.
I was struck by the number of beggars we passed as we walked. I don't know if maybe I've been looking past them in other countries or if there really are more here, but it seemed like every few steps there was someone looking up from the sidewalk with a physical deformity and hope in their eyes. Maybe it seemed like more because I'm not actively involved in the physical healing of the Guinean people going on downstairs, and so passing one after another just felt so hopeless today. I don't really know.
There were the customary catcalls, people yelling out the word for white person (which I've somehow managed to forget already) and telling us that they like us because we're American. What I hadn't bargained on, however, was the drawing power of two white women wearing their babies. We got huge smiles, effusive greetings from other mamas, and a constantly repeated question.
Ils sont jumeaux? Are they twins?
Now, I've heard it said that people often think that others from another race look similar, but I'll refer you to the picture above one more time. Is there anything about tiny, brown Zoe and plump, white Cora that would lead you to believe that they are even related, let alone share identical DNA? Tracey and I pondered it as we walked along. Whose twins did they think the girls were? Which one of us was the lackey carrying a second twin for the other? Was it maybe she and I that they thought were related since we both have brown hair and white skin? These are questions we may never find answers for.
We made it to the store without incident, I casually handed over 160,000 francs in payment for a few items, and we headed home through the dust as the heat of the day started to wrap its sweaty hands around us.
I'm looking forward to many more walks with my lackey.
(I make her carry the heavy twin because I'm lazy.)