Today on the continuing saga of the family potluck we'll take a look at what cooking something looks like when you live on ship and have a two and a half month old baby. (Hint: it's not exactly the easiest thing in the world.)
I remember a time when I wrote patient stories, updating over the days and weeks as their conditions changed. Now I'm telling a serial quiche-making tale. Oh, how things have changed. Surprisingly, though, as the days here go by and I settle deeper into my role as a PCG (Primary Caregiver), I'm finding fulfillment in things like a good tray of quiche or a bowl of homemade granola or a big, gummy smile from my daughter. It's a massive rearrangement of my thinking and reordering of my priorities, but the shifting of my mindset is starting to hurt less and less.
At any rate, today we're going to be making crustless zucchini-basil mini quiches, using
this recipe
. (I'll print it at the bottom of the entry, too, in case my kitchen prowess tempts you to try it out for yourself.) We've already been to the bank for a fat stack of cash and braved the streets to buy one of the ingredients, a ten-dollar wedge of cheese, but the remainder of the ingredients still need to be sourced.
I got milk from the dining room, eggs from the ship shop, and corn starch from my own stash of baking supplies. That left zucchini, garlic, onions (since I don't think anyone really knows what a shallot is over here) and the monkey wrench: fresh basil. I've never seen it in the markets, but the recipe wasn't going to be the same without it. So I took the logical step and sent my husband out with some friends to scour the streets while I stayed home and baked cookies.
He came home with a treasure trove in little striped plastic bags, having found everything I needed including the elusive basil. That man's a keeper, I tell you.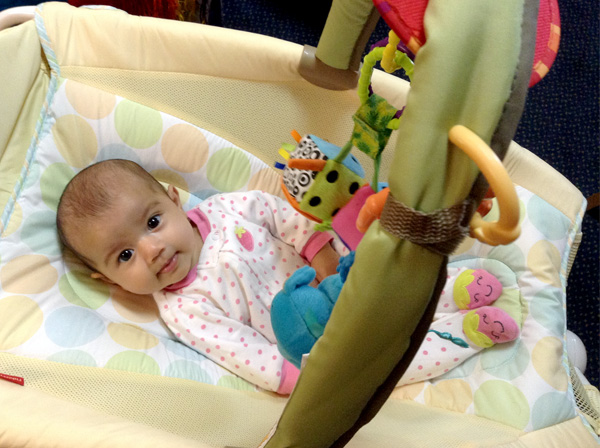 So, while you wait for your wide-awake baby to get sleepy (since wide-awake babies and cooking aren't the best mix), gather your ingredients and arrange them on the ubiquitous family tray. Every family has one. When you get married it's just sort of assumed that, sooner or later, you'll show up to the dining room, load that sucker up with food, and disappear into your cabin.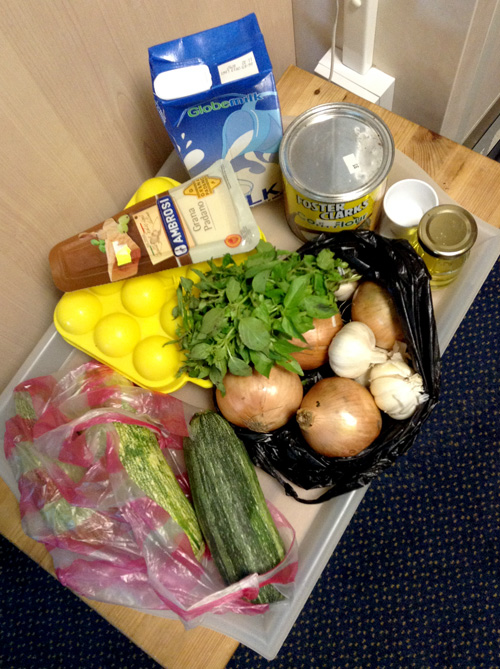 Once the baby has fallen asleep, load her into your carrier of choice, balance the tray with the dexterity of a veteran server, and head down the hall and up two flights of stairs to the crew galley.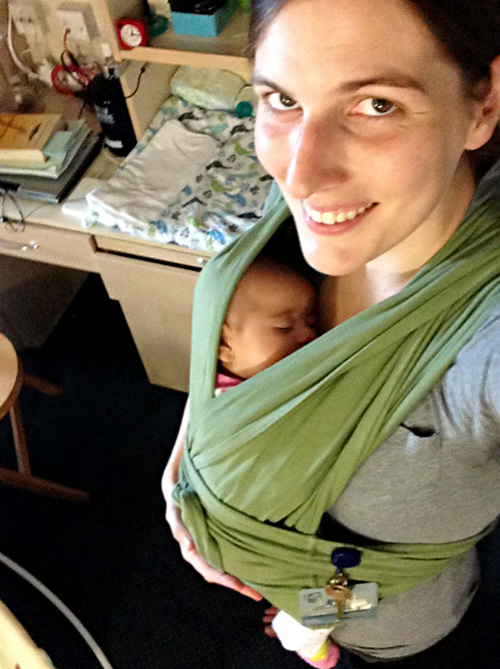 The crew galley is the place to be, especially on the weekends. Since the crew here on board is made up of people from nearly forty countries at any given time, there are typically foods from around the world being whipped up any time you go in there. The stoves are fickle, the ovens don't all hold heat, and it's luck of the draw whether you'll get to use the utensils, pots and pans you need because someone else probably wants them, too. (The trick is to show up when the
Gurkhas
are chef-ing up a Nepalese feast. Their curry is what got me through my pregnancy.)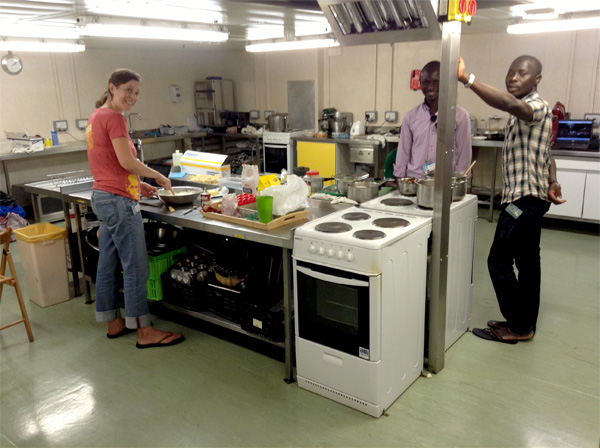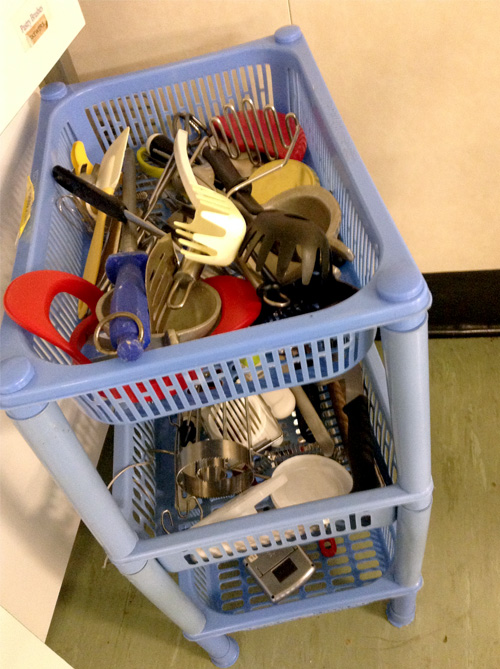 So. After much preparation, we're ready to cook. Whip up the egg / cream / milk / cornstarch mixture. In the absence of heavy cream (if, for example, you live on a ship and just can't get your hands on any), just use more whole milk. Chop up your onions and garlic and head to one of the stoves. Try three different burners before you find one that gets hot enough, and try not to get too hungry looking at the African feast being cooked on the stove across from yours.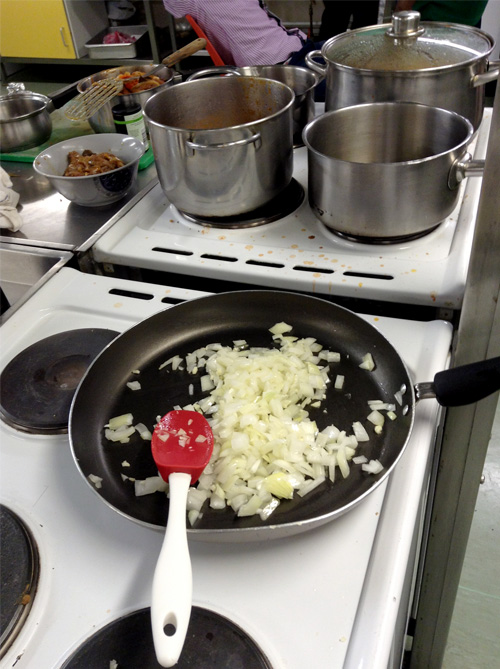 Enlist the help of a studly sous chef to grate cheese and chop up basil for you while you're across the room attending to the stove. Mine got a little over-zealous with the basil; you don't have to chop it quite so fine. However, you do get bonus points if he'll take the baby when she wakes up, hang out with her, feed her, and put her down for her next nap while you finish cooking. (This isn't necessarily advisable with someone you hire off the street but I happen to know my sous chef pretty well.)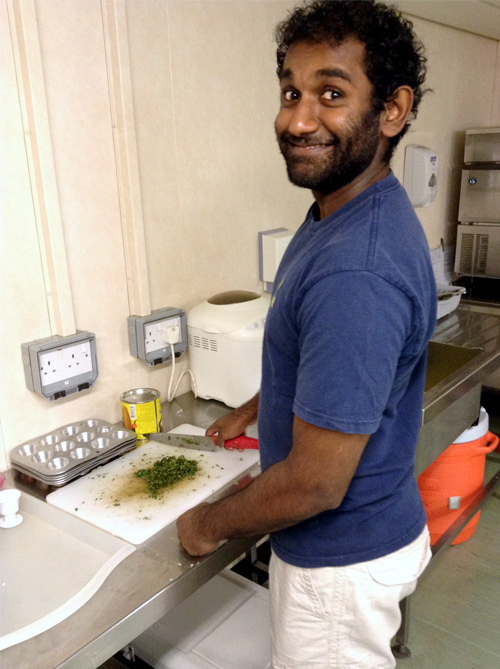 When you get to the part in the recipe where it tells you to
oil mini muffin tins well
, bemoan the lack of cooking spray, and get started on the tedious process of oiling five dozen little wells with a paper towel and a little jar of oil. This part of the proceedings will be greatly enhanced when a Canadian friend hands you a cup of the fresh pineapple smoothie she's just made. There's nothing like community cooking!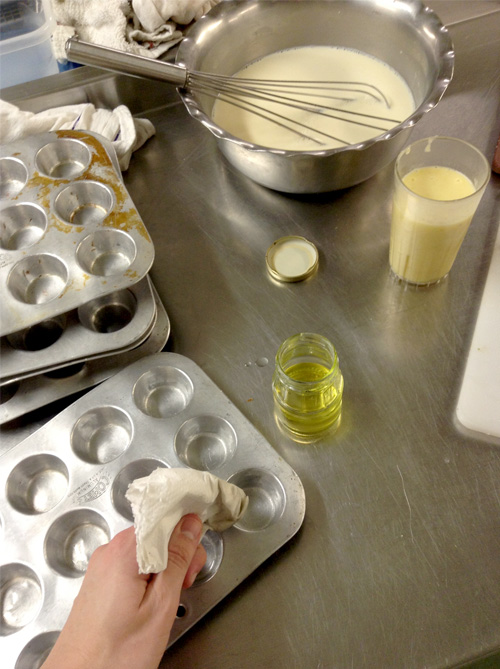 Assemble your mini quiches. This is what they look like in the various stages: just the cheese, then the egg, then zucchini mixture and finally the basil. Because you're cooking with communal equipment, one of the muffin tins might be cracked and the egg will run out all over the counter. This is to be expected. Mourn the loss of that quiche and move on.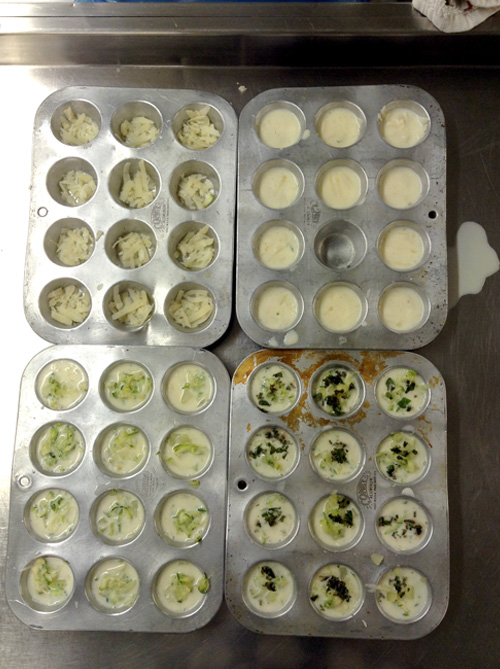 Pop those bad boys in the oven. Use two if no one else needs them. Be prepared to bake for at least ten or fifteen minutes longer than the recipe calls for, and try not to get annoyed with yourself when you still take them out maybe a little early and they stick to the pans when you try to get them out. They're still going to taste good, and no one expects you to be Julia Child. There's not enough butter in all of West Africa for you to be Julia Child even if you tried.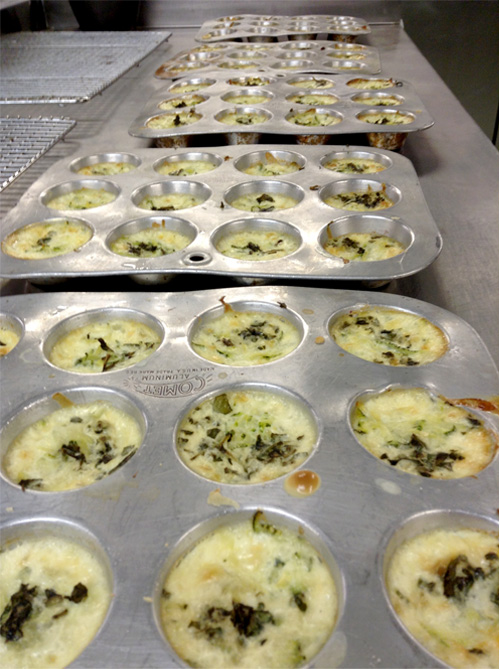 When you're done, head to dinner in the communal dining room, put the baby in the wrap and climb the stairs up to Deck Eight to watch the sunset and force the last nap of the day. Pat yourself on the back. You've survived the crew galley.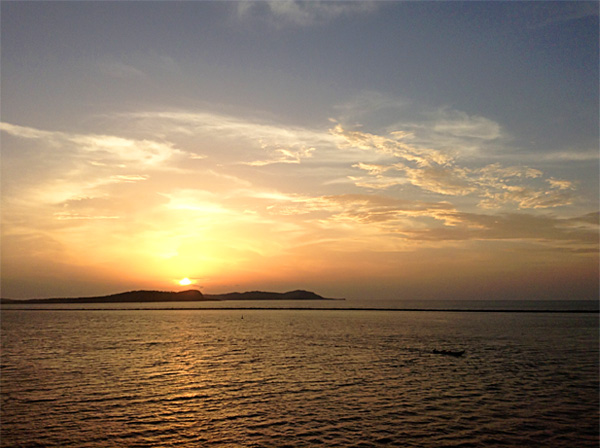 -----
Crustless Zucchini and Basil Mini-Quiches
Makes 48 pieces; adapted from Fine Cooking Magazine
1/4 cup cornstarch
1 1/4 cup whole milk
2 large eggs
2 large egg yolks
1 cup heavy cream
3/4 teaspoon kosher salt
1/8 teaspoon nutmeg
Oil, for the pan
1 tablespoon olive oil
4 cloves garlic, minced
2 shallots, minced
2 small zucchini, grated
1/4 cup grated Gruyere or Parmesan cheese
Fresh basil, finely chopped
Heat oven to 450°F.
Prepare Batter: Put the cornstarch in a medium bowl. Whisking steadily, slowly pour in 1/2 cup of the milk, mixing until quite smooth. Whisk in the whole eggs and egg yolks, mixing again until smooth, then gradually whisk in the rest of the milk, the cream, salt, and nutmeg. Use immediately or refrigerate, covered, for up to one day. If using the next day, be sure to re-whisk.
Prepare Zucchini Mixture: In a nonstick pan, heat oil over medium heat. Add garlic and shallots and stir until fragrant, about 2 minutes. Add grated zucchini, and stir until just softened, another 3-4 minutes. Remove from heat.
Oil mini muffin tins well. Put a pinch grated cheese into each muffin cup, a teaspoon of zucchini mixture, and pinch of chopped fresh basil. Pour 1 tablespoon of the batter into each muffin cup.
Bake until the quiches puff and start to turn golden, 15-18 minutes. Let cool for 10 minutes and then carefully run a paring knife around the rim of each muffin cup. Carefully lift each quiche out of its cup.
Mini quiches freeze very well. Let cool, then freeze in a single layer in a covered container. Reheat on a cookie sheet in a 400 degree oven for about 5-10 minutes.