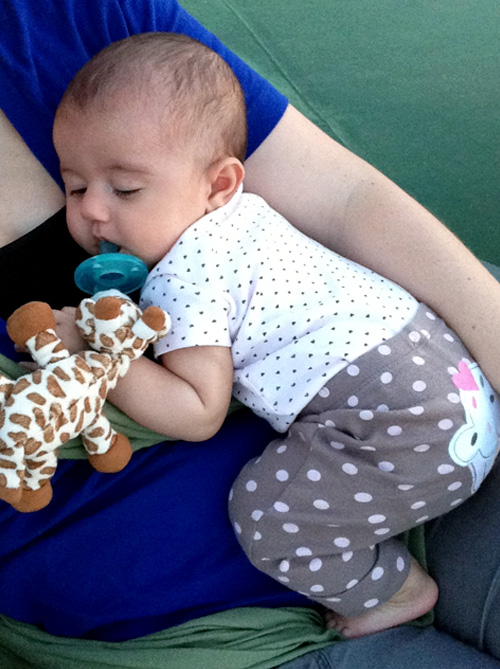 Zoe is sick. She's typically the happiest baby I've ever met (and I've met a few), so when she spent the morning alternately sleeping in my arms and screaming at me, I knew something was wrong. She had a little fever around three in the afternoon, so I paged the pediatrician I had met over the weekend. She was working out in the admissions tent, and had me come out to meet her there when she was finished with her patients.
It turns out my little lovie has a double ear infection, so Lydia (the pediatrician) wrote me a prescription for antibiotics and nose drops. I scanned back into the ship, walked down two flights of stairs to the pharmacy, and chatted with Miriam (the pharmacist) while she printed labels and collected syringes for me. They were out of the pediatric nose drops, so she gave me the adult version, which would need to be diluted to half strength with saline before I could give them. I'm not working on the wards anymore with ready access to things like needles and vials of saline, so I walked the fifteen or so steps to the communal office where I knew I'd find some nurses I know.
Sure enough, there were lots of familiar faces, and when I explained what I wanted, a couple of them disappeared to the wards, returning with all the supplies I would need to give Zoe her medications. We headed back upstairs to our cabin, and she had her first dose of antibiotics at a quarter past four.
An hour and fifteen minutes. From the time I realized she had a fever to the time I gave her the medication she needed to combat the infection.
We live in a part of the world where fifty percent of the population will never have the experience I just did. In their entire lives, they will never see a medical professional, either because they can't afford it or because they simply live somewhere without a doctor or a nurse or a pharmacist within a few days' walk. They will fall sick and there will be no medications to fight their infections and soothe their fevers.
I rocked my daughter to sleep with tears in my eyes tonight, overwhelmed with a deep sense of gratitude for the blessings I have so often taken for granted. Seventy-five minutes, when so many wait a lifetime.