Last night was the second Advent service, the one where they light the candle of Joy. I remember so vividly that service last year. I had found out I was pregnant just a few days before. No one knew but Phil and I, and I sat there in the dark while that small flame flickered to life, tears streaming down my cheeks because there was no better word for everything happening in my heart than
joy.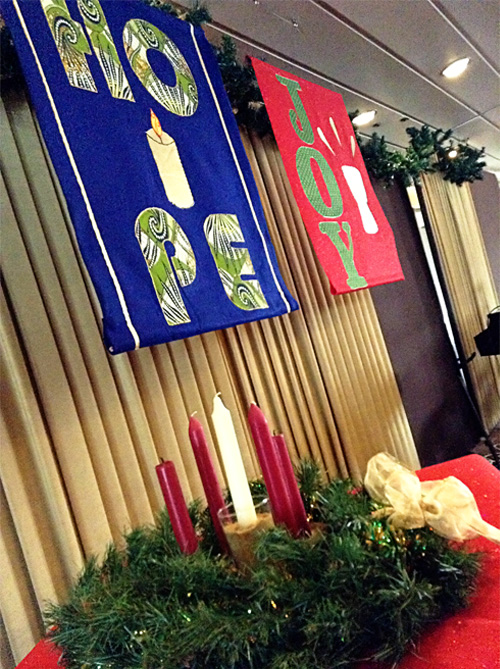 Yesterday when they lit the candle, I was in my dark cabin, pacing back and forth with a screaming baby in my arms, overwhelmed by tears of an entirely different sort. I know I've been writing about sunsets and pool time and finding a rhythm, and that all sounds great, but the truth of the matter is that this is hard.
This is the hardest thing I've ever done. And I've done
some
hard
things
.
This is different. This is another human utterly and completely dependent on me to provide for her every need, a baby who I'm somehow failing at the moment because she's spending more and more time crying so hard that she throws up. She wont nurse, and when she does she ends up screaming. She's exhausted but she won't sleep. I put her to bed only to have her wake up forty-five minutes later and scream off and on for two or three hours, and I am utterly spent. I have no idea how to help her, and I'm losing my mind trying.
I spend every day trapped in my darkened cabin, barely breathing as I listen for her to stir, praying that she'll sleep longer than half an hour, willing her to stay quiet and get the rest that she needs.
Sleep when the baby sleeps
is the most laughable thing I've ever heard. I mean, really, have you ever laid down next to a ticking time bomb and had a nice, refreshing snooze?
I know that living in community will eventually be incredible. I'll have an endless supply of babysitters, lots of friends for Zoe to play with, and other mamas to keep me sane. But right now? Learning to be a mother in a fishbowl is exhausting and disheartening. I worry about the neighbours when she cries, so I take her out of the cabin to nap in the wrap and everyone I pass feels the need to exclaim loudly about the fact that there's a baby in there! And is she sleeping?! Nope, not anymore, unfortunately.
---
If you're thinking I've lost track of my days (yes, I know, Sunday was two days ago, not yesterday), you'd be kind of right. I started writing those words yesterday, and truth be told, I'm in a much better place today. It's amazing what a night of sleep will do for you and your baby. And I've been wondering whether or not to publish it, but I've come to the conclusion that I should. Life isn't always sunshine and roses, especially not life with a small baby on board a ship off the coast of West Africa. One night of sleep isn't going to change the fact that I'm becoming more aware than ever of what we're giving up to live this life. Long walks with the baby in a stroller on paved roads, parks and coffee shops and room to run, privacy to work out my more teary-eyed issues. I don't get to have any of that, and because we bought a one-way ticket to Africa, I don't know if I ever will.
But if I choked down the tears and stuffed away my frustration and never talked about any of it, I'd be doing myself and you a disservice. I owe you honesty, whatever that looks like, however ugly it might be.
The honest truth: this sucks. It's hard, and a lot of the time I want to go home, except I don't really think that North America is home anymore, and so I feel completely trapped, floating in some strange limbo with a screaming baby as my only soundtrack.
But downstairs there are patients recovering from their surgeries, looking forward to the new lives that they never thought they'd live. And across the world, there are candles lit this Advent season, tiny, brave little flames throwing out that hope and joy in the face of all the darkness.
---
And of course there's this face, the one that pulls me out of my own darkness every. single. time.