Zoe is four months old today. Well, yesterday anyway, but we were busy getting her shots and moving house (more on that soon!) so this post just didn't get itself written.
This past month hasn't been the easiest. When you're living in two hundred square feet with childless neighbours on the other side of a paper-thin wall, a baby who forgets how to sleep and instead screams all night long is a recipe for disaster. I actually moved out for a few days, set up shop in an empty guest cabin where no one could hear her cry. (And by
her
, I mean
us,
because she wasn't the only one. Not by a long shot.) Phil and I tried to put a good face on it, pretending that we just lived in a huge house and I was staying in the nursery with the baby for a few nights, but it ended up being much harder for me mentally to be alone with her for long, dark stretches like that. So I came home, and things have slowly been getting better at night, although she never naps for longer than forty-five minutes. Ever. (Seriously, any mamas out there want to give me the magic formula to make this kid sleep during the day? I know one of you is sitting on the secret...)
She is learning so much. It seems like every single day I watch her master a new skill, and getting to watch her do all these things for the first time feels like the most incredible privilege. She grabs at anything in her reach and puts it straight into her mouth to be met by the rivers of drool that she's now producing. (No sign of teeth yet; she's just an overachiever in the salivary department.) She can't quite roll from back to front without help, but if you give her something to hook her foot on, she's over in a quick second. Smart kid, this one. She loves to practice sitting and standing; the days of our tiny baby who laid quietly in our arms are just a distant memory, and I get the feeling that she'll be on the move before any of us are even remotely ready.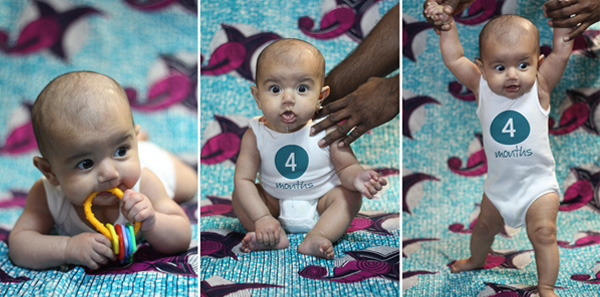 I'm learning, too. I thought that pregnancy had taught me what it means to give yourself up, to surrender totally to someone else, but this is another level entirely. This is four months in which I have yet to sleep more than five hours in a row, four months since I've done anything without first thinking about her. My life is no longer my own, and it's taking some time to get used to it, honestly. I have days where I wish things could go back to the way they were, just for a few hours, days where I wonder whether this mothering thing was such a good idea in the first place.
And then I watch her eyes dance when she sees me in the morning, and the questions fade. I sit with her in the dark, her tiny heart fluttering against my palm, and I know that I would give myself, body and soul a thousand times over, if it meant that I could be the one to comfort her when she cries.
I'm learning, too, and this lesson is the hardest and the sweetest one yet.