Zoe is five months old today. I'm slightly shocked that I've managed to keep a little human alive for this long, but by all appearances we're doing a good job. She's officially doubled her birth weight and is right at the top of the charts for height. (Not a big surprise, given the fact that her mama is pushing six feet tall.) Now that she's learned to sleep a little better, she's a pure joy. As long as you're feeding her the very second she's hungry; try and wait a minute or two and you'll hear what she thinks about that. Loudly.
She's starting to get the hang of sitting up on her own, but it only lasts a few seconds before she wobbles off to one side or the other. She's a master roller, although she still sometimes manages to be surprised when she goes front to back. Lay her on her back, however, and she flips onto her tummy the second you take your hands away. Just this past week she really started pushing up onto her hands and knees. Unfortunately for her, she has no idea what to do once she gets there and either face-plants or just crumples over to the side. Crisis averted; I'm not ready for a crawler.
She's fascinated with her toys these days, especially the ones that make crinkly noises or have interesting textures to chew on. She's decided that splashing in the bath is pretty awesome and so is standing up in her little tub. I'm personally not such a fan of this latter development, but she's having so much fun that it's hard to really mind.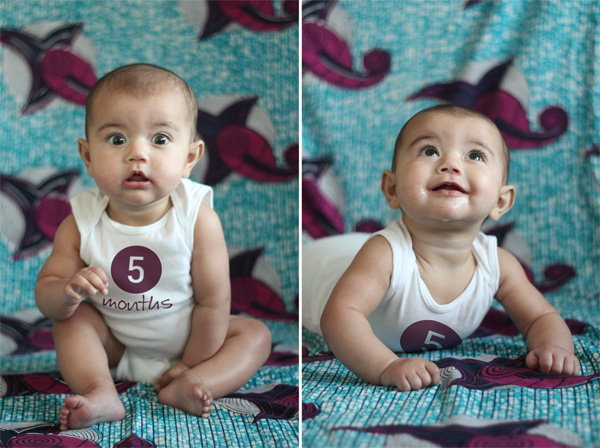 She's still not much of a laugher. She squeals with glee all the time, but true belly laughs come maybe once or twice a day and recently have been reserved almost exclusively for Daddy. (I think you can guess who she's making eyes at in the picture on the right there.) She loves him so much, and watching them together fills my heart until it threatens to burst right out of my chest.
One hundred fifty-three days, not quite half a year, and already my life before her is slipping into the blur of distant memory. It seems like she's always been here, like I've always lived with a piece of me on the outside. I never knew it could feel so right to be taken apart and never put back together again.