I'm a big fan of
Pinterest
. As a visual learner, it stands to reason that I would love looking at pictures. Take those pictures and make them links to delicious recipes (thank you very much
Olive Garden breadsticks
) or
adorable crafts
, and I'm sold!
One of my favourite parts of that website is the
Quotes
section, because if there's anything I love more than pictures, it's words. Pinterest tells me that I found this particular quote twenty four weeks ago, long enough, I think, to have let it settle in and rumble around in my head.
If His grace is an ocean, we're all sinking.
I loved that image, the idea of Grace so vast that it swallows us whole. I loved it, right up until a friend left a comment on my pin.
Not floating?
And that hit me. Because when I really thought about it, I didn't want to be sinking. I look out my
windows
portholes at the ocean stretching off as far as I can see, and the thought of sinking in all that is honestly a little scary. I know that Grace is overwhelming, but it's not the kind of overwhelming that leaves you gasping for air and frightened for your life.
I think it's something more like this: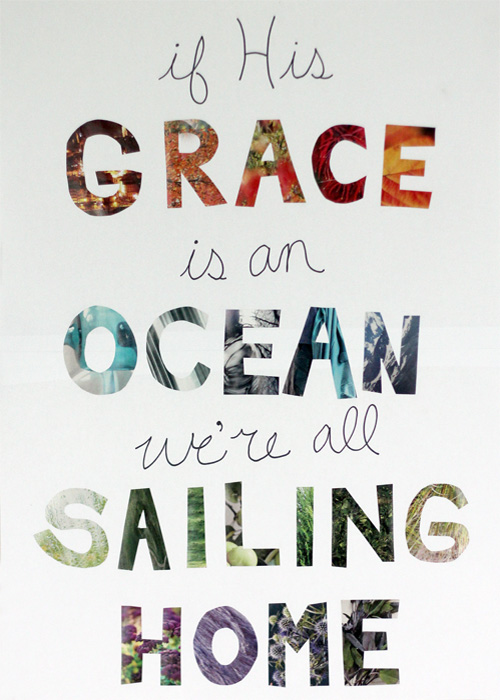 Grace is the the calm after the storm, when the wind and waves have listened to His voice and safe harbour is in sight on the horizon. It's the anchor that holds me steady when the world wants to pull me under. It's the sun through the clouds after a long, dark night at sea, the promise that, no matter how far off course I sail, there will always be a way back.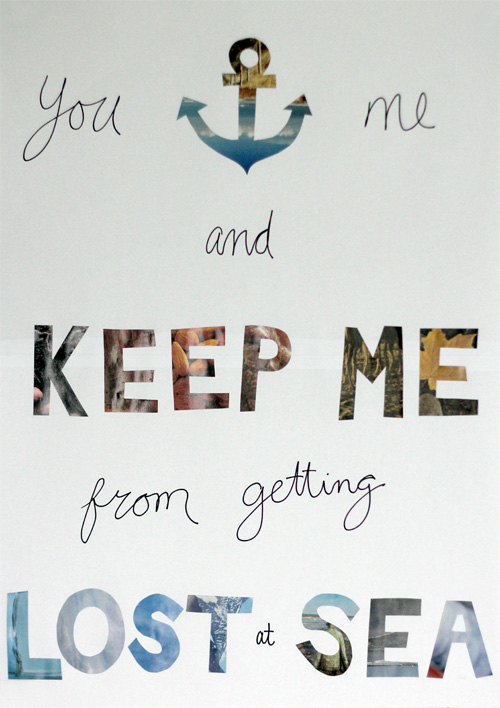 Those two quotes are hanging on the wall outside our bedroom now, the product of a couple nap times' worth of crafting. Reminders to me of the Grace that is leading me home and the One who will see me safely there.
(If I were a proper blog right now, I'd be giving you a tutorial on how to make these wonderful, crafty wall hangings for your own little cabin. Except it wasn't really that hard, and you could probably do a much better job yourself. Scissors, glue stick, a few old magazines, and a couple pieces of A3 printer paper. Consider yourself tutored.)