Remember last year when I was getting ready to go home for maternity leave and all of a sudden I ended up staying an extra four days and all kinds of awesome things happened as a result? (
That story is here.
) I think it's time to come clean about what
really
happened.
Last May, a team from CBS'
60 Minutes
came to Togo to film a story on Mercy Ships. Their main focus was
Dr. Gary
, the max-fax surgeon who's been here for over twenty-five years and who is one of the greatest people I have the honour of knowing. I was the nursing Team Leader for that surgical specialty, and so I inevitably ended up on camera while the team filmed in D Ward. I love telling stories (could you tell?) and so I had a blast sitting down with the producers, explaining the different surgeries and providing some of the background for the patients they were following.
I was, however, more than slightly taken aback when, on a Tuesday morning in the dining room, clutching my orange juice and cinnamon bun just two days before I was scheduled to get on a plane headed for the States, one of the producers came up to me.
We have something big to ask you,
she said. I figured they needed more information or more time or something, but I wasn't at all prepared for what she said next.
What would it take for you to change your ticket and stay over the weekend so you can interview with Scott Pelley?
I had a moment of hesitation when I realized I'd be missing out on Friday Night Pizza (an event so constant and wonderful in my life that it does, in fact, deserve to be in all capitals), but I quickly realized that opportunities to be interviewed for a national news program by award-winning journalists are few and far between and had probably better be taken advantage of. It turned out that all I had to do (once I got over the sadness of the missed Pizza Night) was reschedule an OB appointment, something that took all of five minutes since they office conveniently had a cancellation on the day after I would get home on my new ticket. (Funny how that works out, eh?)
CBS took care of the ticket change, and a fortunate airline buyout meant that, instead of them just paying for the change fee, I ended up flying home for free. It's been over five years since I've cashed a paycheck, and with impending baby costs looming, I don't think I need to tell you that this was an enormous blessing.
So I stayed. I got to hear Esther's voice and I got to set up speech therapy and I got to be interviewed by Scott Pelley in the set-up-like-a-TV-studio recovery room. I even managed not to burp on camera, something that was really not a guarantee at twenty-eight weeks pregnant, let me tell you. I got four extra days with my husband and then I flew home and had that pizza after all.
I say all that to say this: I think I'm going to be on TV on Sunday night. After quite a few months of a lot of other news being much more interesting (understandably), our little segment is finally going to air!

It's only one of three stories in the hour, so it's really more like twelve minutes rather than sixty. None of us have seen it, so I'm not actually
positive
that I'm not burping somewhere on there, but I think it would be worth setting your TiVo for. Check your local listings for when it airs, but I think it's typically 7 Eastern time. And if I'm totally awkward, I don't want to hear about it. I was pregnant; that's my excuse for everything.
And since, thankfully, it's been almost six months since I was in that state, here's a little Valentine's Day sugar for you.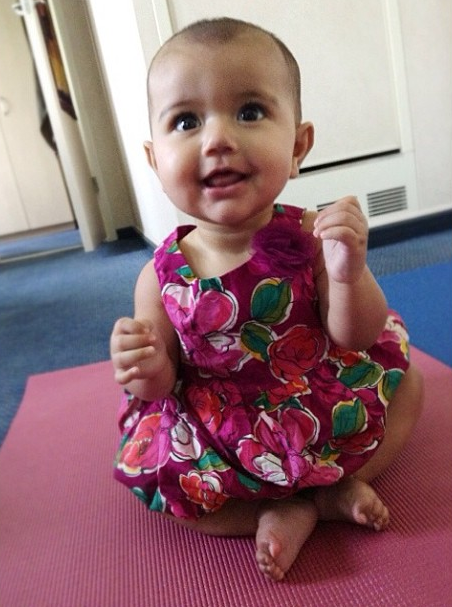 She's totally worth all the burping.
Edited to add
this
, a sneak preview that just went up on the CBS website. Apparently I made the cut!