To say that I am overwhelmed would be an understatement.
Since the segment about Mercy Ships aired on 60 Minutes last night, I have received over a hundred e-mails and comments and words of sweet, life-giving encouragement. It was the perfect night for Zoe to decide that sleep was overrated, honestly, because every time I got up with her (and there were quite a few of those times last night) I turned on my iPod and was flooded with love.
Somewhere around two in the morning enough people were asleep on board here that the bandwidth allowed me to log on to the CBS website, where I had the surreal experience of seeing myself and my home and my friends and family in a clip that had just aired on primetime TV.
I watched it through tears. (Seriously; Dr. Gary gets me every single time.) It seems like an eternity since I was working full time, and seeing myself down in D Ward made me realize all over again how much I miss it. The weight of my daughter, snuggled into the crook of my arm, felt like the only thing keeping me from running down the three flights of stairs to throw myself back into it.
I'm going to get to work a couple shifts next month when my mum comes to visit, and now more than ever, I can't wait.
If you missed the show last night, you can
watch it online here
.
There are also some extra clips online. I haven't seen all of them yet, but they're
here
,
here
,
here
, and
here
.
What a privilege it is to live and work in this community. I take it for granted sometimes; this has been the best reminder to cherish this life.
Sail away with me? Yes please. If I didn't already live here I'd probably be buying a ticket right now.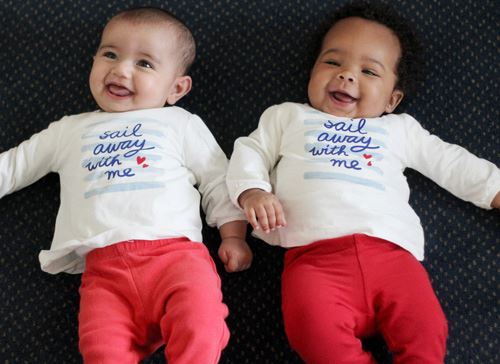 (The baby on the right is Zoe's best friend, Hailey. She's ten days older than Zoe and is the daughter of my dear friends
Becca and Greg
.)