Linking up again for
Five Minute Friday
with Lisa-Jo Baker. She writes this:
What did your mama do that makes her your mama? Let's unpack those memories today. Let's trace our fingers along the lines of the unexpected. The ordinary beauty in a day of motherhood. The food or the laughing or the dancing or the story telling.

Where is your memory buried?
What mama did.
Go.
I was sitting in the crew galley the other night, waiting for my granola to bake, when a friend came in to make cookies. Halfway through the mixing and measuring, he opened a packet of cardamom and immediately I was seven again, elbows resting on the kitchen table while I watched my mama bake, lulled by the buzz and whir of the cuisinart and the warmth of the oven.
She made all our bread when we were growing up, twisted braids of fragrant cardamom that we wrapped in coloured cellophane to bring to the crossing guards at Christmas time, practical, square wheat loaves for school lunch sandwiches, and long skinny baguettes that we shared with croissants from the bakery down the street every Sunday morning before church.
I was a tumultuous child, full of unprovoked anger and ruled by a temper that flared to life at the slightest touch. I spent more time than I care to remember in the grip of that white-hot rage, and I remember so often feeling terrified that it would consume me, helpless to do anything to stop it because I didn't know where it came from in the first place.
Come,
my mama would say.
It's time to make bread.
She'd pull a chair up to the counter for me and turn out the warm lump of dough onto its bed of flour. I'd turn up my sleeves and, side by side, we'd start to knead. Push, push, turn, fold. Push, push, turn, fold. My little hands worked alongside hers as the nameless frustations soaked out my fingers and were absorbed into the dough. A calm would settle over me in the quietness of the task, and I'd look up to see her smiling to herself as she worked next to me. Push, push, turn, fold. Push, push, turn, fold.
You see? You're okay.
And I was. I am, because she always knew what I needed, always found a way to speak into my life even in the times when I wanted to do anything but listen.
I think of her every time I cover my hands in flour and start to bake. Push, Push, turn, fold. She loves me, she loves me, she loves me, she loves me.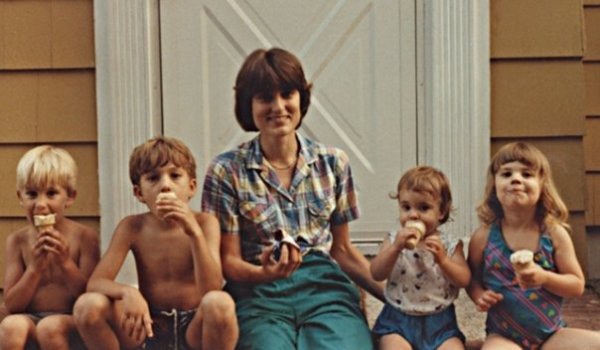 (Full disclosure: this post took me far longer than five minutes to write. I tried out about fifteen versions, telling as many different stories before settling on this one. There are too many memories of my mama to fit into five minutes. She is the best woman I have ever known, and if I turn out to be half the mother she is, Zoe is a lucky, lucky girl.)
(Also, I'm the one on the far right. We were awesome.)