And now for something completely different, since I think we could all use a little change of subject after the last post, no?
A few months ago, we mums on board got word that a group of ladies who are in a small group together wanted to bless us by taking us on a weekend retreat. Since there are lots of mums and not everyone could go at the same time, they planned two retreats. When I found out that there would be one in March and that my own mother would conveniently be visiting at that time, I immediately started pumping and storing milk for Zoe to drink while I was away.
And then the protests started.
Over the past weeks, there has been some instability here in Conakry and in other parts of Guinea, and travel outside of a very small radius around the ship has been limited. We were understandably a bit disappointed when we found out that, instead of a weekend away somewhere up country far, far away from ship and kids and responsibilities, the second retreat was just going to be one day, and that day was going to be spent mostly on board.
I could write a whole novel on how incredible that day turned out to be and how it was obvious that God's hand was on it, no matter where we were, but I want to tell you about something completely unexpected that came out of it.
Last week, I met a woman who's involved with a program called
Babies Without Milk
here in Conakry. Her name is Estel; I don't know if she runs the whole thing or what exactly her role is. I just know that there are so many babies with mamas who don't have enough milk here and even more babies with no mamas at all. Since we were planning on staying on board for the weekend, I suddenly had a whole stash of milk in my freezer that suddenly didn't seem to be very useful, so I told Estel that it was up for grabs.
There aren't any donor milk banks here in Guinea, so the babies in the program are usually fed powdered milk. Every so often, though, they come across a baby who just can't handle cow's milk, and it's times like that when they desperately need donated mama's milk. Estel took down my name and number, promising to call if they found a baby like that in the next few months while we're still here.
I'm sure that since I just met you,
she told me with a smile,
we'll be getting that baby very soon.
Sure enough, when I walked into the cafe today, one of the baristas was on a cell phone. She beckoned me over; it was Estel, and of course I just happened to be walking by right when she called looking for me.
Two weeks ago, a little boy was born to an unwed teen mother. She has since passed away, and her older sister, a young mother herself, just doesn't have the means to feed another mouth. Alseny was signed over to the police and will be placed for adoption at some point in the future, but right now he just needs to survive.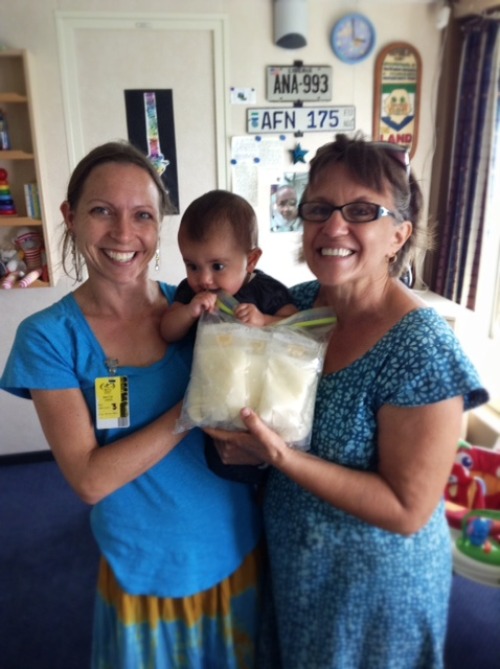 Estel and her daughter, Jamie, came to the ship this afternoon to collect my extra milk. Fifty-three ounces isn't much in the grand scheme of things; it's not going to change the course of history, but hopefully it'll make a difference for little Alseny.
And once again I'm left in awe of the way God orchestrates our lives. He weaves our stories together, and it's so rare that we get to see the beauty of the tapestry so clearly in the moment. I'm marveling at that beauty today.
(I'll be sure to keep you updated if I hear anything more about how Alseny's doing.)