Zoe is seventh months old today, and her list of accomplishments is growing by the minute. When I wrote her six month post, I was certain I'd be back this month to report that she's crawling all over the place, but, true to form, she's doing things her own way. She's absolutely mobile; it's just not exactly pretty all the time. In the last couple days, she's finally started lifting her hands as well as her knees, but she can't coordinate the two. It invariably ends in her getting so excited to go somewhere that she spends her days lunging forwards, belly-flopping and face-planting all around the cabin. She rarely seems to mind, thankfully, since she spends a good amount of time with her nose buried in the carpet.
It's so fun watching her master new things. Over the weekend, we were at the beach, and she was eyeing up the straw in my Nalgene. I let her put it into her mouth and she started drinking my water like she's been using a straw her whole life. (I think she was as surprised as I was on that one.) Just yesterday, she spent the entire morning focusing really hard on pushing herself up from her stomach into a sitting position, and then right in the middle of taking her seven month pictures, she all of a sudden just sat up like she'd been doing it from day one.
She's growing hair, now, enough to be styled into tiny little mohawks and finally starting to cover over the bald spot on the back of her head. The drool continues, but there's nothing resembling a tooth anywhere in sight. One of my favourite developments this month (and hers, if her glee is any indication) is the addition of a few consonants to her verbal repertoire. She's mastered the
B
sound and is working hard on
D
, although that one seems to come out more often when she's mad. Much to her delight, she can now also blow raspberries. We're starting to work on some sign language with her; she doesn't do any of them back to me yet, but it's fairly obvious from her reaction that she understands the sign for
milk
! I think she's getting
food
and
all done
, but her tells aren't quite as pronounced on those ones.
Speaking of food, she's finally decided that it's a good idea, and we can enter carrots, peas, beans, oatmeal, cereal puffs and apples on the
approved
list. The jury's still out on rice cereal, avocado and bananas, but she'll eat them when she feels like it. She seems to be a bit picky about her foods; we recently inherited some jarred baby food, and she's made it very clear that she prefers the fresh stuff. This is where her ability to blow raspberries comes in handy, as far as she's concerned; it's not hard to tell when she doesn't want to eat something. And finally, after seven months of fighting me almost every time she nurses, she's decided that she loves it. I'm absolutely drinking in our quiet times together, discovering that this really can be the joy that I've heard so much about.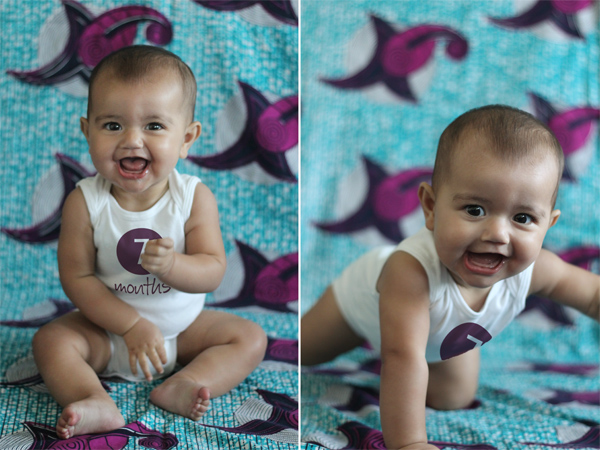 She's perpetual motion and constant smiles and about three seconds of snuggle each day. But oh, in those three seconds when she rests her head on my shoulder and her wiry little body goes soft in my arms, I realize how well we fit together, my daughter and I. She was made for me, this one, and she's making me new every day all over again.