Last night, Zoe learned how to flip over while still snugly wrapped in her swaddle strap. This sort of behaviour falls firmly in the 'unsafe' camp, so the long-awaited and much-dreaded cold turkey weaning off the swaddle commenced. Unfortunately for her, last night was also the night she came down with a cold bad enough that crying for longer than about thirty seconds resulted in her vomiting everywhere and being mostly unable to breathe. After an hour and a half of crying and jammie changing and soother replacing, I gave up and brought her into bed with me for the night.
Last night was also the night the Husband of Joy came home after being away for a month.
The timing couldn't have been worse. Phil ended up bunking down in Zoe's room while I laid awake in ours with a whimpering, coughing baby in my arms, tears running down both our faces. (Zoe's and mine; I have no idea what was happening with the HoJ way over on the other side of the cabin.)
I realized a few things last night, about motherhood and expectations and just how long the hours can be when your baby can't sleep.
I had it all planned out in my head, the joyful reunion on the dock, smiles all around followed by Zoe going down for the night without a peep so Phil and I could spend time together catching up. (I think that's what the kids are calling it these days.) Blissful, perfect family time.
Instead we had rivers of snot and a crying baby who took a little while to remember who her Daddy was and that endless night, still in separate beds.
There
was
one beautiful moment in the middle of all the crying when I got Zoe from her room and brought her into ours. We laid on the bed and Daddy came to snuggle and she couldn't stop beaming up at him and then looking back at me like,
Mama, it's Daddy! He's really here!
Which I suppose is how I got through the rest of it, lying motionless in whatever odd position I happened to be in when she dozed off, a sad, sick little baby wrapped around my arm who woke up crying if I breathed a little too heavily.
I guess what I'm trying to say is this: my husband is home, my baby is sick, and I've resorted to eating the Fun Dip out of Zoe's Easter basket just so I can make it through the day. (As a side note, eating powdered sugar off a candy stick is every bit as awesome as I remembered.)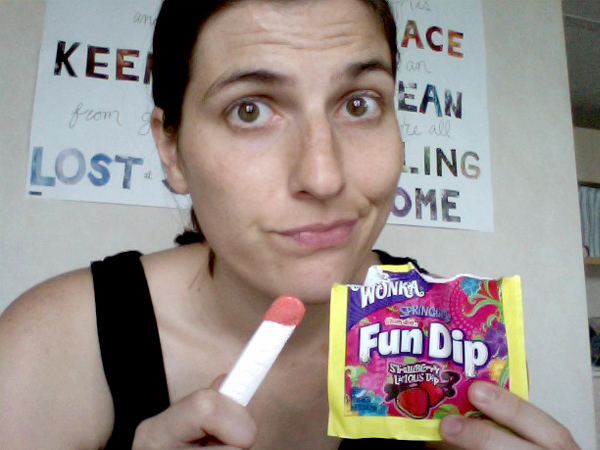 I wanted it to be perfect, but instead I got smacked upside the head with reality. Because no matter how much it makes my little OCD heart cringe, life is messy.
I know there's a lesson to be learned in here somewhere, one that will help me face the rollercoaster of parenting with much more grace the next time around. But I'm out of Fun Dip, so it's just going to have to wait.