Zoe and her best friend Hailey had a pool date this afternoon.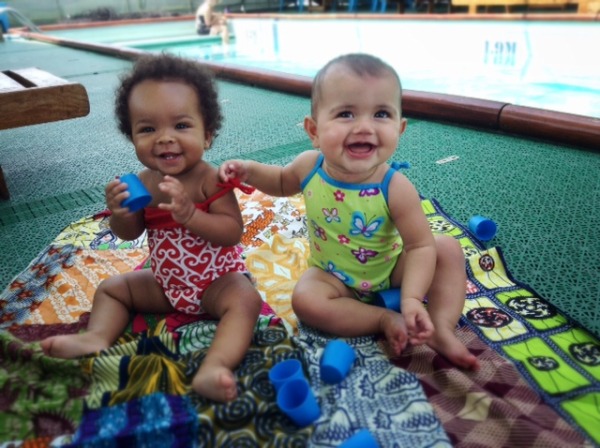 I know. I, too, almost died from the cuteness of it all. It would appear that she's feeling better, and I never even had to break into the second pack of Fun Dip that a kind yet anonymous stranger left taped to my door after the last update! That's a win all around, since I've now got a backup supply for the next time the plague / teething / unswaddling (for real this time, since I totally chickened out yet again and she's still wrapped up snug as a bug at bedtime) hits our cabin.
As we were heading home to put the girls down for their naps, we passed by the patients, all sitting outside in the fresh air on Deck Seven. In the middle of the group, peeking out from behind a mass of bandages and around a half-crafted nose, was a pair of eyes I was pretty sure I remembered from Sierra Leone. Hopeful, I called out the little girl's name.
Kadiatu!
.
She and her papa looked over, and her dad's face broke into a wide smile as he waved and yelled back his own greeting.
Ali Tumba!
A year and a half later, it's nice to know that I'm remembered, even if it
is
largely as a result of
the size of my rear end
.