Raising a baby on board a ship is, in a lot of ways, pretty easy. Someone else cooks my meals and does my dishes. The view out the window constantly changing (and thus endlessly entertaining) with all the different ships going by. And if she does get bored in the cabin, I just take her out into the common areas where I'm pretty much guaranteed to find a friend to entertain her for me!
There are small things, though, that remind me that I'm not exactly doing this the 'normal' way. For example, I have to order diapers months in advance and have them sent over via shipping container. In order to imagine what this is like, try to figure out exactly how many diapers your child will need for the next 6 months and what sizes those diapers will need to be, taking into account her unknown rate of growth. Factor in probable delays and limited storage space. Add wipes. Running to Target was so much easier...
Now that she's eating solid foods, it's a whole new layer of improvisation. You can't just run out and buy baby food; we take a weekly walk to the market instead, where we barter for fresh produce and then make our own purees back here in the crew galley. Other than the fruits and veggies we find there, though, you're kind of out of luck if you want to feed your baby something. Like, for example, a teething biscuit.
The other day, despite the fact that there's nothing remotely resembling a tooth in my child's mouth, I decided she might like to gum one of those (a teething biscuit, not a tooth) while I ate my own breakfast. Except there's that thing about being thousands of miles from the nearest Target and the other thing about the ladies in the market not so much selling teething biscuits. (Kids here teethe on chicken bones. True story.)
So I made some. Because I'm domestic like that.
Honestly, this is one of the simplest recipes I've ever come across, and if you're looking for a healthier alternative to sugar-laden, store-bought, processed cookies that your baby is probably just going to gum to death and then throw on the floor, you've come to the right place. I used
this recipe
and adapted it slightly for the ingredients I had on hand.
Ingredients
1 cup infant rice cereal
1 cup (wheat) flour
1 mashed banana / 4oz apple puree
2 tablespoons (coconut) vegetable oil
1 teaspoon cinnamon
4 tablespoons water
Preheat your oven to 425 degrees Fahrenheit (220 Celsius).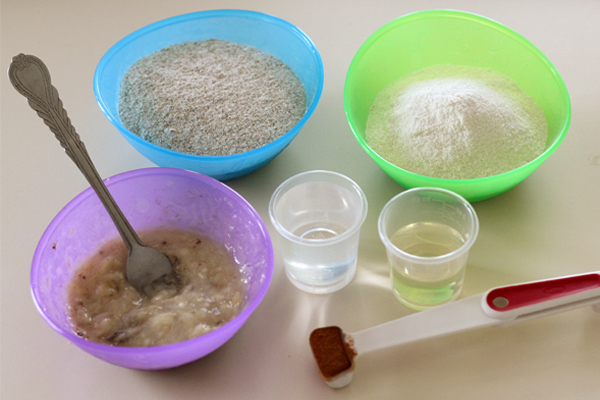 Gather up all your ingredients and throw them in a bowl together. In these photos, I was using wheat flour, but I the first batch I made was with white. Honestly, I think the white flour gives them a better texture; they were smoother and seemed to hold together better, but that could have been because the wheat flour I used was really coarse. The fruit component is up to you. When I made that first batch, I didn't have any bananas, so I thawed some apple puree I made last week. (You could use natural applesauce, too, but we don't have that available.) The original recipe called for two teaspoons of cinnamon, but I felt like one was just right.
Mix until all your ingredients are combined into a nice, soft dough.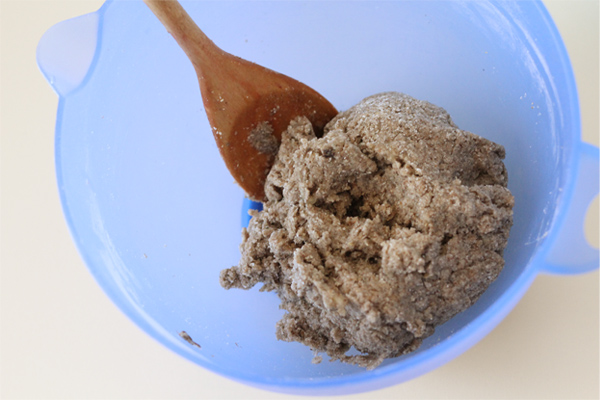 Turn the dough out onto a floured surface and roll out fairly thick. I didn't measure, exactly. Follow your heart on this one. Cut into whatever shapes you desire. I found that stars were perfect, and not just because I love them. The pointy bits make great handholds, and the 'arms' catch on her cheeks and make it impossible for her to stick a point too far into her mouth. This is what's known as a win-win situation.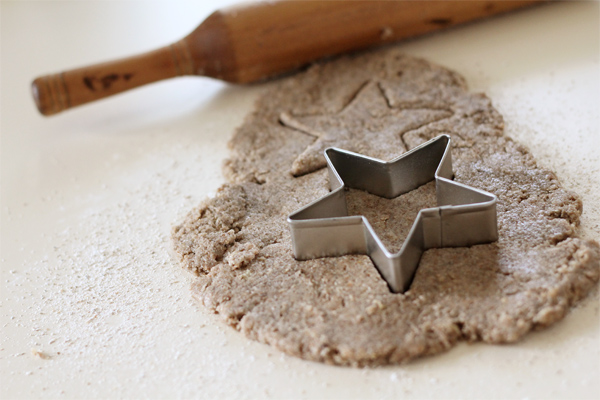 Lightly grease a baking tray (or use parchment paper) and bake for around fifteen minutes. I flipped mine over halfway through so that both sides would brown evenly. I'm not sure if you'd need to do that if they were on parchment paper; someone try it out and let me know!
And that's it! (See what I mean, though, about my coarse flour? These things are rugged looking.)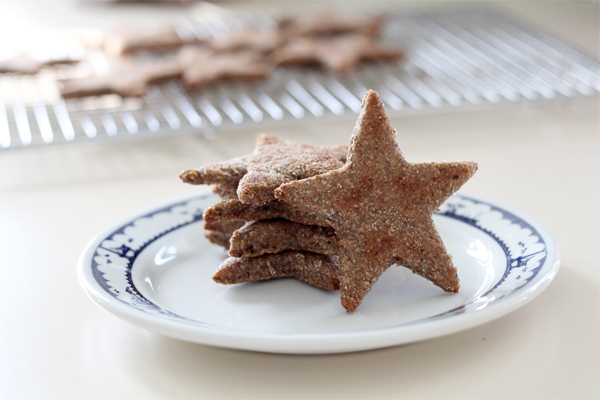 I've been freezing mine; Zoe seems to love a nice cold star to gnaw on. Be aware that the points do eventually break off when they get soggy enough; it seemed to happen more quickly with the wheat versus the white flour. Zoe just spit them out when this happened, but if you have a kid who's not as accustomed to dealing with chunks of food in her mouth, you might want to keep a close watch on the proceedings. (Probably a good idea in general with new foods, honestly.) The body of the stars did just what a good teething biscuit is supposed to do: got really gummy and soggy but didn't fall apart.
At any rate, these are awesome, but don't take my word for it. Cue the obligatory shots of my baby enjoying her delicious cookies. (These were the white flour / apple version.)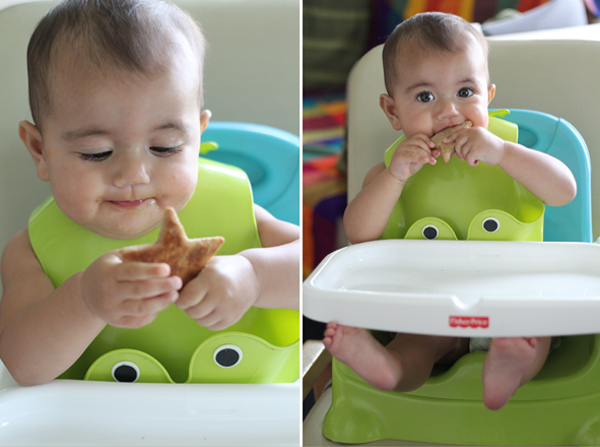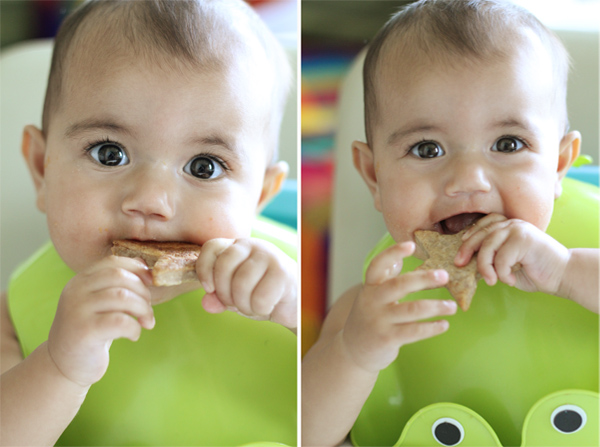 Happy baking, mamas. Happy teething, babies!