Zoe is eight months old today, and to celebrate, she spent her first full night unswaddled last night. (I know I said I was doing it forever ago, but I chickened out, okay?) It went better than I ever expected, honestly. Except for an hour of off-and-on crying and soother replacing and laying back down of the baby, she slept as well as she ever does. In fact, I got five consecutive hours of sleep at one point, something that rarely ever happens, and going in to wake her up in the morning and finding her curled up on her side, just like me, is the cutest thing ever. Today we tackle naps, and it looks like our lucky streak is continuing, since she took her first one unswaddled and slept for an hour and a half!
She's a crawling machine now, the days of belly flopping and lurching around long forgotten as she explores the ship under her own steam. She's pulling herself up to stand on anything and everything, and she's even managed to climb a few stairs. It all has to happen under fairly close supervision, since she apparently lacks any sense of danger and will let go and spin around whenever something more interesting than holding on catches her attention. Which happens approximately every four seconds, all day long. This, incidentally, makes feeding her a challenge, since a toilet flushing on deck three is pretty much all it takes to give her whiplash. Remember how I said I loved breastfeeding last month? I take that back. At this point, it's eyes on the prize and hoping to make it to a year.
We're smack in the middle of a wonder week, so she's not her usual sunny self at the moment; apparently eight months is old enough to start throwing tantrums, and my child seems to have inherited my flair for the dramatic. I learned this the other night when I wouldn't let her eat the shower sprayer. In retrospect, I should have just let her lick the thing and saved us both the trouble. The first of many poorly-chosen battles in my career as a mother, I'm sure.
There's no sign of a tooth in this child's mouth, and she's following a similarly slow trajectory when it comes to eating real food. We're lucky if we can get a couple ounces of baby food into her in a day, but she's growing like a weed and managing to stay above the ninetieth percentile for height, so I guess she doesn't need it too badly yet. Her current favourites are mango pieces in the mesh feeder, anything with pears, and the teething biscuits I shared about the other day. Green beans and peas are right at the bottom of the pecking order as far as she's concerned, and everything else occupies a very indifferent middle ground.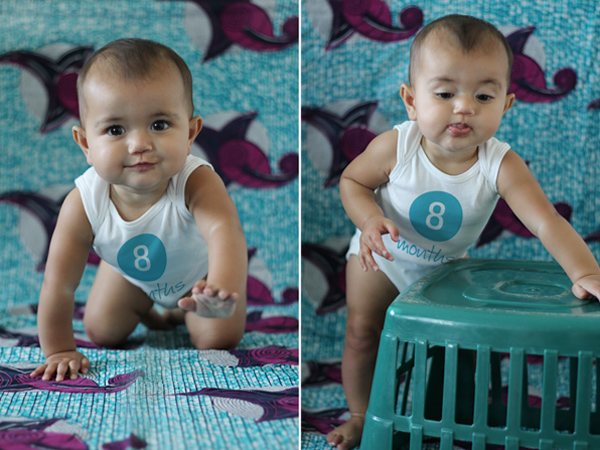 I want to say something tender and beautiful here, but I feel like it's all been said before. I love this child. I love watching her grow and learn and explore her world. This whole mothering thing is so much
more
than I thought it would be. And that's saying something, because I had pretty high hopes.