From
Lisa-Jo Baker
today: So let's spend our five minutes of writing today, sharing about friendship. Fight it, love it, hate it, hurt or healed by it, we were certainly built for it.
Today's prompt:
Friend
.
Go.
We went down to D Ward this morning, hoping to use their baby scale to get Zoe's friend's one-year weight. I found it on a shelf under some trays, so I handed Zoe off to the nearest set of willing arms, Marietou's caregiver Djeneba, while I unearthed it. Once Cora had been weighed and measured, it was time to visit.
I sat on a tiny, wooden chair, Kadiatu resting in my lap, her little fingers curled through mine. After a good snuggle with Djeneba, Zoe had ended up in Fodi's arms, alternately poking his face and staring at Sam who was playing the guitar and leading worship. Marietou sat on the other side of Sam, carefully cleaning her mouth before standing up to sing with the rest of us.
He touched my life with His hand,
He touched my life with His hand.
My life has changed,
I am starting a new one.
We sang together, nurses and translators and patients and a couple of mamas just stopping by to see our friends.
Marietou came over, eyes full of hope, and held out her hands. Without a moment's hesitation, Zoe lifted her arms to be picked up. They sat together, Marietou and her little friend, and all I could think was,
Yes. This is what I want for my daughter. This is who I want her to be.
She doesn't know, yet, that the rest of the world thinks Marietou still looks 'wrong' despite everything we've done. She has no idea that some people would consider her cursed, that others would think nothing of crossing the street when she passes or turning up their noses at hers.
All she knows is this: Marietou and Fodi and Kadiatou and all the others? They love her. She receives that love without question, oblivious to scars and bandages and lips that still don't look quite right.
She will grow up with friends like these, playing among the broken and the whole alike, and my deepest hope is that she will never know the difference between the two.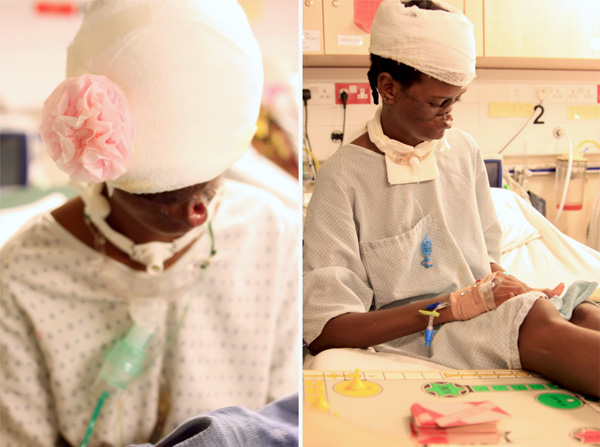 (Photos by Deb Louden.)