I went down to the office last night after Zoe was in bed, hoping to tackle the pile of Smile Train charts in my box. I've got my system down to a science now, which is good because the end of the outreach means lots and lots of cleft lips.
When I pick up a new chart, the first thing I do is go into our database of before and after photos to pick out the pre- and post-op photos that I'll need to upload along with the patient's information. It's my first contact with the patient, and I love watching the little faces that pop up. Alseny was no exception.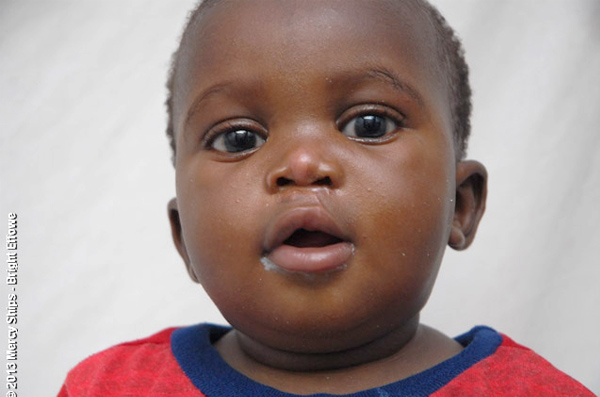 Big brown eyes and a milky mouth; my kind of baby. Alseny was here to have his cleft palate repaired, but when I opened the chart, another photo fell out, one from before his cleft lip surgery. As I started to look through the rest of his paperwork, Alseny's beautiful story unfolded in photos and graphs and page after page of careful notes.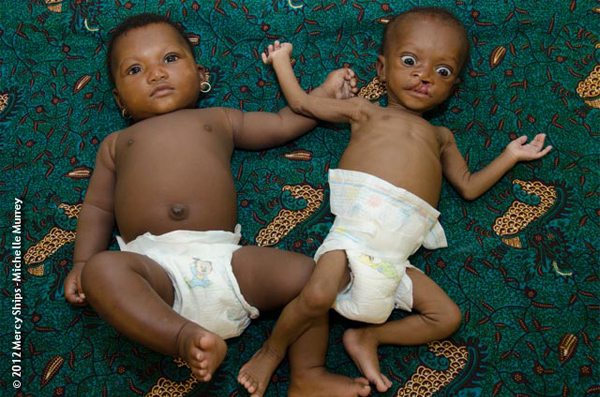 This is Alseny and his twin when he first first came to be admitted to our Infant Feeding Program (IFP) on November fifteenth. At four months old, he weighed just over six pounds, his cleft lip and palate preventing him from getting the same nutrition as his sister. It's one thing to see a tiny baby, malnourished because of a cleft. But put him next to a twin, next to a baby who is getting all the same milk he is, just without the broken lip and palate, and the true impact of this birth defect is thrown into terrible, sharp focus.
Thankfully for Alseny, his mama loves him. She saw past the curse, past the lie her culture would seek to tell her that one healthy baby is more than enough, and she fought for his life. Instead of letting him starve to death, she brought him to us, and Jess, our IFP coordinator, got to work making a specialized plan for fattening little Alseny up.
Twelve days later, Alseny weighed in at over nine pounds.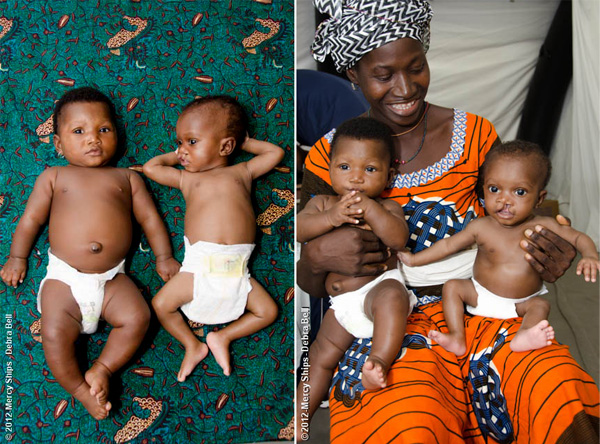 Let that sink in for a minute. He gained over half his body weight in less than two weeks, simply because his mama was taught how to feed him and provided with supplements that she wouldn't otherwise have had access to.
And it didn't stop there. Over the next two months, Alseny kept on growing until he was more than ready for his cleft lip surgery in February.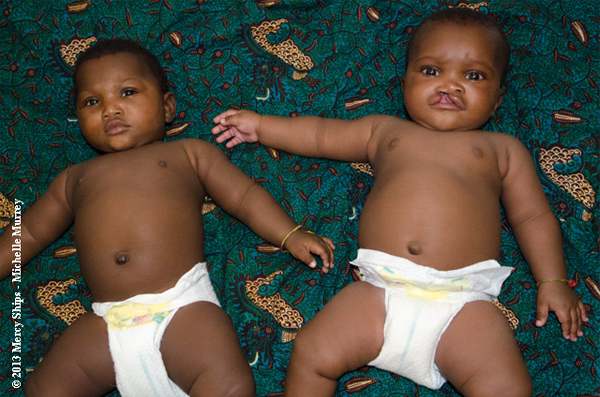 In case you're wondering, that's him on the right, putting his formerly big sister to shame with those rolls.
In just two months, we went from not knowing whether Alseny would survive to walking him into the OR for his lip to be repaired. And because he did so well, we were able to admit him for a second surgery to close his palate, too, something that wasn't even on the radar when we first met him. We serve a God who does more than we can ask or imagine. And in Alseny's case, we actually have photographic proof.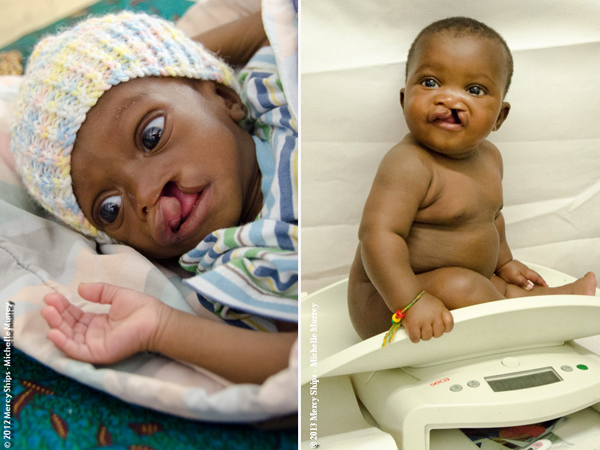 Surgery finishes on Friday, and the hospital closes next week. This Field Service is coming to an end, but when we sail, we leave behind stories like Alseny's, the promise of life when the future looked anything but hopeful.
I love this place.