Today is a sad day around these parts. I know I've tried to talk a big game and pretend like I'm good with constant change and people leaving, but I said all that before I realized just how hard this summer was going to be. There's a reason I've been silent; squeezing every last ounce of love out of the last few days with a lot of dear friends just hasn't left much time for blogging.
Over the past week we've seen a real changing of the guard. Maybe being home last summer with Zoe was enough to make me forget just how much the community changes during shipyard, but I never remember it being this drastic. One by one, friends are heading for the airport, back to lives and families across the globe, and whether it's for vacation or for forever, it's been a long series of brutal goodbyes.
Today is going to be the hardest one.
Becca and I have known each other since Benin. (That's how you measure time around here. Not in years but in countries.
We met in Togo. The first one,
you say, and everyone knows it was sometime in the first half of 2010.) We've worked together in the hospital and shared our love of all things pediatric. We lived through our pregnancies together, due just three days apart with our firstborn daughters. We've spent the last six months muddling through the crazy joy of raising infants on a ship, and at 4AM tomorrow, she and her husband and Zoe's best friend will join the ranks of the leavers.
I'm finding it impossible to put into words what it's meant to me to have her by my side for this part of the journey. Mamahood is hard. There's no denying that. It's relentless and exhausting and frightening, and it's not something I recommend doing alone. It's also the most wonderful, joyful, awe-inspiring thing I've ever been a part of. Also not things you want to experience alone.
Becca has been my cheerleader on days when I was too tired to get out of bed. She's listened to me complain and offered a shoulder to cry on when it felt like the baby year would never, ever end. She loves my daughter and rejoiced with me over Zoe's first steps, the first time she ate food, the first time she slept through the night. She's the guaranteed smile-getter and my number one baby wrangler for photo shoots.
And it's not just Becca's friendship that's been so sweet. Our girls light up when we bring them into the same room, crawling as fast as they can to get near each other. Zoe having a bad day? Go visit Hailey and all is forgiven. We joked when they were first born that they'd be best friends; it turns out that's exactly what's happened.
As they prepare to leave, my heart is heavy, knowing that Zoe won't have a single memory of these precious days with her first friend. We'll remember it for them, though. The Deck Seven play dates and market walks and trips to the park. The Saturday afternoon football watching and matching outfit photo shoots and pool parties in the hot, African sunshine.
These little girls have a lot of life left to live, and my prayer as Hailey goes is that all their friendships will be this sweet. I'm already looking forward to the next time that we see each other, and in the meantime, I'm considering getting this printed big enough to paper our walls with, just to make sure Zoe never forgets.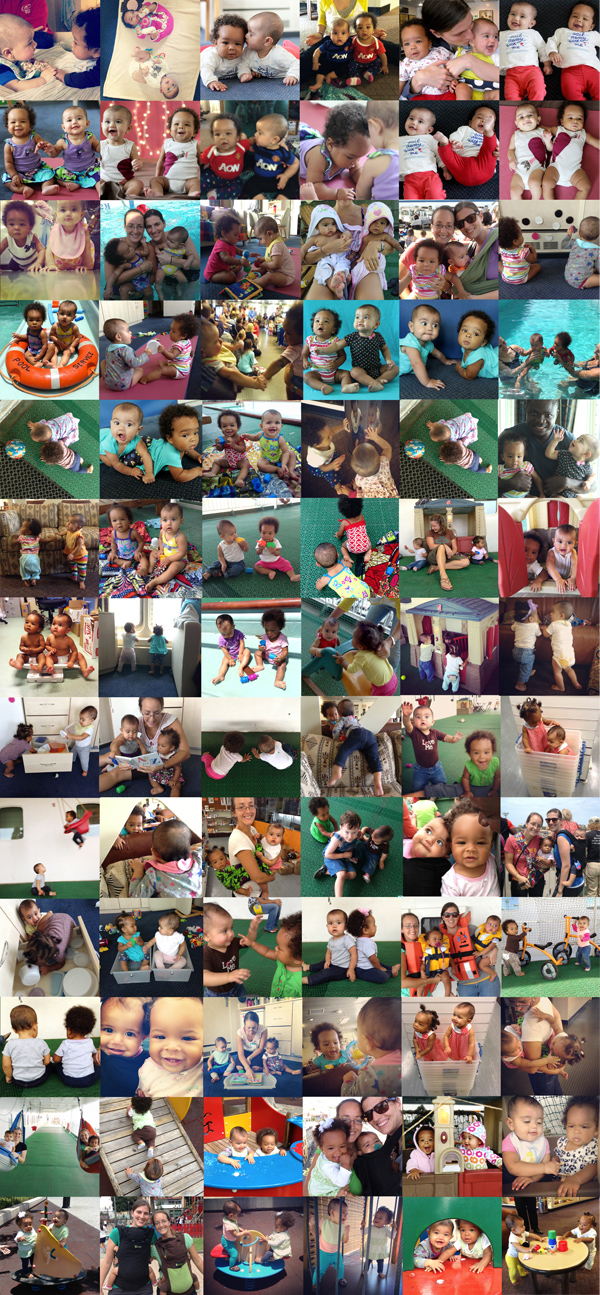 (There's too much cuteness there to fit in this blog post; you can
click here
to see the full-size version. Be warned: it's huge. Ship people, don't even bother.)