Zoe is eleven months old today, and this past month has been one of the busiest yet. A few days after the last update she figured out how to put one foot in front of the other, and now I almost never see her crawl. She's starting to lose the wide-legged baby stance and is walking more and more confidently, which is hilarious since she's still so tiny. She hasn't quite mastered running yet, but she's giving it her best shot. This most often ends in spectacular tumbles, but she's a determined little thing. Just a few days after the walking came her first tooth, one of the bottom ones, and in the space of about a week she cut four of them, three on the bottom and that dear little snaggle tooth on the top. This, along with a surge in separation anxiety that has her crying for mama in the night, has wreaked havoc on her sleep.
We had a good thing going for about a week when she was sleeping twelve and thirteen hours at a stretch, but with the surge in physical activity and mental growth, compounded by her terrible eating habits, she's back to needing a feed in the middle of the night. I thought she was a poor eater before, but now I realize just how wrong I was. She's recently decided that she'll refuse all purees and has learned how to make herself gag when something she doesn't like comes within a foot or so of her lips. Unfortunately, she also still gags and chokes for real when she eats pretty much anything other than tiny shreds of chicken or peach slices; we're very much on the slow track. Meal times are equal parts increasingly frustrating and incredibly messy since she's a much bigger fan of smearing food all over herself than even trying to eat it.
Along with her physical development, it's been so fun watching her start to make connections mentally. She's made real leaps in communication, and can wave, sign
water
and
all done
, try to mimic almost any sound, shake her head
no
, and sing along when she hears music. Her sense of humour is becoming more apparent every day; she now does things on purpose because she knows they're funny and will throw her head back and let out a huge belly laugh when she thinks she's made a good joke.
She's finally started to sit still when I read books to her and will sometimes even bring them to me, which makes this book nerd more than happy; her favourite is a giraffe number book from Auntie Di. She's playing with her toys much more deliberately these days, and will spend whole chunks of time putting things into bowls and carrying them around the cabin, kissing her baby doll, or trying to kick a soccer ball. I think my favourite thing these days is how, now that she can walk, she totally thinks she's one of the big kids and will follow the older girls around on Deck Seven or in midships to play with them. Community life is perfect for this girl; she loves being around people, and there's always someone around to satisfy that desire!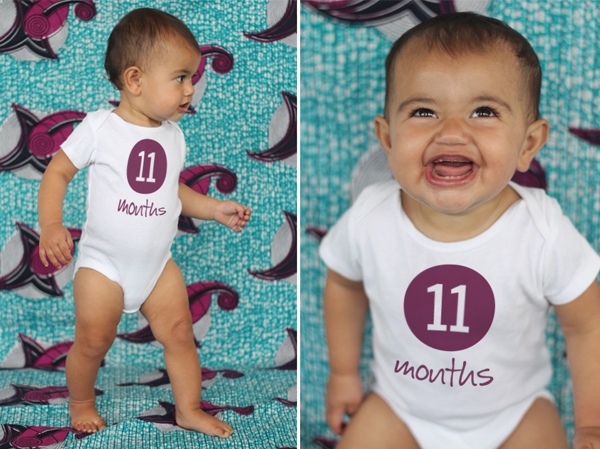 As the baby year draws to a close, I'm a little stunned by just how fast it's gone. I feel like we just brought her home from the hospital, and now I'm wrestling with her on the floor and she's running into my arms, shrieking with laughter, and planting sloppy, wet kisses on my face. I never really realized it until it happened, but I think I've been waiting for that moment my entire life.