For the first time in over a week, Zoe went to sleep tonight without crying for me to come back into her room and hold her for a little while. Ever since she was a tiny baby, she's been a dream at sleep time. We turn on her white noise, make sure her soothers are within reach, and walk out. That's it. There's never been any fuss, so when she started screaming like she was being killed a couple weeks ago, I wasn't quite sure how to handle it at first.
Intellectually, I knew why she was having trouble falling asleep. The last of the dreaded
wonder weeks
, coupled with the tail end of jet lag, compounded by the stress of readjusting to life on board the ship, all topped off with a nasty, drooling, snotty-nosed mess of teething; it's no wonder she couldn't manage to drift peacefully off to dreamland under those circumstances.
But that didn't change the fact that I had no idea what to do about it, and this is where the fear and doubt that can plague a mama's heart started to creep in.
If I go back in there, am I just reinforcing her crying? Am I teaching her that she can just throw a fit and get what she wants? What if I start a habit that I'll have to break later? Am I going to destroy all these months of good sleep by giving in? What if I ruin my child?
Maybe it was baby brain, maybe I was just jet lagged myself, or maybe I'm a heartless wretch, but for a minute or two (or seven, not that I counted every second) on that first night, I actually considered letting her cry herself to sleep. Until I remembered the lesson that this little girl has been slowly teaching me since the day I met her.
Babies aren't robots.
It's almost embarrassing how often I've been reminded of this over the past seventeen months. You see, I set out on this parenting journey with so many ideas about how I was going to do things and how my child was going to do things and exactly what our lives were going to look like.
She'd be sleeping through the night within a reasonable timeframe, of course. Don't all babies? She'd learn to self soothe, and I'd never be stuck rocking her to sleep. Breastfeeding would be a glorious bonding experience that we'd share together until well after she was a year old and decided she'd like to wean herself. We'd start solid foods around six months, and by her first birthday she'd be chomping on lots of fruits and veggies and throwing back sippy cups of milk; bottles and formula were never part of the plan. Naturally we'd follow all the recommendations about avoiding screen time until after she turned two, and she was never going to eat fast food. Ever.
You can see where this is going, right?
We both hated breastfeeding from day one, and the moment I weaned her onto formula at ten months was a celebration for both of us. She just started eating solid food in any real quantities about a month ago (although she still survives mainly off of chicken and olives), and she still wakes up at least once every night for a bottle of formula; I don't need to take off my shoes to count the number of times she's ever in her entire life slept through the night. You know how I get her to eat? I either turn on a show on the computer, I hand her my ipod, or I feed her french fries and chicken fingers. And sometimes, nap time looks like this.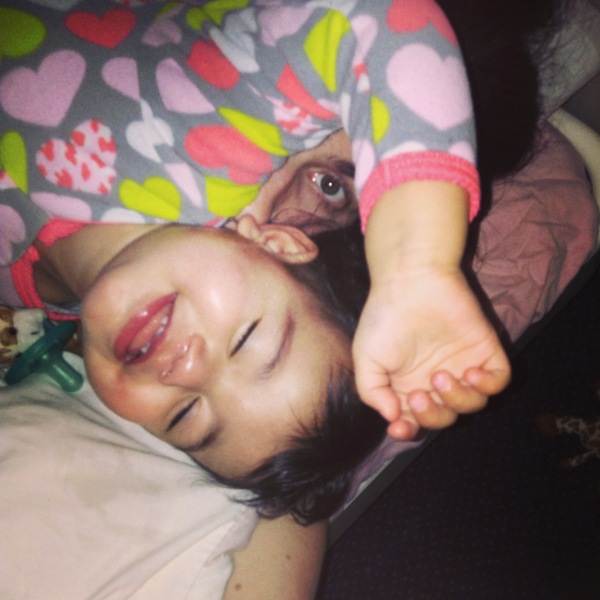 I am, by my own standards, an utter failure, something that I've fought tooth and nail against for as long as I can remember.
And yet, as I scooped my daughter out of her crib that first screaming night, as I held her against my chest and stroked her forehead while she fell asleep in my arms, it didn't
feel
like failure depsite the fact that, yet again, I was doing exactly the opposite of what I'd always planned. And the next day when we did the same thing at nap time and again at bedtime, and on and on it went? Every single time she cried for me and I settled into my corner on the floor with her in my arms, I felt an incredible wave of gratitude that, somehow, for the first time in my life, I'm willingly letting myself fail.
Because babies aren't robots (mine perhaps least of all), and motherhood is a great deal more about trial and error than anyone's really comfortable admitting. So we get up in the morning (or the middle of the night, as the case may be), and we figure out what's going to work today. And what works for my kid isn't what works for yours, and it probably isn't what's going to work tomorrow, so when the sun rises again it all starts fresh and you'd better be ready to improvise because there's no real time for hesitation when your baby suddenly decides that it's time to be naked forever.
And at the centre of the maelstrom of change and uncertainty (two things I've never been particularly fond of) is a kid who knows only one thing for sure (other than, perhaps, what sound a doggie makes): you are her rock. You are the constant around which her tiny world revolves, and if she needs you to hold her while she falls asleep for a week or two, it's not going to be the end of the world.
I'm not entirely sure what the point of all this is. Maybe there's someone out there like me, someone who's so afraid to get things 'wrong' that you're practically paralyzed. Someone who needs to hear that there really isn't a right way to do this, that your baby is going to be all the rule book you'll ever need, and that comparing yourself to other mamas is the quickest way to mire yourself in crippling doubt. Someone who needs to hear that not having your crap together every minute of the day is absolutely acceptable and not knowing what comes next isn't the worst thing that will ever happen to you.
Or maybe I'm just trying to convince myself that flying by the seat of my pants is okay and that adding another kid to this mix in a few months isn't going to totally unhinge me. Either way, I'm going to put this out there. For you and for me and for the baby who just wants to be held for a few extra minutes tonight. And the one running around with his diaper on his head. For that one, too.