Today was the first day of spring, bringing with it all its promise of life after a long winter. Yesterday was the worst day of my life. I have no idea how to reconcile the two.
Years ago, Phil and I sat together next to a waterfall in Sierra Leone where we chose the name we'd give the daughter we'd conceive a few weeks later and the son we prayed would follow sometime after that. Yesterday we learned that the little one growing inside me is that little boy we've been longing for, the child we've been dreaming of since before he was anything more than a desperate hope nearly drowned out by the rushing of the water. Our Ethan, whose name means
strength.
I laid there in the ultrasound room, watching the black and white and grey dance together on the screen as my son kicked and squirmed away from the tech's probing touch. I pointed out his spine and his ribs, his little hands and the perfect curve of his chin to my sister who sat next to me, a stand-in for the husband who's across the ocean in England at the moment. We watched his heart beating, heard the steady rhythm fill the room. And then I kept watching, fear creeping in at the edges of my mind while his heart danced on the screen for far, far longer than it should have. I closed my eyes, prayed that I wouldn't hear the words I knew were coming, and fought to keep from screaming when the tech turned to me.
I'm just going to ask the doctor to come and take a look.
We sat in her office a few minutes later (or maybe a few lifetimes; it's so hard to know), and her face bore the practiced mask of someone about to make your world come crashing down around you.
This will be hard to hear.
She quietly explained that Ethan's heart is extremely deformed, that his stomach is on the wrong side of his body, that she didn't know if he had a spleen. That all of this might be the symptom of an even more devastating genetic issue.
That she didn't know if he would live.
And the whole time he was moving inside me, his kicks always far more insistent than his sister's ever were, and so surely there had to be some mistake. Surely it was someone else who had just been plunged without warning into the middle of her worst nightmare. Surely that sound was coming from someone else, the keening wail that marks a mama whose own heart has just been broken beyond repair.
His name is Ethan. His name is Ethan. His name is Ethan.
I spoke it over him like a prayer, as if repeating it often enough could somehow make it all okay. And I sobbed in my sister's arms, because nothing would ever be okay again, not like it was on Tuesday or Monday or any of the days before then, the days for twenty-four blissful weeks when the baby inside me was perfect and the only thing I worried about was when he'd start sleeping through the night.
The next hours passed in a fog of doctors and ultrasounds and a laundry list of letters spilling from the mouth of a pediatric cardiologist who sat with us in an incongruously cheerful room while he tried to draw us a picture of a heart that's anything but what it should be. DORV, AV canal, T/PAPVR, pulmonary stenosis, heterotaxy, right atrial isomerism. Words for things I learned about years ago in school, things I saw in the PICU, in patients too sick for me to take care of, words that are now a part of our story forever.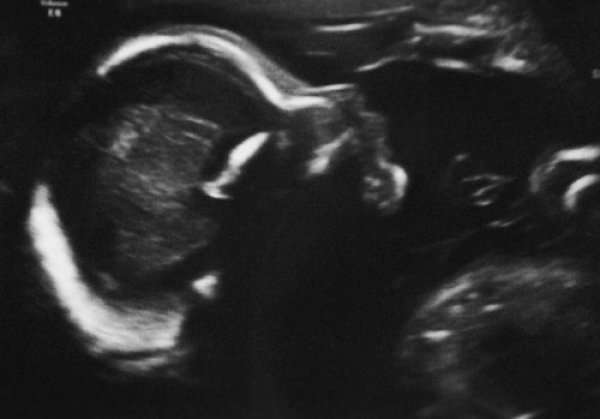 Sister and I pulled up to yet another hospital this afternoon, and she stayed by my side while yet another doctor pushed a needle deep into my uterus to take some fluid from around Ethan, to send it off for the tests that will tell us just how badly damaged our little one is.
There are a thousand details of these past, impossible hours that I want desperately to forget and a thousand that I want to hold on to as I turn to face the even more impossible days and months and years that stretch out in front of me.
The sound of his heart, strong and steady every single time they wanted to hear it. The way he danced around inside me while they tried to monitor him but laid perfectly still when it really mattered. The doctor who found us a place to sit so we didn't have to face the happy mamas in the waiting room while I called Phil to tell him the news. The nurse who gave us directions yesterday from one hospital and somehow showed up at another one today to steer us to yet another appointment while she made sure that nothing was being missed. The sonographer who printed pictures of my son's tiny little feet for me and the doctor who talked about him like he was far more than just the sum of all these broken parts.
The way my baby boy kept me company through the darkest night of my life, kicking and rolling and reminding me with every little movement that God promises strength for today, that His mercies are new every morning no matter how long the blackness seems to stretch.
I don't know how many days are written in the book of Ethan's life. I know that yesterday was one of them, that today was another, and so at least I have this, these precious gifts of time while he rests in the safety of my body.
The future is uncertain. We have no idea if Ethan will make it to delivery, whether he would even be able to survive the many surgeries he would need if surgery is even going to be an option.
I have no idea how to be this mama. I have no idea how to fight for my son's heart while my own lies in pieces around my feet. But I have him for today. I have my Ethan and I have my God, and so I have my strength.
Strength for today.