Where to begin? How to condense twelve hours of testing and ultrasounds and meetings and more information than I can possibly take in all at once? (This is an enormous wall of text, I know. Please feel free to skip down a good ways for the short version, the plan, and the prayer requests if you'd like.)
The Long Version
I think we start with this sweet face, the one you've been praying for, this little boy who keeps me awake at night with his ninja moves and all the questions about his future. He was far too comfy with his face mashed into the side of my belly, so we didn't get to see him in 3D, but I think this picture gives a little hint as to how kissable these lips are going to be.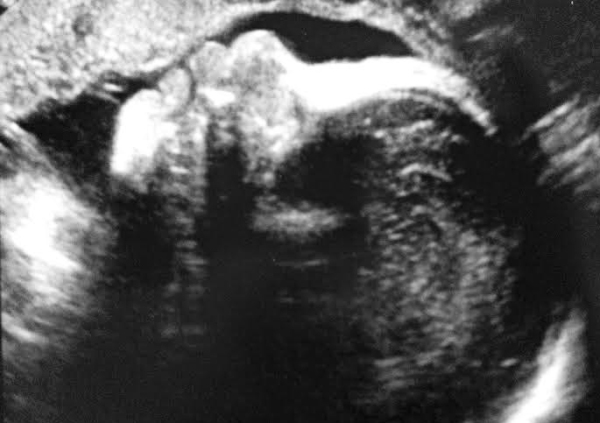 That's the perfect picture I got from yesterday. I also got this one, the personalized drawing that every heart mama gets, the one that shows just how wrong things went when her baby's body was coming together. I'll leave it here for the medical people who can read the fine print down in the righthand corner and interpret the wildly misplaced curves of his vessels by sight.
For the rest of us (and I include myself in this category, the mother side of my head that can't comprehend that this could possibly be happening to her own child and sits numb in meetings while term after term washes over her), here, as best as I can explain it (the nurse side of me, that is, the one that catalogues each of these conditions and recalls years-old bits of information about what they mean), is the simplified version. (It's still really long. This is not a simple heart.)
Basically, the normal heart is divided into two sides. The right side deals with 'blue' blood (blood coming from the body that's had all the oxygen used up), and the left side deals with 'red' blood (the blood circulating through the lungs and picking up fresh oxygen. Each side has two chambers, one that receives blood and one that pumps it back out to the next part of the circuit. Between each chamber is a valve that keeps things flowing in the proper direction, and between the two sides is a thick wall.
When Ethan's heart was forming, instead of separating into those two different sides, it took one side of itself and tried to make a mirror image of it on the other. Instead of the four neat chambers, picture a bell pepper with most of the insides scooped out and you're getting close to what it looks like. Essentially, his heart has one big receiving chamber since he's missing the wall entirely between those two sides. He does have two pumping chambers, but he's also missing part of the wall between them. Instead of a valve on either side directing blood flow, he has one big one that goes across the entire heart.
His heart should have blue blood coming back into it from his body through a vein into just the right side, but he has a vein doing that on each side. Same goes for blood bringing oxygen from the lungs; instead of coming into just the left side, two of his veins empty into the left side and two empty into the right. For the blood leaving the heart, instead of each pumping chamber having one large artery coming out of it (one to his lungs and one to his body), both arteries come out of the right side.
Here's where it gets tricky. (As if your eyes weren't already glazed over...) The large artery that should carry red blood to his body (his aorta), is the right size but coming off the wrong side. The other large artery that should carry blue blood to his lungs (his pulmonary artery) comes off the correct side, but is so small that there's essentially no blood flow through it. This will be the most immediate problem to be corrected once he's born.
There are a couple other interesting things about his heart and circulation, but at this point it'll just be more confusing if I try to explain them. They'll come into play more as we go down the road and look at different surgeries, and I'll share more when that time comes.
As far as the rest of his organs go (since heterotaxy can affect pretty much the whole body), here's the rundown:
- We initially thought he had the
right atrial isomerism
version of heterotaxy, but given the structure of his blood vessels and the fact that he has multiple spleens, we're changing that to be consistent with the
left atrial isomerism
(LAI) version. That version isn't usually associated with such severe heart defects, but Ethan's doing his own thing right from day one. The label isn't really important, but just for the sake of correctness they changed it.
- They weren't able to see his lungs clearly enough, so we're not sure exactly what they look like; that'll have to wait until he's born, but they didn't have any glaring concerns about their size or position based on the ultrasound and MRI.
- His stomach is indeed on the right side instead of the left where it's meant to be, but it also looks like a normal size.
- His liver, instead of sitting on the right side, is across the middle of his body, but because we also saw a normal-sized gallbladder, they're not worried about its function at this point.
- He has one large spleen that's possibly made up of a few small ones lumped together, along with a couple of other smaller ones sitting on their own. We won't know until after he's born whether they work, but at least they're there, which gives us a chance.
- At the last ultrasound we saw some fluid on his kidneys; yesterday his left kidney was totally normal, and once I hit 30 weeks on Friday, the measurements in his right kidney will also be considered normal.
- His intestines are showing some signs that they may be rotated wrong (another very common heterotaxy complication), but the pediatric surgeon I was supposed to meet with about it was in the OR all day so we'll have to wait until the next visit for more information there.
The Short Version
- We have confirmed the diagnosis of heterotaxy, left atrial isomerism version, based on Ethan's heart and his other organs.
- Ethan's heart looks very much like what we thought from the first ultrasound. He has complex congenital heart defects and will require multiple open heart surgeries.
- All his pulmonary veins drain into his heart, albeit not all in the correct spots; this is an answer to prayer.
- His kidneys look normal, another answer to prayer.
- He may have problems with his intestines being rotated wrong, which will most likely require another surgery. We will get more information about this at our next appointment.
- He has multiple spleens, one big one that's probably lot of little ones clumped together, and a few other smaller ones.
The Part With the Plan
So. Where does this leave us? What's the plan?
At this point, it looks like I will be a candidate for a normal birth with midwives in the Special Delivery Unit (SDU) down at CHOP. We can wait for me to go into labour on my own, and if that hasn't happened by my due date I'll be induced. I will deliver right down the hall from the cardiac ICU (CICU) where Ethan will be cared for.
As soon as he's born, the most important thing will be to ensure that his heart has a way to get blood to his lungs. Babies are born with a little vessel that normally closes off within a few hours after birth that can do just this, so the first priority will be to start an IV medication that will keep this vessel (the ductus arteriosis, in case you wanted yet another term to add to the pile) open. This will buy time while we check out his heart and lungs and intestines and wait for him to be stable for surgery.
He will most likely have his first open heart surgery within the first week of his life, something called a BT shunt, which will be an artificial tube placed instead of that natural vessel which can only be kept open with IV medication. With that tube in place, they are hopeful that he'll be able to recover for a few weeks in hospital and then come home with us to wait for his next surgery. (When they said the word
home
for the first time, I finally understood the phrase
music to my ears.
)
That shunt is not permanent; he'll outgrow it in a matter of months, but it buys us more time to see how he grows, how his heart continues to function and grow, and what the next step should be. After the shunt surgery, there are two paths that he might go down (single or biventricular repair), both requiring at least two further open heart surgeries, but at this point there's no way of knowing which one will be best for him. That will come in time, and I don't want to go into long explanations of possible surgeries until we know which ones we're facing for sure.
For now, we have a plan. We have a first step and we have been given the hope (tenuous as it is when you're talking about doing open heart surgery on a baby who's less than a week old) that our boy might get to come home with us after all. For now, that's more than enough.
The Part Where We Need You
This leaves us with a few major things that we need to sort out on our end, and this is where I'm turning to the collective power of the internet for help.
I have, at most, six more weeks of hanging out here in NJ. I'll be able to have one more appointment with my regular OB here before all my appointments will have to be down at CHOP. Starting at 36 weeks, I'll be going every week, and they want me to be living full-time in the area in order to be close in case Ethan decides to come early. Apparently needing to drive two hours to the hospital (on a good day; it can be something like four with traffic) when you're in labour with a medically complex kid isn't recommended. Who knew? Phil will be home on May 17th, a few days before my next CHOP appointment, and a couple weeks after that we'll be looking to temporarily relocate our little family to somewhere within half an hour of the hospital.
Does anyone know of a place we could stay, from the second week of June until early or mid-August if all goes well? I know I'm asking a lot, but ideally it would be two bedrooms and already furnished, since we're hoping it would only be for a couple of months before we can be back up here in NJ with both our kiddos. Anyone need a house-sitter for a couple months? Have a few months left on a lease? Anything like that? The internet is a big place, so I'm hoping that someone will have a connection out there or can point us in the right direction.
We also need to buy a car. We're trusting God that it'll be a car that will be carrying two kids around for a while, but we're also looking at lots of appointments in the city, so a minivan might be a bit big. I'm thinking something like a CRV would be perfect (whatever that class of car is called), since we'll need room for two car seats and all the luggage we'll be hauling around as we bounce between Jersey and Philly for the next few years. Anyone looking to sell one, or know someone who is?
My e-mail is on the sidebar, up near the top, in case you're looking to offload a fully-furnished apartment in Central Philly and have a car to throw into the deal and the comments just aren't working for you. (A girl can dream, right?) Please share these requests with anyone in the area, whether it's friends or family or churches.
The Part Where We Pray
Please continue to stand with us in prayer as we wait for the birth of our son. Some of the fear surrounding that day has definitely been lifted since we know more about what things are likely to look like (at least for the initial phase), but he faces a long and uncertain road.
Pray that his heart would continue to have a good, strong rate and rhythm as it grows. Pray that his other organs would all function correctly despite being in the wrong places, and that the fluid on his kidneys would continue to resolve. Pray that it would be clear which path forward we should take in terms of surgeries and the best outcome for Ethan. Pray that we would find a place to stay and a car to drive, and that we would be able to balance caring for Zoe and preparing for Ethan's birth. Pray for Phil and I as we make these hard decisions and for the medical staff who will be caring for him and performing surgeries on his tiny little heart.
We love you, and we love that you love our son. We could not be doing this without you. Thank you.