Today marks thirty-four weeks of pregnancy, and internet sources differ as to whether Ethan's roughly the size of a cantaloupe or a butternut squash. If only that were the biggest question on my mind at the moment. This promises to be another long one; I'll put a list of prayer requests at the end if you don't have time to sort through all my ramblings.
We had our next big prenatal appointment down at CHOP on Wednesday. Ethan had an echo (heart ultrasound) and a growth ultrasound, and we met with the cardiology team, spoke with a doctor on the maternal-fetal medicine team, sat down with the palliative care team and had a 'regular' prenatal checkup with one of the midwives. We also had a chance to tour the special delivery unit (SDU) where Ethan will be born and the cardiac intensive care unit (CICU) right around the corner where he'll spend the first weeks of his life.
Needless to say, it was a very full day, and it was awesome to have the Husband of Joy there by my side this time.
There's a tiny little part of me that can't let go of the hope that they'll put that ultrasound probe on my belly, fall silent, and then tell me that it's all been a big mistake, that they don't know what happened but everything's okay. I try to talk myself out of it every time I climb up on that table and lift up my shirt, but hope is a stubborn thing.
I think that's what makes it even harder every time his heart comes into view on the screen, a yawning black hole where it should be neatly divided into its four chambers. This whole thing is still so unreal in a lot of ways, and it's hard to sit in the conference room after an echo and truly take in everything that they're saying.
Not much has changed since our last look at his heart. I mentioned after the last echo that we didn't know whether we'd be looking at a single ventricle or a biventricular repair. As his heart's grown, it looks like it's starting to favour one side over the other, which is more of an indication towards a single ventricle repair. This could still change as he gets bigger, but as of right now it doesn't seem to be going in the direction we want it to. His heartrate was also slightly slower overall at this visit than it was at the last one, which is a concern since he's a kid who's at increased risk for developing heart block. Right now, his rhythm and the strength of his heart look perfect so there's no heart block, but we'll be monitoring his heartrate carefully as we get closer to delivery. We were able to request the surgeon that we want, and it looks like there should be no problem with having him do Ethan's surgeries.
We also took another look at his kidneys, since there's been a question of whether there's urine backing up in them. Unfortunately it looked like that was the case to varying degrees in both kidneys this time; we could actually see it come and go as we were looking on the ultrasound. This is also something he could just grow out of or something that might need intervention sometime in the future; more wait and see to add to the list.
Otherwise, everything looks great. He's growing right on track, and they estimate that he weighs just under five pounds right now; if he gains the standard half pound a week from here on in he'll be bigger than his sister when he finally makes his grand entrance. He's decided to go ahead and get firmly into position for delivery, so his head was so far down that we couldn't see his little face at all. It'll just have to be a surprise on the big day.
Speaking of his grand entrance, we have officially scheduled induction for July 1st, provided he doesn't come on his own before then. He's likely to have his first open heart surgery within the first 48 hours (the one to place the shunt), and no one wants to be doing that sort of thing on Fourth of July weekend (my actual due date), so we get to have the most patriotic baby ever: due on America's birthday, hopefully born when Canada's celebrating hers. We've been given the okay to hang out up here in Jersey until our place in the city is available, so barring any complications, we'll be moving to Philly on June 14th.
For me, the most important (and hardest) part of the day was the meeting with the palliative care team. While we're fully intending to go ahead with surgeries, we feel it's important to (as the head of the team put it)
hope for the best while preparing for the worst.
It's an experience I wouldn't wish on my worst enemy. Sitting around a table in a sunny room while you discuss what it would look like if your baby doesn't do as well as you're expecting. If all the medical expertise at the best hospital in the country isn't enough. If he dies.
Speaking with people accustomed to walking beside families as they go through this helped me realize that there are two big things that I'm afraid of. I'm afraid that no one will tell us when it's time to let go, and I'm afraid that I won't have the strength to open my hands and release him if that time comes. It was such a relief to me to be assured that they will be honest with us at every step along the way and that we will not have to be alone if we have to make these impossible decisions.
But how are these the conversations we're having? How is it even conceivable that we have to ask what it will look like as our son takes his final breaths instead of trying to decide which outfit we're going to bring him home in? In what reality do you make plans for open heart surgery instead of worrying whether the carseat is installed correctly?
I keep thinking that this can't possibly be my life. That maybe this is happening to someone else. Because everything just seems so normal when we're not in those rooms around those tables with the kind strangers nodding and handing us tissues. I have heartburn. I get up a million times a night to pee. He gets the hiccups when I eat spicy food and kicks me hard on the right side of my stomach when I put on loud music. He is perfect. Except he's not, but that doesn't make sense when I feel him push back against his sister when she flops down on top of him for a snuggle.
This is all a jumble, I know. There's just so
much
to the days right now, and there are only thirty-nine of them left before this little guy is born and that seems like no time at all to prepare.
But God is going before us. Phil got home safely, and his reunion with Zoe has been pure joy to watch. She didn't let him out of her sight for the first few days, and wants to copy everything that he does. He's been getting her up in the mornings and letting me sleep in; for this reason alone it's heaven to have him back, but it's also just so good to be able to talk things through face to face without time zones and glitchy technology getting in the way. I didn't realize that I'd been holding my breath for the past two months until I saw him walking towards me and could finally let it all go.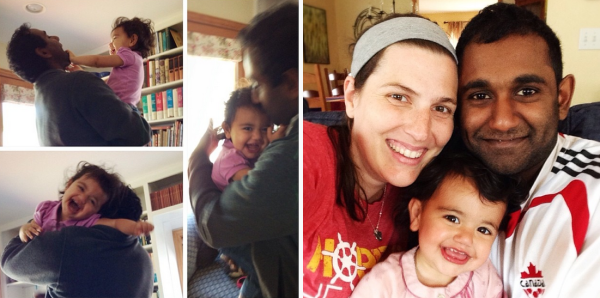 We picked up our new (to us) car on Monday. Zoe's also a huge fan of that, and spent the better part of Tuesday 'helping' me give it a good scrub, since it spent the last few months of its life sitting down the shore. Now I just have to get used to looking for it in parking lots; I've spent a good while wandering around at Target because I was trying to find my mom's car instead of ours. (We are such grownups, having a car and all.)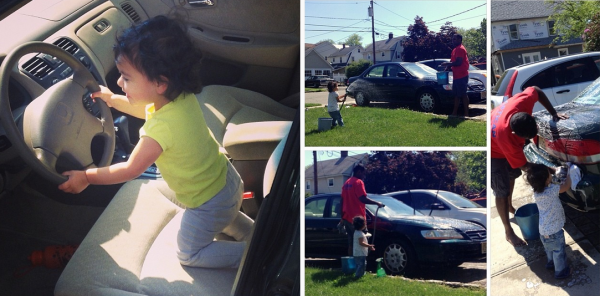 On Wednesday after our appointment, we met the people whose house we'll be staying in for the summer, and yet again it was a situation of more than we can ask or imagine. I thought it was just a couple with no children, but it turns out that they have three year-old twins, and so beyond the child locks on cupboard and guards on stove knobs and the assurance that us bringing a toddler into the mix doesn't worry them at all, the house is stocked with more toys and books than Zoe could play with in a year. There's even a little red play kitchen, right alongside the real kitchen counter. Zoe's favourite toy of all time, the thing she makes a beeline for whenever she's in someone's house who has one. Just waiting for us to come down.
Seeing that little kitchen was like a promise in the middle of the storm. Yet again one of the small reminders that God sees us, that He is concerned with even the smallest details of this massively complicated picture, that He cares about every single one of them.
I think that's enough words for now. There are thousands more in my head and heart, hundreds of thoughts keeping me awake for hours in the small hours of the night while I count down the days until I hopefully get to hold my son for a precious few seconds before he's taken away to be stabilized. But those can wait for another time.
Please pray.
- That the reflux in Ethan's kidneys would resolve and not require any intervention after he's born.
- That his heart would continue to have a strong rate and rhythm and that he would not go into heart block.
- We still weren't able to meet with the pediatric general surgeon in regards to Ethan's intestines, so we're still praying that those will be okay without surgery after he's born and, if not, that the surgery will go smoothly.
- Our next visit is most likely going to be a quick one on June 4th, just to see the midwives, meet with a lactation consultant (since I'll be pumping for Ethan once he's able to start taking feeds after surgery), and hopefully meet with the general surgeon and possibly our cardiac surgeon if he's available.
- We'll also pick up keys to 'our' summer house on the 4th. As of right now, we're not sure what will happen with parking, since the family's car will still be in their spot while they're in Greece for the summer. They're going to appeal to the community board to see whether we can get a spot designated for us while they're away; please pray that this would be sorted out.
- Pray for us as the reality of this whole thing starts to hit as we get closer to Ethan's birth. Pray for clear communication between Phil and I, patience and grace as we each process and react in our own ways, and wisdom as we parent Zoe through this hard time.