It's ten-thirty on Tuesday night, and I should be in bed. But yet again Zoe just woke up screaming (her sleep has been a bit rocky since the move to Philadelphia), and in the middle of her cries her little voice just kept repeating the same question over and over while I made my way up the stairs to her room.
Mommy, where are you? Mommy where are you?
It's enough to undo me, to shatter the already fragile hold I have on my emotions tonight.
One week from today, unless he decides to come before then, I'll be in a hospital room, alone. My daughter will be in her room here in a stranger's house, my son will be under the harsh lights of a warmer in the cardiac ICU, and I will not be with either of them. I knew that this final week leading up to his birth was going to be hard, but I don't think I expected this part it to hit me like such a fist in the gut: I won't be with either of them.
I can't stop thinking back to Zoe's first night. She was born around five in the afternoon, and by the time we were all settled in our room and family had come and gone, it was time to dim the lights and pretend to sleep. Except that I was giddy with the joy and wonder of the little person who was curled up on my chest, her skin the softest thing in the world as she snorted and squirmed with one tiny fist balled up near her face, and so I just laid there, wide awake, soaking in those first hours of her life.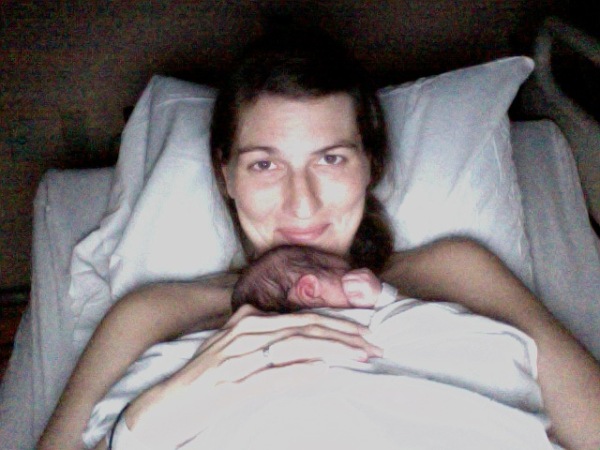 This time all I have is the guarded promise that, provided all goes well (which is not in any way guaranteed), they will
try
and let me hold my son for a second or two while they cut his cord, before they pass him through the window into the other room where an entire team of doctors and nurses will try to stabilize him. They say they'll push his bed back into my room so that I can touch him before he makes his way down the hall to the ICU, and I'm grateful for small mercies like this, but I can't stop thinking about the hours that will come after he rolls around the corner. The ones where I'll be alone.
He's been my constant companion for nine months now, this boy. He's been the one to wake with me in the long nights since his diagnosis, reassuring his weeping mama that he's okay with every kick and roll. He's stretching in there as I type, his familiar feet poking out the right side of my belly, just like they always do. But in a week all that will come to an abrupt end, and I don't even know when I'll hold him in my arms. The nurse in me is insanely grateful for the medical technology that's going to give him a chance, but the mama is absolutely broken by the thought that my son will start his life wondering the same thing Zoe was just sobbing.
Mommy, where are you?
It's not supposed to be like this. I want to scream it at the top of my ragged lungs. It's just not supposed to be like this. This last week is supposed to be the time you moan and complain about how unwieldy you've become, how you're so tired because it takes ten minutes to roll over in bed and how you can't wait to sleep on your stomach again, but really all those things are more just what you're meant to be saying than the truth, because how you really feel is ecstatic at the thought of welcoming this new life into the world, right?
You're not supposed to feel a rising panic every time your daughter wakes in the night calling out for you, knowing as you do that there will be many nights in the near future when you won't be there to comfort her when she cries. You're not supposed to pack your hospital bag with a huge folder of medical notes and just a few tiny clothes specially chosen to allow places for cords and monitor wires to snake their way through and extra toiletries for the nights you won't make it home because you'll be standing vigil next to your child's bedside.
It's hard for me even to type these words. I feel guilty just admitting that I'm more afraid than excited when I think about the day my son will be born. I'm terrified by the thought that I can picture Zoe going off to college but I can't imagine Ethan turning one. My mind races as I try to think through every possible scenario that we'll face in the upcoming days, convinced that if I can just make a plan for each one (as ridiculous as I know that sounds), it'll somehow all be okay.
And every time I think I can shut it down and start looking forward to meeting my boy, I hear that little voice in the back of my head, and I lose it all over again.
Mommy, where are you?
This part is not easy.