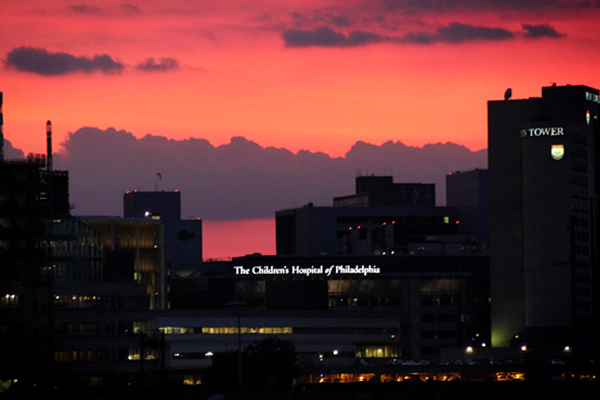 It's still hard to believe that this is the view from the balcony where I eat my dinner most nights, safely holed up in the home of the complete strangers who didn't hesitate before they opened their doors to us while they're halfway around the world.
Disbelief seems to be the name of the game these days, though. I'm not sure I'll ever really be able to wrap my mind around the fact that this is really happening to my baby, to us, to our family. Maybe when I see him confined to a hospital bed instead of resting in the warmth of my arms. Maybe on the day I'll sign the forms that will allow them to crack his chest and take a knife to his heart. Or maybe there will always be some corner of my brain that just refuses to accept that this is our story.
Except that as the day we'll meet him races up to meet me at what seems like an impossible rate, I'm being faced head-on with the truth of it all. And while I'm not sure that I'm becoming more comfortable with it, constant association has bred in me a sort of nearly-bearable familiarity with it.
And the truth is that God is at work.
It doesn't matter how hard the hard times are or how crushed I might feel. It doesn't matter how broken my boy's heart is or how broken mine is; God is at work. Since the day our world was shattered by sin, He has been on a tireless mission to place each jagged piece back into the place He originally intended for it.
Sometimes the cracks are more visible than others. Sometimes we fall down rabbit holes into a part of this fallen world that we'd never given a second thought to, at least not until the day we realized that the only way out was to wander this labyrinth until that final trumpet sounds.
But sometimes God shows Himself. Sometimes it's His hand that we see covering over the raw places, showing us just how beautiful He wanted it to be. And if we could just wipe the tears from our eyes long enough, I think we'd realize that it's happening far more often than our despair would have us believe.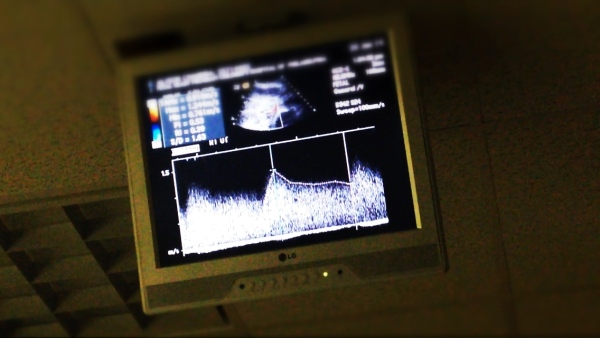 Take Ethan's tiny heart.
On Wednesday, we went in for the last echocardiogram before his birth. As the now-familiar shape of his heart pulsed on the screen, I thought I was seeing something in there that I hadn't seen before. But since the day of his diagnosis, when I stared at that little heart for nearly an hour without realizing how wrong it looked, I haven't really trusted my eyes when it comes to his ultrasounds, so I thought nothing of it.
We sat down in the conference room afterwards, and the cardiologist flipped through Ethan's binder until he came to the drawing we'd been given last time.
No major changes,
he began, a statement that quickly started to sound like the understatement of the year.
What we
are
seeing, though, is some growth in his pulmonary artery.
I went back into my notes just now, the ones I took after the first echo, just to check, and found this:
Pulmonary stenosis: how bad? SEVERE. Makes more sense to call it pulmonary atresia. Very small forward flow through pulmonary artery. Slight backwards flow (leakage), but that doesn't help anything. Almost all flow to lungs is backwards through the patent ductus arteriosis.
In April, his pulmonary artery was so small that they felt that the appropriate term for it was
atresia
, which pretty much means that it's not even there.
On Wednesday, we learned that in the two months that followed the initial scan, that artery has been growing until it's nearly half the size it should be. It's still much smaller than normal, but now all the blood flow through it is going in the correct direction. In fact, in a twist that would seem almost humourous if this weren't all a matter of life and death, it turns out that because of some of the other defects in Ethan's heart, a normal-sized pulmonary artery would actually be a bad thing and like Goldilocks with her bowl of porridge (the cardiologist's analogy, not mine), there's a chance that it could end up being just right.
So what does all this mean, given the fact that we have been praying for a miracle? I know the science behind it too well to call it impossible (and that's what a miracle is, after all), but the nearly-inconceivable is just as much a shock to the system as any act of divine intervention, even when that act is just a few millimeters' worth of growth in a little boy's blood vessel.
No, this doesn't mean that everything is okay. It does mean that the plan for the first hours after his birth has changed. Instead of automatically starting the medication to keep his ductus arteriosis open and getting ready for the inevitable shunt surgery, we might be able to let that hole slowly close as we monitor whether or not his pulmonary artery will provide enough blood flow to his lungs. The shunt surgery is still very much on the table as a possibility within the first few days, but where that used to be the only option, we've now been given the dangerous gift of hope that he might be able to get by without it until the next planned surgery (around four to six months).
There is still so much uncertainty at this point. Just like so much about his body, we won't know exactly how things look until he's born, but I am firmly convinced that our prayers are being heard by a God who is poised and waiting to show His power. This is the bedrock that sits beneath everything else, running under the tears as well as the joy, holding up the questions as much as the answers.
This is what I'll hold on to when we check into the hospital on Monday evening to start the process of inducing my labour and bringing this boy into the world. You have stood by us until now, surrounding us in prayer, and we need you to continue in the fight for us.
The induction may well take a while; depending on how my body responds to the different medications, it could even be Wednesday before Ethan makes his grand entrance. And this is where we're faced with a bit of a paradox. Because while birth is such an intensely private experience, we also desperately need your prayers to cover this whole journey, which means that I've shared far more about Ethan's story than I ever would have dreamed. I was an absolute hermit when I was having Zoe and told as few people as possible that I was even in labour; the idea of the entire internet knowing exactly when I'm heading into the special delivery unit this time around is honestly quite unsettling to me. We know that you are all very much a part of this, but would also ask that you respect our desire to spend this intimate time together as a family without worrying about updating a status, finding the right photo to post or picking out a hashtag.
Please hold us up in prayer starting on Monday evening, knowing that we will update as soon as it feels right. That might be at some point during the entire process, it might be as soon as he's born, or it might be a while afterwards once he's all settled into the CICU. We want to be very careful to spread only accurate information, so please wait until you've seen something posted publicly here or on
Ethan's Facebook page
before sharing it forwards.
Ready or not, here he comes!