The four of us were sitting around the table tonight, enjoying Chinese takeout. (Well, to be totally accurate, Phil, Zoe and I were enjoying it; Ethan was asleep in the wrap where he spends the majority of the daylight hours.) I finished my pork fried rice and cracked open my fortune cookie, expecting some cheesy platitude that Phil and I would laugh over before I handed the stale crumbs over to my waiting daughter.
Instead that tiny slip of paper hit me like a fist in my throat, and my eyes clouded up before I could finish reading.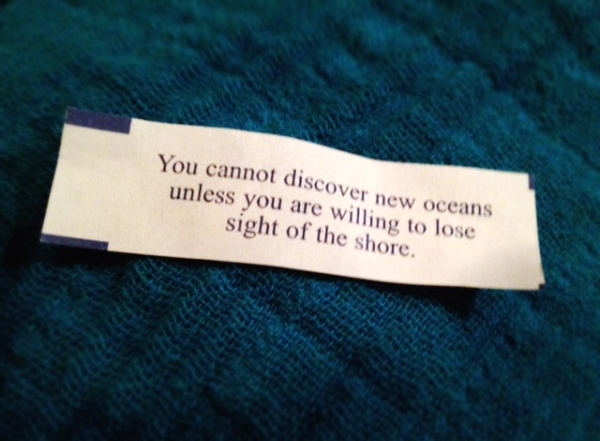 It's the quote we have printed on the back of the sweatshirts that all the nurses ordered the year we were docked in Cotonou. Back when I lived on a ship, when I spent my days taking care of patients in a floating hospital, back when my life made what felt like perfect sense.
On Friday, that ship will throw off her mooring lines and sail for Benin again, but the closest I'll get to being there will be in the photos my friends post to their Facebook walls, the sunsets and worship on the bow and videos of dolphins and flying fish. And I'll watch it all from the chair in my parents' living room where I sit nursing my son while my daughter plays on the floor (or, more likely, tries to escape through the open door), and I'm still not sure how it all happened, how it all changed so quickly.
When we left the ship in March for what we assumed would be a routine maternity leave, there was a moment right before we locked our door when Phil and I stood in the middle of our empty cabin and he said,
It feels like we're never coming back.
I laughed at him and took one last look around, already imagining how it would be in six months when we came back with our new baby, how nice everything would look once the carpets had been replaced with laminate, how we'd rearrange our lives to fit the new boxes of diapers and the extra booster seat and all the love he'd bring with him.
Because God had called us, you see. He'd pulled us from our lives in North America and sent us to the ship and of course we'd be there until we were ready to leave, because no one gets called
off
the mission field, right?
Wrong.
It turns out that the life I had planned for myself was very different from the one God has in store, and as the ship gets ready to sail I'm finally having to come to terms with the fact that that incredible, heart-changing chapter is closed. I won't be on the ship when it leaves port, won't be losing sight of shore any time soon, and tonight's fortune cookie seemed to throw that awful truth right in my face.
I'm not going back.
Not as long as this boy is part of our story, and dear God, please let that be forever, but even as I type that I realize that I'm doing it all over again. I'm clinging to a life I so desperately want and ignoring the truth that should be so evident by now.
It's not about what I want. It's not about what I need or even what I think I need. This life? My life? It's not really mine at all. I don't get to choose what it will look like.
When I quit my job and moved into a six-berth cabin on a hospital ship docked in Liberia, I was pretty sure I was giving my life to God. And in the months and years that followed, through all the joys and all the heartbreaks, my prayer was always the same.
Use me. Take my life and use me. Do what you want with me; I'm yours.
What I didn't realize was that underneath those words (spoken as they were with heartfelt belief and utter sincerity) was an unconscious and firmly-rooted need to have at least some shred of control. Whether that meant knowing what port we sailed to next marking out a mental timeline that had us settling back on land when the future hypothetical kids hit middle school, I was okay with the fact that God had called me to the mission field because I still had some kind of a hazy idea of what came next. I never actually gave everything up.
I'm not saying that's why my son's insides rotated wrong in those early days. I don't for a second believe that God did this to him to teach me some kind of lesson about how I need to relinquish my need for control or that He made us leave the ship because we loved it too much or anything like that. My God is not one who arbitrarily hands out punishment or changes the course of our lives on a whim.
He
is
a God who has known the end of everything since before there was anything at all, one who works everything together for good, even the hardest things. Things like my little boy's broken heart and the uncertainty of the future stretching out in front of him, a life filled with hospital stays and surgeries and a body that will never work quite right. Like the pain I feel (nothing compared to my son's, but somehow just as real) every time another friend walks up the gangway and shouts that they're home while I try to organize my life in my parents' basement and wonder for the thousandth time why we had to leave just when we thought we were right in the center of His plan for us.
There will be lots of days when I feel like I'm drowning in all this, lost at sea with no hope of making it to shore; I'm not going to come to terms with all this overnight. I won't wake up in the morning (or in an hour or two if Ethan's current feeding habits hold true) totally understanding God's plan and magically feeling completely at peace with this massive paradigm shift.
I
will
wake up knowing that it's going to be okay. That
okay
might not look like anything I've ever known, and so I might not recognize it right away, but that when God says He'll make everything good, that's exactly what He means.
And let's be honest. As amazing as life on a ship was, this right here isn't half bad either.