I've been looking back over old posts on Instagram and Facebook and here on the blog, taking a moment while Ethan is asleep to see his journey unfold all at once instead of step by heart-wrenching step like it did in real time.
I'm kind of blown away.
From those first, horrible, dark days after his diagnosis to the beauty of his birth to this moment right here with him sleeping quietly all nestled up against me in the wrap, his short life has been a testament to God's faithfulness, the kind that you want to shout from the rooftops. The kind that's
rooted in love and is going to last forever
. That kind.
It makes sense to be grateful when faced with all this. I can't imagine any other response being more appropriate, and so I've been sharing all our joys with you, all the bright, shining moments that make up for all the sleepless nights, and so when I look at everything all at once, it looks pretty near perfect.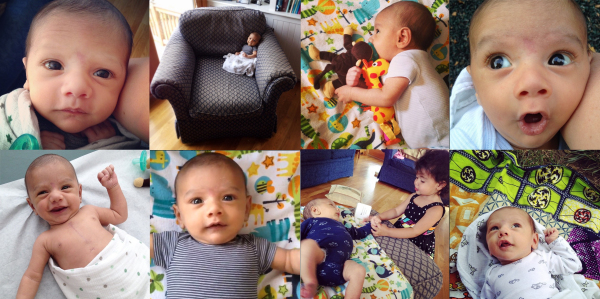 Except it's not.
Don't panic; nothing's wrong with Ethan. We just had a cardiology visit yesterday, and his heart is looking great. In fact, he's the only baby under his doctor's care who's had his type of surgery and isn't relying on diuretic medications afterwards, and he's consistently gaining more weight than they expect him to despite also being one of the only exclusively breastfed babies with his condition. So
he's
more than great.
But this whole newborn thing? It's not great. It's hard and tiring and grindingly relentless, and it feels like a betrayal to admit it out loud, but I'm not really a huge fan of it this time around. (
Not really a huge fan
is probably an understatement, but it's difficult enough to bring myself to type any of these words, so work with me here.)
Mothering a newborn is all-consuming. There are very few moments in the day when that baby isn't physically attached to you, especially if you scored one of the high-needs-and-also-breastfed ones. I mean, maybe you got lucky and your baby is laid back and sleeps anywhere and gives you long stretches to yourself at night. I had one of those with Zoe; she was cuddly and happy and would just sit in her bouncy seat and grin at us while we ate dinner. But I was still exhausted, because when that baby is born, all of a sudden you're not alone in your own head. From the moment they cut that cord, your world is taken over by a tiny little stranger who can't tell you what's wrong except by yelling at you. And even if that sort of thing only happens for a few minutes every day, it's still going to be hard, because you're spending the rest of the time anticipating the next need, an unconscious loop of
hungrytiredgassywetdirtyhotcold?
running on endless repeat in the back of your newly-crowded mind.
And then there are the needy ones. The ones who come out screaming and don't really stop or sleep unless you're holding them in a very specific way and rocking them just right and please no one better look at them funny or it all falls apart and you're back to square one. The ones who cry for no reason and every reason and there's absolutely no difference between one scream and the next, so if your mother's cousin's uncle doesn't stop telling you that you'll get to know what they want by their cry soon enough, you're probably going to throw him off a bridge. (The mother's cousin's uncle, not the baby.)
I got one of those this time. Don't believe me? Given those pictures up there, I can see why you wouldn't. As far as the internet is concerned, my kid is either happy and smiling or just hanging out looking around quietly; those are the moments I've shared with you because those are the moments I love, the ones I want to remember and the ones I hold on to during the rest of the time. The reality is something more like this, and this is one of the calmer fits; I almost never stop to take pictures of him crying because there's not really time for that when it takes everything I've got to get him to stop turning grey: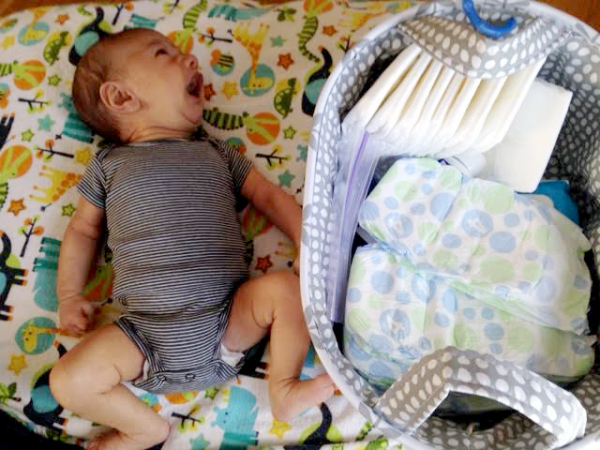 Except I don't really talk about it, because there's a voice in the back of my mind (when I can hear it over the crying) that tells me that I don't get to be tired. I don't get to be worn out or frustrated, and I sure as heck don't get to wish these hard hours away, because just a few months ago I was doing nothing but begging to have them at all.
I've decided that voice is a liar.
It doesn't matter how much you wanted your child, how long you tried to conceive or how desperately you prayed for his life to be spared: it's still okay to admit that you're not loving every second of the life that you'd give yours for in a single heartbeat.
There's a very real feeling out there (and by
out there
I mostly mean
on BabyCenter
, although I'm fairly confident that the mommy blog world as a whole doesn't do much to quell this particular notion) that the only appropriate response to having your life completely taken over by a tiny tyrant is nonstop happiness. Go spend a minute on Pinterest if you don't believe me.
It feels like it's not okay to complain about the aches and pains of pregnancy because there are so many women who would give anything to be able to conceive. Once your baby is born, you can't speak out the drudgery of the newborn days because some mamas had to let their babies go too soon. If your baby has special needs, there's always another one whose needs are more special than his, and on and on it goes. There will always be someone worse off than you, so you need to suck it up, paste on a smile and feel grateful every moment of every day.
Is that sounding ridiculous to anyone else, or is it just me? What's going on here? Are we afraid that we're going to be judged unworthy by all the other mothers if we're not dancing through life with a permanent smile on our faces?
I think it's time to admit that even the most perfect baby isn't actually perfect. The middle of the night, holding a screaming child and bouncing zombie-like on an exercise ball for the forty-fifth hour that day is a lonely place to be, and if there's one thing that the past years in West Africa taught me, it's that despite the fact that every mama's journey is her own, we aren't meant to walk this road alone.
So stop pretending it's all okay. Yes, I want to see the beautiful moments in your days. I want to laugh and rejoice with you when your kids say adorable things and finally start smiling and sleep for more than an hour at a time. But I also want to know about the rest of it, the parts that are hard for you, no matter what hard looks like in your house or how trivial it might seem to someone who's on a different path. I want to hear about the frustration and the exhaustion and the terrifying moments when you think you've made the biggest mistake of your life. And you need to speak up.
Because in those moments when you're feeling the weakest, I can guarantee you that there will be another mama out there, somewhere, who's having a strong day, one with plenty of love to spare just waiting to help lead you out of the darkness. But she won't know it's time to take your hand unless you tell her.
So tell her. Speak up. Stop walking and rocking and yoga ball bouncing alone. We're all in this together, every last ecstatic, exhausted, milk-stained mama in the world. And we could all use a hand sometimes.